Susmita Chatterjee talks about her V-day film
'I lived my college days again during the shoot of Prem Tame'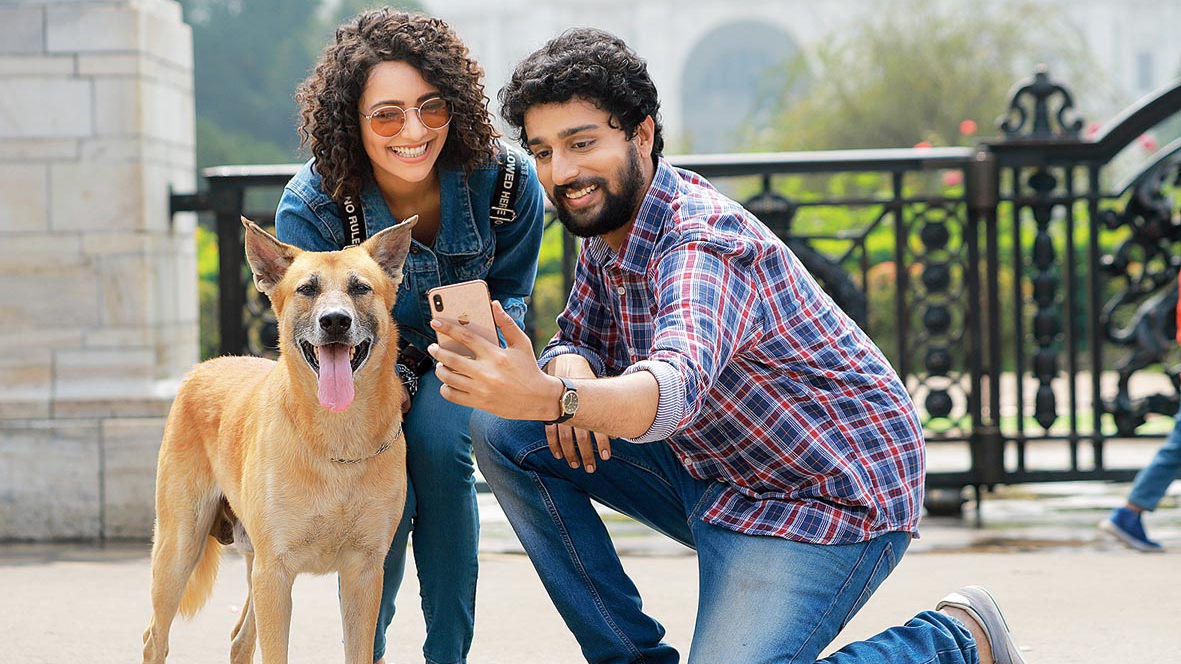 A moment from Prem Tame, releasing on February 12.
Sourced by The Telegraph
---
Published 19.01.21, 03:02 AM
|
---
She made a "hero-type entry" in the trailer of the film Prem Tame, directed by Anindya Chattopadhyay, and now Susmita Chatterjee is revelling in the praise coming her way. Susmita plays Raaji, a free-spirited soul in Prem Tame . "She is searching for that 'perfect love' yet she is kind of commitment phobic. In Prem Tame (starring Soumya, Susmita and Sweta) the only meaningful relationship she has is with Khogen (her pet)," smiles Susmita. We chat with Susmita....
How were your growing-up years like in Asansol?
I am from a peaceful place named Kulti... the people there are very supportive, the place has all my heart. My school life was beautiful and I cherish each and every memory related to it. I was the sports champion of my school, was always good in studies and also in cultural events. I am a single child and a pampered one though I always had my lunch alone due to the work life of my parents but that made me strong and independent. Often I used to take my dad's bike and go for long rides... hahaha... That was the best part.
Since Prem Tame captures a snapshot of college life, how were your college days like?!
I am an electronics engineer. My college days were full of fun, from enjoying fests to submitting assignments to making robots to taking part in protests to my favourite food/tea stalls to bunking classes and what not! College is full of love and I lived my college days again during the shoot of Prem Tame. It felt like going back to those beautiful memories.
What's your favourite college romance story?
College is always romantic, full of new hopes, new dreams for everyone. My personal favourite was to go up to the terrace and watch the beautiful City of Joy and play Dumb Charades with my friends. And the sunsets made us look forward to another day.
Did you have a crush on anyone in college?
No, I never had a crush on anyone as such but I always had guys and even girls crushing on me (smiles)! A lot of incidents happened, like there was a guy who used to wait since morning the whole day just to see me once entering the college, coming out in the break time and going home after college. This continued for a long period of time. I used to get gifts from some secret admirers in my college and hostel too. I got emails, love letters, handcrafted cards, beautiful lyrics, poems and many more. I think I have been fortunate to receive love from all these beautiful people. And I was an admirer of my English ma'am, her personality was way above everything. I used to observe the way she speaks. I was in love with her short hair and her dressing sense. I used to run to her every time I faced difficulties. Her presence used to make me feel comfortable and positive.
How was Valentine's Day for you in college?
It was always boring, I never liked that so-called 'pretended love celebrations'. My
V-Days were regular days since I celebrate love every day... love is everywhere and all over. Buying chocolate is love, feeding someone is love, helping people is love, forgiving is love, accepting is love.
I have stayed away from love since I had a really bad heartbreak in the past, which actually made me strong and mature. I don't have any problems with love, but I have problems with people pretending to be in love. I am very romantic and an old soul and I just want things to be real. And I think this Valentine's Day will be special for me since I'll celebrate the release of Prem Tame. This is what I always wanted in life, from dreams to reality.
In the film trailer there is a sensuous shower scene of you with Soumya? How challenging was it to shoot the scene?
A lot of questions were popping up. But then I started thinking from Raaji's point of view and the vision got really clear and I gathered all the courage and became confident.
Doing something sensuous was really difficult for me but I must say I had an amazingly supportive co-actor Soumya who made it easier. Anindya sir knew that it would be a bit difficult for me to get comfortable with that so they helped me and kept it on the last day of the shoot, so that I get comfortable with the team. So finally it came out perfect and the experience was fabulous.
In Prem Tame your character is in a live-in relationship. What are your thoughts on live-in relationships?
Live-in relationships are the best since it's all based on love. There's nothing to take for granted... if two people are in a live-in relationship that means they really are in love and want to spend most of their time together. It helps to understand each other more and to share a strong bond where one gets to read the mind of the other and take responsibilities together.
Can you identify with your character Raaji?
Yes. Raaji is confident, smart, a no-nonsense girl, mature, straightforward, tomboy... she loves her life, has dreams, she never looks back, she follows her heart... she has a beautiful dog (Khogen) and a yellow-coloured bike. All this relates to me completely. I think I am in love with Raaji more than the director himself (laughs).
Khogen is stealing the show. He is such a wonderful dog. Very energetic, obedient, co-operative. I am in love with him. The best part is he loves me too. He used to eat with me every day during the shoot. I got emotionally attached as I love dogs. The last day of shoot was very painful, I knew I won't see him the next day. But I am happy that I got to spend a few beautiful days with him.
Going back a bit, how did you develop this interest in acting?
Since my childhood I always wanted to become an actor. I used to watch movies and try to learn and imitate. My dad recited poems beautifully and I grew up watching him. This is how I learned acting and  I feel that 'things coming out straight from the heart can never go wrong'.
How tough was it to get a break in the ad/film industry? How was your journey?
Initially, my parents were very worried. I am an outsider, I stay alone, I am from a middle-class family, so it's very difficult to get the opportunity but I am fortunate to get spotted by a national brand as my first-ever modelling assignment and SVF chose me as their talent.
How do you interpret the title Prem Tame?
Unconditional love, though it's not the exact meaning but this is what "Prem Tame" to me is. This movie is a 'pawsome pawlove' story.

How did Anindyada guide you during the shoot?
Sir is always cool, working with him gives a lot of positive energy. Before each and every shot I used to run to him and show him the way I want to perform, I am very thankful to him that in spite of the busy shoot schedule he was always ready to give last-minute suggestions, which actually helped me a lot.

Were you a big Chandrabindoo fan? Did you tell Anindyada?
Well, yes, I am more of a fan of their lyrics, I grew up listening to their songs. No, I never told him about it but definitely I did request him to sing one of my favourite songs from their albums.

How was your shooting experience for Prem Tame?
It's dream come true for me. I fell in love with the beauty of Serampore and Chandernagore. On the first day I gave a lot of autographs which I will always remember. It was indeed a great experience which will stay with me forever.