Three years ago, he shot into the spotlight as the hot-headed Himmat Singh in the Akshay Kumar starrer Gold. Since then, Sunny Kaushal has featured in the film Bhangra Paa Le and the web series The Forgotten Army. Come October 1, the young actor will be seen as the lead, opposite Radhika Madan, in Shiddat, premiering on Disney+Hotstar.
The trailer of the intense love story, directed by Kunal Deshmukh and also starring Mohit Raina and Diana Penty, notched 17 million views within its first 24 hours. The Telegraph caught up with Sunny for a chat on love, passion, intensity and spending time with brother Vicky.
We haven't had a pure, intense Bollywood love story in a while and Shiddat looks like a film that will fill that gap....
That's exactly what people are telling me. That after a long time, the audience is looking forward to watching an out-and-out love story. The music has also caught on quite a bit. I am really happy about it because I truly love the music of the film. Also, the audience is talking about how good Radhika (Madan) and I are looking together. Overall, there is unanimous positivity around the film. Things are looking good.
Are you anything like your character Jaggi? Like him, are you intense in your relationships and wear your heart on your sleeve?
I am totally like that. I am very emotional when it comes to relationships, and also very vulnerable. Jaggi's intensity is his core, it defines him completely. He is willing to go to any lengths to have Kartika (Radhika's character) in his life. He believes that if he has her, he doesn't need anything else in life. He is aware that zindagi mein utaar chadhaav toh hote rehte hain, but love should give you the strength to get through that together. He's not one of those guys who gives up easily, especially when it comes to relationships.
There is always an aspect of me, big or small, in every character that I have played so far. Whatever life experiences you have had will invariably find their way into the part that you are playing, consciously or subconsciously. If I don't find anything in common with a character, then that also becomes an experiment for me and I play around with him. It could be in the way he talks or walks or anything. But I always look for a common thread in order to transition into the character easily.
Has being intense and vulnerable in your relationships, whether romantic or otherwise, proved a problem for you or have you benefited from the experiences you have had?
In the long run, I would like to believe that's it done me more good than bad. Even in that moment, if it had done me harm, in retrospect I believe that I have only gained from my experiences. At the end of the day, all relationships are about communication. When you are happy, you share it with your partner... when you are sad, you share it with her or him. If that makes me vulnerable, it's okay. Because that also means you are comfortable with your partner. And I would choose to be that kind of person any day.
What does the word 'shiddat' mean to you in life and career? What are you most passionate about?
I think life is all about passion. Everything that you do stems from passion. I have always believed that whatever you are doing in the moment, give it your 100 per cent. Even if I am reading a book, I put my whole energy and attention into it. When I meet someone, I make sure I pay attention to that person and don't allow my mind to wander. If I am working, then I am only working and not doing anything else. That becomes your personal responsibility... not allowing things to distract you. Distractions are always going to be there and it's one's choice that whether you will let them distract you or not. What your passion is and how you go about it is totally in your hands.
What does having a streaming release mean to you? Are you one of those who is emotional about seeing your film play out on the big screen?
I am emotional and romantic about the movies, per se. But I am also very practical, and I know that in the times we are in, releasing a film on OTT is both a safe and a viable option. We are still in the middle of the pandemic. The idea of making any kind of entertainment is for people to see it. Theatres haven't opened in many parts of the country and wherever they have opened, people are still scared to go to theatres. It's our responsibility to ensure that our film reaches people. I feel very fortunate that a film that we made with so much love is coming out, I am very thankful.
At the same time, I pray that the world as a whole — and not just theatres and the people in the movie business — bounces back to normal. Theatre mein picture release hone ke pehle ek alag si khushi, ek alag si chehel-pehel hoti hain.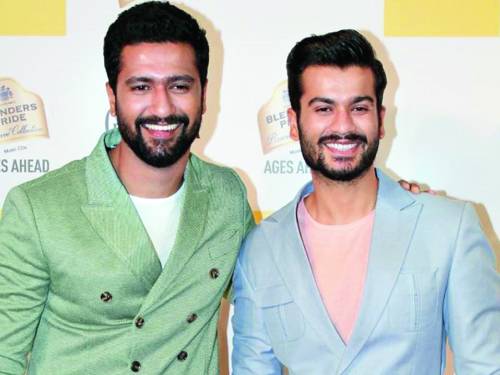 Sunny with brother Vicky Kaushal Sourced by the correspondent
How have you spent the last year-and-a-half at home with family? We have seen a lot of Instagram posts of the Kaushal brothers goofing around...
We have always been close as a family. Hamari family aisi nahin hain ki agar hum kaam kar rahein hain toh hum detached ho jaate hain. When I am outdoors for a shoot, I make sure that I call mom and dad every day. But yes, the first lockdown made me aware of the value of my family even more. It made me understand what is important in life, who my guiding forces are and who my emotional support is. That kind of clarity came to me during this time.
I got to spend a lot of time with mom, dad and Vicky. Mom kabhi kabhi bahut pareshaan ho jaati thi to have all three of us at home at the same time! (Laughs) She was like, 'Ek banda toh sambhalta nahin hain, yahan ek saath teen hain!' But we had a great time.
What do the Kaushal brothers do when they are chilling together?
Bachpan se, we have the habit of watching movies together. When we are chilling together, you will invariably find us eating something, saamne table pe kuch khana pada rahega and we will be watching something that we have watched ten thousand times before! (Laughs)