Steer clear of Namaste England
Seems like an attempt to get Arjun Kapoor and Parineeti Chopra's dwindling careers back on track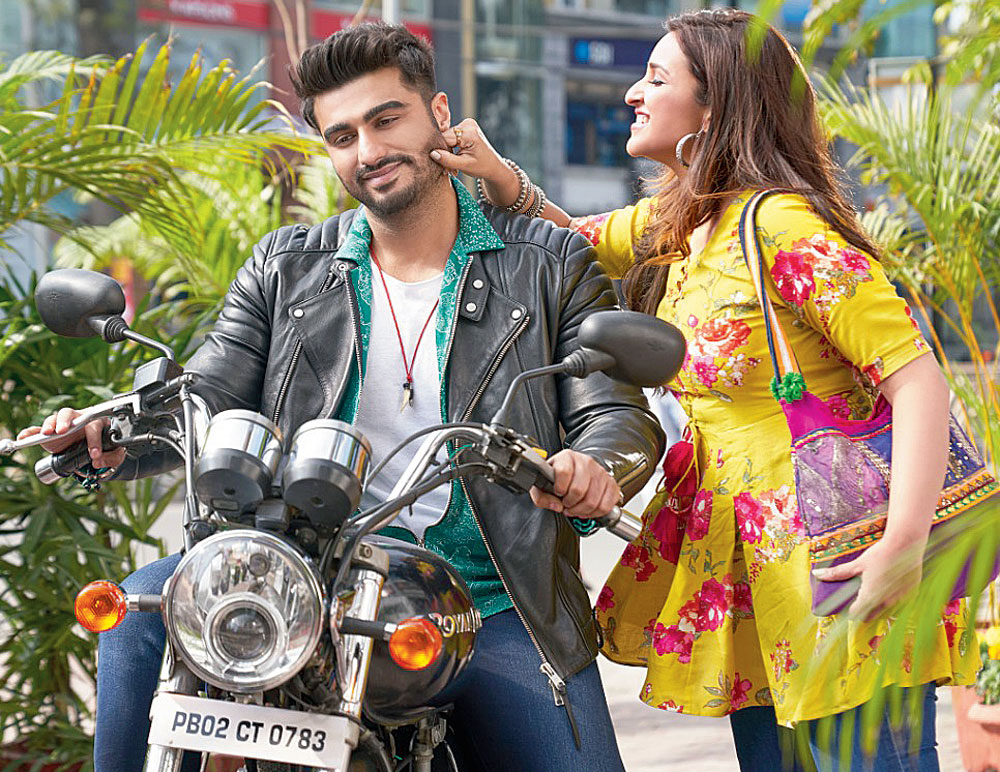 ---
---
Namaste England tries to pass off as a glossy, fun big-budget movie but is actually a desperate attempt to get Arjun Kapoor and Parineeti Chopra's dwindling careers back on track. A regressive, headache-inducing script and hammy performances from the lead pair only set them back by a few steps.
In a village near Amritsar, Param (Arjun Kapoor) and Jasmeet (Parineeti Chopra) fall in love and she feels that marrying her progressive boyfriend would set her free from her controlling family. Jasmeet wants to be a jewellery designer but her daarji and veerji will have none of it. Jasmeet's grandfather even makes Param's father promise that she would not be allowed to work after marriage.
Jasmeet is so fixated on settling down in London and being a jewellery designer that there's basically nothing she will stop at. Even if that means marrying a random long-haired dude from London, Sam (Aditya Seal), to get a visa, and wait till she gets residency there so that she can get her "real" husband Param to London!
Common sense doesn't quite work with our protagonists in Namaste England. They both have an unnecessary penchant for melodrama. So Param, who's a farmer and has a master's degree in agriculture, sets off via Bangladesh to Brussels to Paris to reach London illegally.
There's a cameo by an extremely loud Mallika Dua and the character looks like an extension of all her Instagram videos. There's another cameo by Satish Kaushik as the shady visa agent Gurnaam Singh who spouts lines like "Appointment hai ki disappointment?" when he meets Param for the first time.
The second half set in London is absolutely unwatchable. Param gives a whole humdrum monologue to a British-born desi who recognises himself as a Brit and not an Indian, about Indian pride, and a bunch of Europeans stand around like transfixed statues listening to him. Some lines are thrown in about the Kohinoor and one with a message, "Desh ki galtiyaan mitao, apni pehchaan nahi."
Sam's friend Alisha (Alankrita Sahai) is so smitten by Param at this point — in just one meet, mind you — that she gets down on one knee to propose to him. This is the same Param who not once, but multiple times, makes fun of taking a bath in the movie — and guess what — Arjun Kapoor with his scruffy face actually looks the part. The movie is so daft that there's an elaborate fake shaadi that gets planned just so Jasmeet "realises" her mistake. And once she does? "Sorry bol deti, itna drama kyun kiya?" asks Param. Precisely. Kyun kiya, you want to scream.
Vipul Shah's 2007 film Namastey London with Akshay Kumar and Katrina Kaif was no cinematic marvel but it had nice songs and fairly entertaining performances. Namaste England is a trope that Bollywood has fed us for far too long and with experimental movies like Andhadhun and Badhaai Ho releasing one after the other in a matter of just two weeks, the audience should know better how best to spend their time.