Starry sip tips
Chitrangda Singh & Shibani Dandekar scotch their whisky love!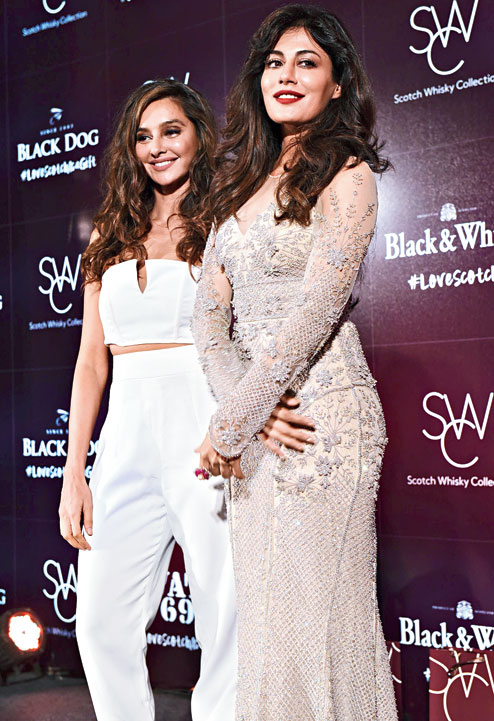 ---
Published 14.07.16, 12:00 AM
|
---
Some men in the audience at the recent launch of USL-Diageo Scotch Whisky Collection at The Oberoi Grand confessed to t2 that they were high without even sipping a drop of alcohol. Because two pretty women —Chitrangda Singh and Shibani Dandekar — were discussing their love for Scotch whisky!
TV presenter Shibani Dandekar shared her sip tips with t2...
Do you like giving or getting Scotch whisky as gift?
Scotch whisky as a gift is very personal. It matters who you are gifting it to. I think whether you drink or not, it's a great gift to receive because we are always celebrating anniversaries, birthdays, weddings, bachelor parties.... There are so many different occasions where Scotch makes for an ideal gift.
What is your fave drink?
It all depends on whether I am spending a quiet evening with friends or I am celebrating something special. It can be Black & White when my friends come over and we have a great conversation. It's Black Dog if I am celebrating an achievement or an award or a promotion. My dad enjoys Vat 69 because he loves something unique.
What do you love to munch with a drink?
Anything that's not healthy! (Laughs) Most of the time in our lives we try to eat healthy, so I eat everything when I am having a good time.
Chitrangda Singh, who loves her white wine, is developing a nose for Scotch whisky. t2 caught up with the actress...
What do you like to sip?
It depends on where I am. If I am out, nimbu paani on a hot day is ideal. When I am out with friends, cold coffee is an absolute must. I drink it twice a day, morning and evening. And when I am just chilling out, I love white wine because it's something mild which I can sip through the whole evening. People generally graduate to other drinks. I am sort of graduating to Scotch and single malt whisky.
Is Scotch whisky a gifting option for you?
There are fads that come and go. The recent fad is to give away good quality liquor to people. It's also sort of a mark of a person who has reached somewhere in his life and can afford some amount of luxury and taste. I think it's also a mark of a certain amount of achievement and the fact that you have reached a point where you have developed a taste or you have initiated yourself to this kind of appreciation for alcohol and not just drinking to get drunk. When you graduate to something like that, it is either age or with company. That's my personal experience.
How do you like your drink?
It has to have a good taste. Sometimes people drink stuff that they are not used to. I can't enjoy that. For me, it takes a while to enjoy it. Usually I stick to things that I know tastes well. That way I am not so much into experimenting with drinks. I am someone who would stick to the same order.
And what's your nibble with a drink?
I am not so much like I have to go with red wine with red meat. I stick to white wine unless it's a wild night and you don't know what you are drinking! (Laughs out loud) I don't eat much. So, maybe little snacking here and there.
---
Stand-up comedian Anuradha Menon, who engaged the ladies in conversation at the launch, left us in splits. Yes, you also know her former Channel V VJ Lola Kutty!
Are you fond of Scotch whisky?
My husband is. His name is Anirudh and he is Gujarati but all his Bengali friends call him Aniruddha. You know, we went to Edinburgh (Scotland) for our honeymoon. There we did a whisky tour and as we walked into a bar, my husband said, "We are moving here forever, baby!" because the price of Scotch or a single malt whisky was cheaper than any other whisky there.
People still associate you with VJ Lola Kutty. Is it annoying?
It's not! You can't resent something you have created. In my head, I have moved on. It's lovely that people remember Lola Kutty so fondly. My Twitter account is @ExLolaKutty! It's still fresh in people's memory and because of that image, I never get item numbers.
Were you interested?
I can get an offer, no? Main bhi Katrina Kaif banna chahti hoon!
And there's another Anu Menon (director of Waiting) who people confuse you with?
I have got so many pictures of budding actors in swimming trunks! Now I have reached a point that I will take credit for the film. If somebody says they loved Waiting, I will reply with 'Thanks'.
What makes you laugh?
I laugh very easily. That way I am quite a cheap date!
Funny things she's heard
♦ OMG, you are actually quite pretty.
♦ My son is willing to marry you in spite of the fact that you are Lola Kutty!