Sreya Bhattacharyya on her first mega serial Kora Pakhi
The actor also talks about forming tighter bonds and feeling thrilled to be a part of Utsaber Pore that pays tribute to Rituparno Ghosh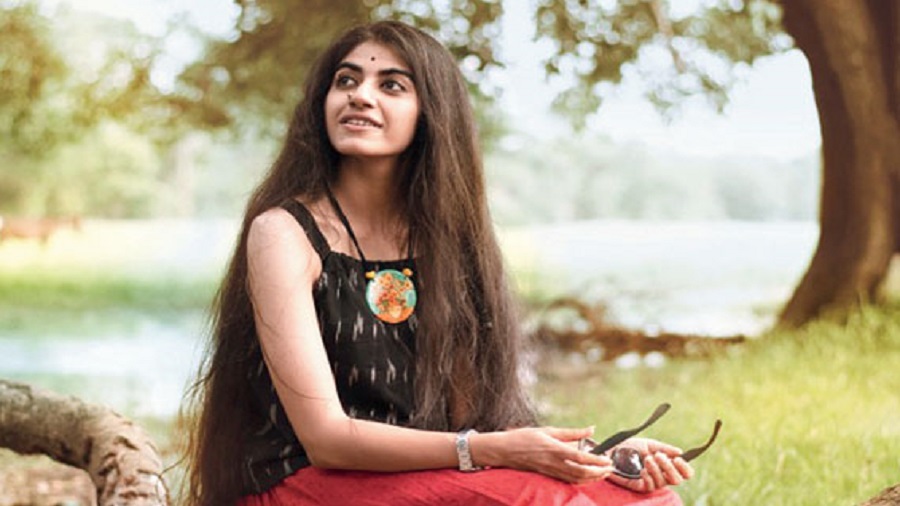 Sreya Bhattacharyya
Sourced by the Telegraph
---
Published 27.08.20, 09:36 PM
|
---
Sreya Bhattacharyya, who won acclaim for her performances in films like Kaushik Ganguly's Jyeshthoputro and Leena Gangopadhyay and Saibal Banerjee's Sanjhbati, is now shooting for her first mega serial Kora Pakhi. She is also set to start work on a web series soon. A The Telegraph chats with Sreya...

When did you decide to get back to work?
After days of confusion, discoveries and doom, work resumed with Kora Pakhi. Finally, after a prolonged period of wait, I was getting into costumes, and snap, I was back.

Tell us about your experience of shooting for Kora Pakhi?
I am surrounded by people who care for me so much, all the time, like Titas Bhowmik. And there are also my co-actors like Malobika Sen, Parno Mittra, Rita Datta Chakraborty. They literally pamper me and so does the crew. Titasdi, who plays my sister, has eventually become the real-life sister whom I feel an innate connection with. The way of shooting was completely new to me.  

Who do you play?
I play Tuli, who is Medha's (Titas) cousin sister. She is elder to Medha. Tuli lives at her sister's place, she is very dear to this household and takes good care of it as well. She is calm and quiet and prefers not to be on the risky sides of life.

How was shooting for a mega serial different from a web series or film?
The whole structure of shooting a mega serial is majorly different from that of the web and movies. The total feel of it is different. In the movies or web, the stories are narrated in different forms, whereas a serial deals with situations and emotions. The whole vibe is different. One thing that I can firmly say is that I have excellent co-actors with no space for a drop in confidence but always a boosting up of it. No one dares to raise a brow because my seniors literally protect me!

Tell us about your working experience with Leena Gangopadhyay and Saibal Banerjee, from Sanjhbati (starring Dev and Paoli Dam) to Kora Pakhi?
Leenadi has somehow adored me from the beginning when we met before Sanjhbati. The patience and help during the shoot is really worth a mention, which both Leenadi and Saibalda have provided me with.
There is a feeling of comfort and being at homeground, somehow prevails in there.

How safe did you feel on the sets during this pandemic?
The pandemic has not only made us scared and careful but has also made us hygienic. This can be noticed both at home and at work. We are provided with double thermal checking before entering the main workspace. There is rigorous sanitisation and careful interactions between people, on or off the floor. Lastly the masks are on before and after the scenes are done. So, it's basically pretty safe to be at work and these worries never bother while I am
at it.

You start shooting for a web series soon. How excited are you about that?
Yes, I am going to be shooting for a web series called Utsaber Pore by Abhinandan Dutta for Addatimes, and trust me, I am really beyond thrilled. I can't wait to set foot at the location and wear my character with glory. I know it's going to be a blast. It is a beautiful tribute to Rituparno Ghosh.

How were you holding up in the last few months?
It wasn't actually very difficult for me to deal with. Of course there were times which made me doubt the most constant things that I have believed in but then I have tried, and tried really hard to invest my time in initiating to build a more pertinent actor out of myself. I have rehearsed for plays and auditioned for characters. And this method helped me initiate the process of continuously being in different characters of whatever plays or movie scripts that I went through. I have made peace at home.
Also, I have developed a few friendships and have somehow woven a tighter bond with the loved ones. However, to think of work it is still hard on me, us and all the other fellow performers, but it's all about hope that is bound to bring yet a better day.