Soul sounds of Meghalaya
Blues singer Tipriti Kharbangar on how the landscape of Meghalaya has shaped her musical sensibility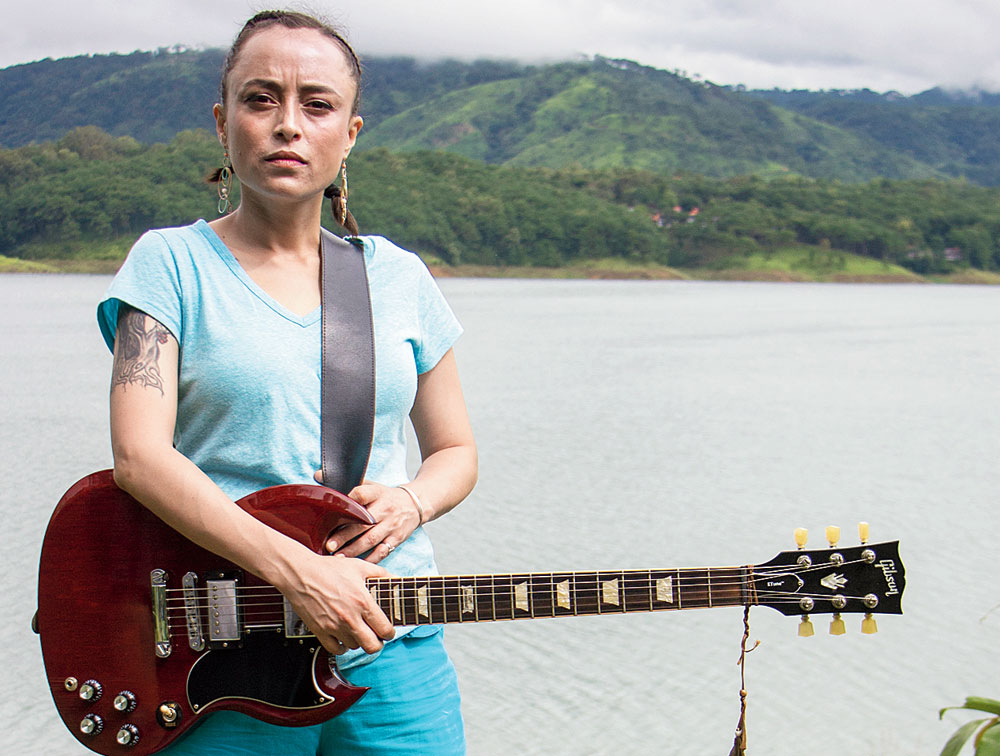 Blues singer Tipriti Kharbangar
Sourced by The Telegraph
---
Published 27.10.18, 03:33 PM
|
--- I don't have to retreat to a special place while working on new songs. Shillong is quite quiet anyway. Songs/words/lyrics happen anytime; it's thoughts in the head that come flowing out. They are written down as soon as they appear in our heads. So do melodies. Had I moved to Delhi or Mumbai as a young musician, I would have lost my soul I guess. I am what I am because of where I am from. And the fact is that we — Soulmate (her blues rock band with Rudy Wallang) — made a name for ourselves by being true to our hearts. We didn't want to be controlled by a "rat race". We decided to live at home and travel in and out of Shillong, which is really cool. For me, I love the sound of music when I'm walking through the forest because there we have small birds chirping and the sound of the stream is so beautiful.
I actually never knew the blues prior to meeting Rudy Wallang. I already sang the blues in church when I was singing gospel. It was not until I met Rudy that I knew what the blues were all about. Ironically, it was Rudy who told me, "I got the blues", and that was when I asked him, what's that?! I was around 19 years old. I didn't know I had the blues in me and that I could sing these feelings out and feel cured. The blues, besides expressing a state of mind, is also a deep feeling. Singing the blues is therapy for me.
In tune with nature
Like I mentioned, Mother Nature has blessed us abundantly. We only have to drive about 30 minutes out of Shillong to be one with nature. It's up to the traveller to decide where he or she wants to go… Sohra (Cherrapunjee) is one of my favourite places. Syntu Ksiar in Jowai is a very beautiful place as well. And Umiam Lake.
If I were to take you on a musical tour of the state, we would visit Kongthong, the whistling village of Meghalaya, where people call each other using tunes almost like birds! Then the Pynter Orchestra in Pynter, Pynursla. I would also visit Wahkhen to see the folk music institute Sieng Riti. And I would meet Bah Kerios Wahlang in Mawphlang; he is a legendary folk singer from our hills.
Bacardi NH7 Weekender has helped increased awareness about our state and its people and culture and has left an indelible mark in the hearts and minds of all visitors and music lovers from all around the country as well as abroad.
From my experience, everywhere you go in the Northeast, people are for the most part very warm and welcoming. We are simple, trusting folk and don't usually think twice about inviting visitors home. People from the rest of India could follow this example, especially the trusting bit. 
The author is based out of Shillong and is a part of the bands Tipriti Kharbangar & The Clansmen, and Soulmate Most of the traditional stories and songs that I remember from my childhood are the Khasi books that we had to read in school, such as Duitara Ksiar, Ki phawer u Aesop and Dienjat u longshwa. These had a lot of fables and folk stories, most memorable at this time is U Sier Lapalang, which we paid tribute on our first album, Shillong.
Mother nature has blessed us abundantly; Meghalaya is one of the most beautiful states in India. This itself is inspiration enough for any artist(e). But songs cannot be only about nature. Our songs have a lot to do with human nature. Humans are whom we have to deal with every single day. So like any other city, society plays a big role in our songwriting. Love, lack of love, ups and downs, sadness, happiness are all part of our music.