Snapshots from the sets of the film Abhijaan
A biopic on Soumitra Chatterjee's life, with Prosenjit in a special role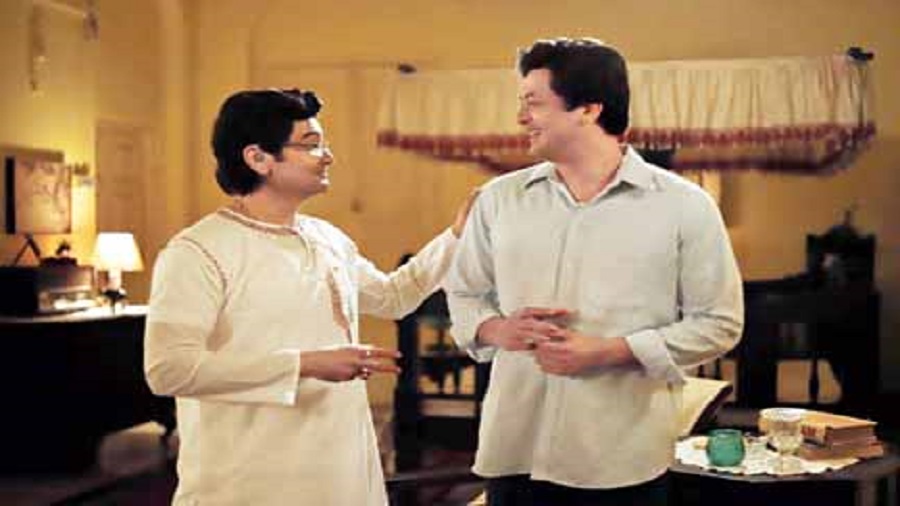 Prosenjit and Jisshu Sengupta on the sets pre-Covid
Sourced by the Telegraph
---
Published 25.09.20, 09:57 PM
|
---
He was missing everyone, from his co-actors to technicians, in the last few months. And Prosenjit joined Team Abhijaan on September 20 and shot for two days. The star makes a special appearance in Abhijaan — a biopic on legendary actor Soumitra Chatterjee's life — directed by Parambrata Chattopadhyay. Abhijaan sees Soumitra playing himself at his present age. The team wrapped up the shoot recently. "It was tough, resuming and finishing post the lockdown. The rhythm was interrupted, couple of sets had to be rebuilt. The first day (of shoot) with Soumitra Chatterjee post lockdown was incredibly scary. But he remained steadfast in his will to work. Slowly we all got used to the new normal. The next challenge was collating dates of different actors and hence had to go for piecemeal shoot. But all in all a great learning experience," says Parambrata.
How was it like directing Prosenjit? "It was sweet of Bumbada to agree. He wasn't stepping out of the house at all! Finally after lot of deliberations he agreed to September. Glad that he is on board," says Param.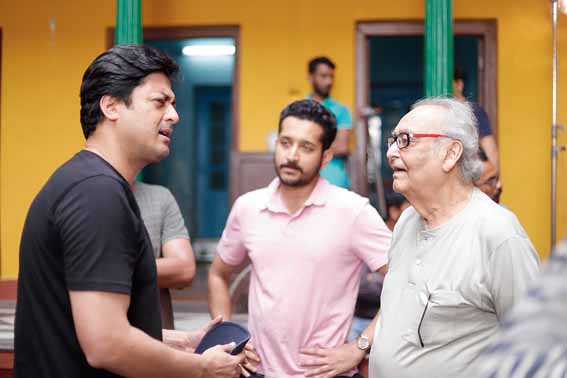 Jisshu, who had played Uttam Kumar in the film Mahalaya, now plays Soumitra! "I am the luckiest actor from my generation who had the opportunity to play Uttam Kumar and Soumitra within a span of one-and-half years. I am blessed and I thank my stars. We (Soumitra and Jisshu) have done films together. We have had many conversations. I spent a lot of time with him on the sets of Posto. Most of the times we only talked about cricket! He is a big fan of the game. I know him more on a personal level. I want to capture the essence of the person through my performance," Jisshu had told The Telegraph earlier.
"This is a historic film and we are feeling proud. Everyone is giving their 100 per cent. The cast is huge and Param is doing very well. I am a big fan of Soumitra Chatterjee. We have a good bonding. Meanwhile, the response to Tiki-Taka has been very good all across India. The performances of Param and Emona Enabulu were really appreciated…. The message of the film was very good," said producer Navratan Jhawar of Ratan Shri Nirman.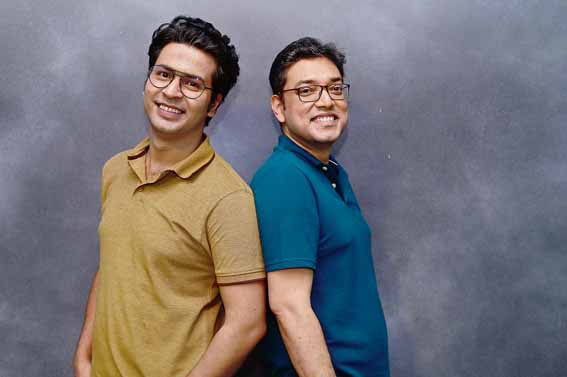 Remembering the renaissance man
Ishwarchandra Vidyasagar was one of the most important figures of the Indian renaissance. On his birth anniversary today, Anupam Roy and Anirban Bhattacharya present Michael Vidyasagar Sangbad, a song — composed and written by Anupam — representing a dialogue between Ishwarchandra Vidyasagar and Michael Madhusudan Dutta portrayed by Anirban and Anupam respectively. "Since it is in the form of a dialogue I needed two voices. I was portraying Michael... and I needed a voice for Vidyasagar. After a few adda sessions with
Anirban, I had realised he is a music aficionado and sings really well too. Then I thought of Anirban," said Anupam.
The song is a celebration of Vidyasagar and Michael's friendship. "I have been a fan boy of Vidyasagar. I was reading about him recently and found out it is his 200th birth anniversary this year. Which is how I thought of the song which celebrates the renaissance and Bengal's past glory, remembering the people and the friendships they had," said Anupam.
Anirban has conceptualised the music video, which drops today. The song is unique in itself as it is conversational in nature. "Anirban is a lovely actor, I like his performances. I first heard him sing during the promotions of Uma when he was humming Aaloshyo. Then gradually
I realised how serious he is about singing. He has many songs in him." What was Anupam's takeaway? "This song demanded two voices and I am very happy with the collab with Anirban. I feel we can do more projects in the future," smiled Anupam.