Simmba is a Ranveer Singh party
The best way to watch Simmba is to just sit back and enjoy the masala madness you've signed up for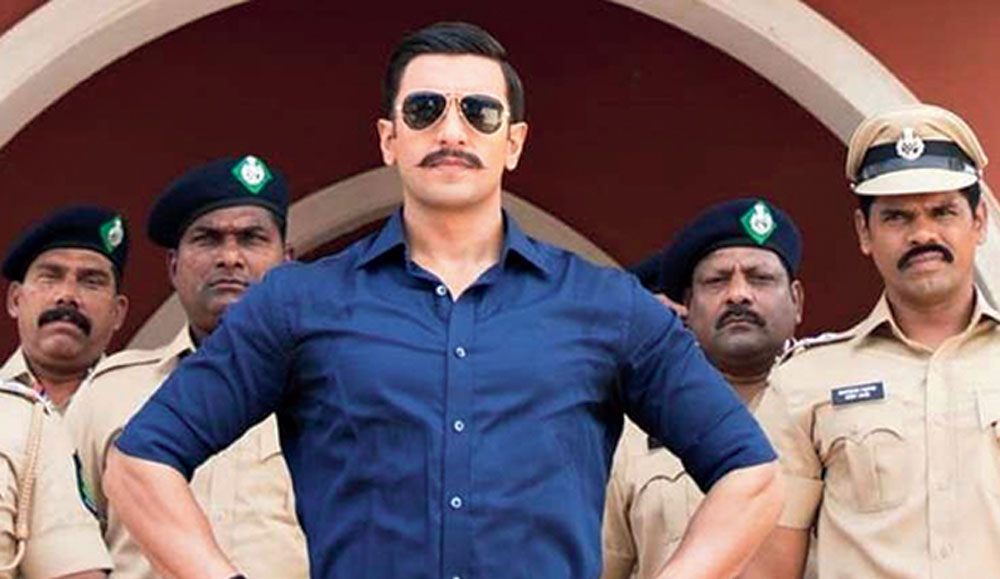 Ranveer Singh in a scene from Simmba
A still from the film
---
Published 28.12.18, 02:05 PM
|
---
Ranveer Singh was born to be a Bollywood hero. Cross that… Ranveer Singh was born to be a hero in a Rohit Shetty masala movie. In Simmba, Ranveer inhabits his Sangram Bhalerao aka Simmba in the way only he can, making him a no-holds-barred unscrupulous cop with a wicked tongue and a wacky sense of humour.
Many an actor has gamely played along in Shetty's over-the-top movie universe, but it's only Ranveer who seems like he's been a part of this world forever. As Simmba puts it many a time in the film, "Mind eej blowing" every time the actor is on screen.
Right from that superbly shot introduction scene at a dhobi ghat where Simmba runs into the frame in slo-mo to the way he takes on an army of goons single-handedly and rips apart body parts one by one, this is a paisa-vasool performance from Ranveer who has often described himself as a child of Bollywood '80s cinema.
In fact, Simmba seems to be the love child of Chulbul Pandey and Bajirao Singham. There is the cool factor — right down to the stylish RayBans and moustache from Dabangg — and the power — Crash! Boom! Whack! Thwack! — from Singham. And this man could give Deadpool a run for his motormouth. When he isn't delivering lines like "You are my bhai from another aai", Simmba — who robs the rich but doesn't give to the poor — dances at rave parties where he's landed up for a police raid.
The story of Simmba, however, is as old as Bollywood itself. A corrupt cop has a change of heart when a young girl he considers his sister is brutally raped and killed. A loose remake of the 2015 Telugu film Temper, Simmba's fun first half gives way to melodrama post-interval. The tempo flags and though the film attempts to focus on a relevant theme, it comes off as tone-deaf in parts. Simmba talks about women's emancipation and safety but makes its female characters largely perfunctory. In her second film, Sara Ali Khan has precious little to do but makes the foot-tapping Aankh marey a treat.
A few contemporary cases of violence against women are mentioned but the tenor soon turns preachy.
The best way to watch Simmba is to just sit back and enjoy the masala madness you've signed up for.
Shetty has a blast both with comedy and action, but unlike his previous films, cars are not sent flying in Simmba… people are. There are some well-mounted action set pieces, with Simmba letting his fists do the talking in a post-interval scene at the police station being a treat for the action fan.
And then, of course, there is Singham — Ajay Devgn in character — who struts in to make Simmba an even more fun watch. Just that shot of Ranveer and Ajay walking in slow motion to a mash-up of 'Mann bhanwar uthe, tann sihar uthe, jab khabar uthe ke aawe Singham' and 'Aala re aala Simmba aala' is enough to make the Bolly masala movie fan happy. Not to mention that superstar cameo at the end — we won't spoil it for you — that seems to hint at a Singham-Simmba-Sooryavanshi (yup, that's the name of the new cop on the block) film. Rohit Shetty Cinematic Universe, anyone?
Bring it on!