Siddhant Chaturvedi on sneakers and style, struggle and success
'Birthday parties to shaadi to mundan, I started off by dancing everywhere'
Siddhant as MC Sher in Gully Boy
Sourced by the correspondent
---
Published 04.10.21, 11:23 PM
|
---
After a winning act in the web series Inside Edge, he impressed as the redoubtable MC Sher in Gully Boy, in what was his film debut. The accolades for the Zoya Akhtar film has put Siddhant Chaturvedi on a high, with the
28-year-old poised to be seen in some big films — Bunty Aur Babli 2 (with Saif Ali Khan, Rani Mukerji), Shakun Batra's untitled film (Deepika Padukone, Ananya Panday), Phone Bhoot (Katrina Kaif, Ishaan Khatter) and Kho Gaye Hum Kahan (Ananya Panday, Adarsh Gourav).
Siddhant is also the face of footwear brand Skechers and can be seen grooving in the new Skechers 'Street Ready' campaign ad. A candid chat.
What prompted the association with Skechers and what qualities of the brand resonate with you?
Well, it happened right after Gully Boy. If you remember that scene where I tell Ranveer (Singh, who played Murad) about my 'tijori' of shoes. I am very fond of shoes... even I had a tijori, but it was empty till Skechers stepped in (smiles). Now I think I need to have an entire house! My mom is fed up. She says, 'Yaar, aur kitne joote?!' (Laughs) But I'm like, 'Bring it on!' My friends keep asking me to give them my shoes because we are the same size. But I'm like, 'No!' Even if I don't wear many of them, I just like looking at them (smiles).
I like the comfort, style and the colour palette of Skechers. And the brand's 'Street Ready' campaign is even more close to my heart because I come from the streets. And Gully Boy gave me that identity... people said, 'Okay, this guy is from the streets.'
I know that you love to dance. What was it like dancing in the 'Street Ready' ad?
I remember when they called me to brief me about the shoot and at the end of 45 minutes I was like, 'Okay guys, that's me. You are just telling me about me!' (Laughs) The ad has a chill vibe and I had to do nothing... I just had to be myself.
What does dance mean to you?
Dance is how I got here. Birthday parties to shaadi to mundan, I started off by dancing everywhere (smiles). And it was while dancing at a party that Zoya (Akhtar) discovered me. The next couple of films that are coming up... you will see me doing what I do best (smiles). Dance is very close to my heart... in fact, acting happened after dancing for me. It was while dancing on stage that I felt most liberated and appreciated and that's what got me close to the craft of performance.
Safe to say that you are a sneakerhead and always have been?
Not always, not always. It happened after Gully Boy. Even before that, I really loved sneakers and some of my friends would really show them off... you know, the 'hype culture'. But at that time, my focus was on getting work and kickstarting my career. Abhi main apne shauk poore kar sakta hoon, but I not a flashy guy... I don't show off. I like to keep it simple yet fashionable.
What does fashion mean to you and how would you define your style?
Fashion, for me, is being who you are. It's an extension of what your personality is. I don't like to be out there. I believe that my work and my ideologies will speak for me. The fashion that I believe in is about making a statement, but one which is not in your face. You will notice my style, but it won't make you go, 'Oh my God! What is this?!' You will probably look at me out of the corner of your eye and go, 'Hmmm, I kind of like his style.' (Smiles) I don't believe in blending in, I need to stand out a little bit... but that little bit is where the game is. That's the science and the art of my style.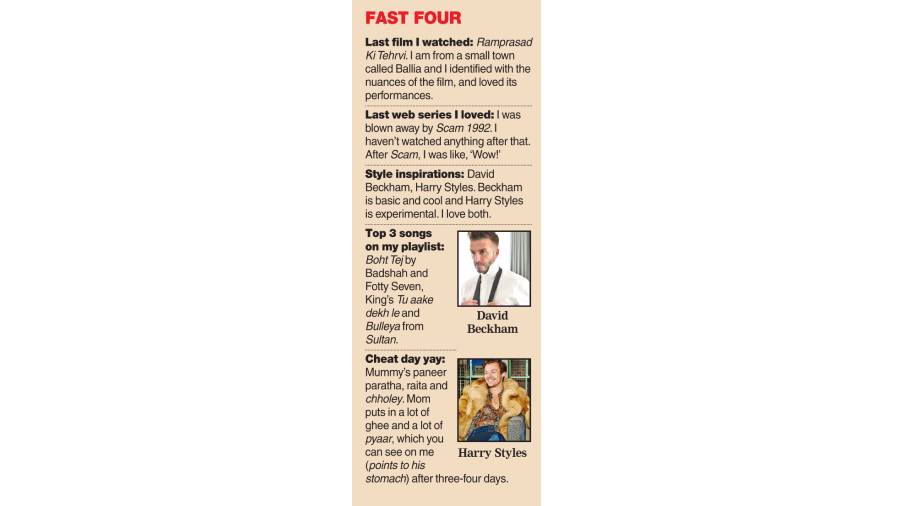 Have you ever had a wild fashion phase?
Not in terms of my clothes, but yes, my hair. I have curly hair and I straightened them in college. In college, I have had an Afro, straight hair, I even shaved my head for a while. In Gully Boy, I kept a crew cut because I thought that's going to look hot. But for the next few films, especially Bunty Aur Babli, you will see me in six-seven different avatars — different hairstyles, different accents, different body language, different clothes....
In a very short time, you have signed on some major projects across big banners, from Yash Raj Films to Dharma Productions to Excel Entertainment. Does it get overwhelming sometimes or does it feel a long time coming?
This is the best question anyone has ever asked me! Yes, at times, it feels organic because of what I had been through in the five-six years before Gully Boy. I knew I had it in me, but I also knew that there were 10,000 other guys who also have it in them. It's all about persistence and patience. Along with talent and resources, you also need to have that kind of patience to believe in yourself and not compromise on your dreams.
And I didn't compromise. There were films before Gully Boy which I almost signed because I was done waiting and getting rejected. But I waited because my dad believed in me. He thought I shouldn't short-sell myself, and that I should wait for the right opportunity. That takes a toll on everything you know... to keep waiting and waiting and waiting. And waiting for what? No one is telling you, 'Listen, I will launch you.' So yes, it feels organic because I have waited a long, long time for all this.
And I am actually still waiting... for the last two years, I have been waiting for my films to hit the screen. Banners do matter because they have a reach. I chose these banners because working with them is everyone's dream, but at the same time, I haven't compromised on the work and the script. Before this I was doing theatre, and I have a lot of friends who are still trying (for a break in Bollywood). And I honestly know that they are more talented than I am. It's overwhelming that I am the chosen one, the one to be the first.
But I am so glad that OTT is opening up doors for so many of them. Like Adarsh Gourav in The White Tiger and Pratik Gandhi in Scam (1992)…. I am proud and emotional because I have auditioned with these guys and we all have waited a long time. I am now doing a film (Kho Gaye Hum Kahan) with Adarsh and that guy is very talented... BAFTA nominated... I am really looking forward.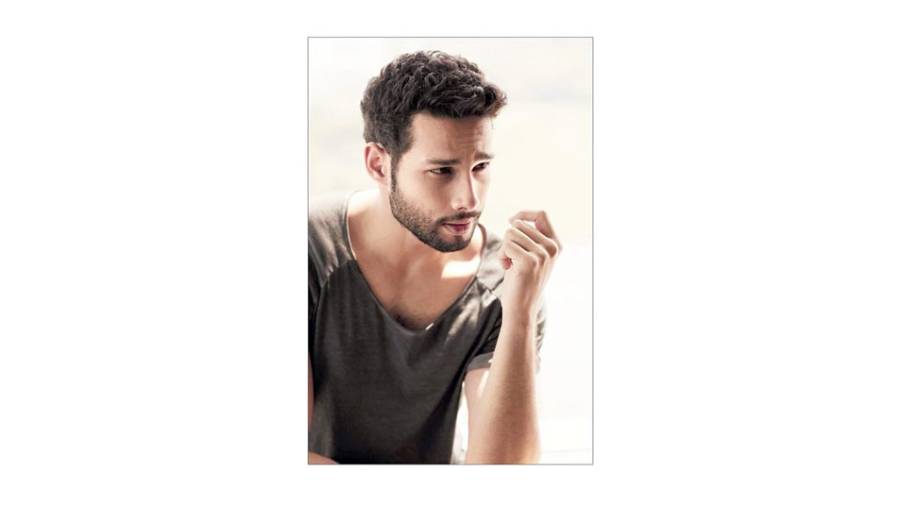 What do you love most about being an actor?
Coming back to where I live… my building, my society.... Every year, I have performed at the Ganpati pandal there and I have literally grown up in front of them, and they are so excited that I am doing films now. The kids in my building shout, 'Bhaiya, bhaiya' as soon as I get in. The best part is when I go home and ring the bell and my mom opens the door and I have that feeling of coming back home after a long day at work. Kaam hona bahut important hain. I am happy that I am doing such great work as an actor even in a world which has been going through such tough times. This wasn't there before... for five-six years I was just sitting at home.
Is that what keeps you grounded?
Yes, just going back home to my family. My parents have made many sacrifices to raise me and now I have the chance to make me happy and proud.
Of the parts you have played so far, which has been the most challenging and the  one that's been the most creatively satisfying?
Actually, it's the same part. I am not a rapper, I can't sing and I was 24 when I played MC Sher in Gully Boy. I was lanky, I couldn't rap and I hadn't even heard any rap before because I wasn't a fan, and I still am not. I am a John Mayer-Prateek Kuhad guy... that's my vibe....
Romantic....
Ya, slow and easy.... I never understood rap before Gully Boy. Whatever rap I heard before that film was about stuff like paisa, gaadi, ladkiyan that I never connected to. And even now, the only rap album I can listen to is Gully Boy because I feel and connect with the lyrics.
It was challenging... first film... Ranveer Singh, Alia Bhatt, Zoya Akhtar... I had to be convincing to be a mentor to Ranveer Singh. Every film that I have chosen after that has been like that for me... it has to be challenging. So whether it's Bunty Aur Babli (2), Shakun (Batra's) film, Phone Bhoot... they are all new, they are progressive and they push the envelope.