Shiboprosad Mukherjee: 'With Haami 2, we want to give parents and children the right idea about reality shows'
Co-directed by Nandita Roy, Haami 2 stars Shiboprosad Mukherjee and Gargee Roy Chowdhury; it is releasing at cinemas on December 23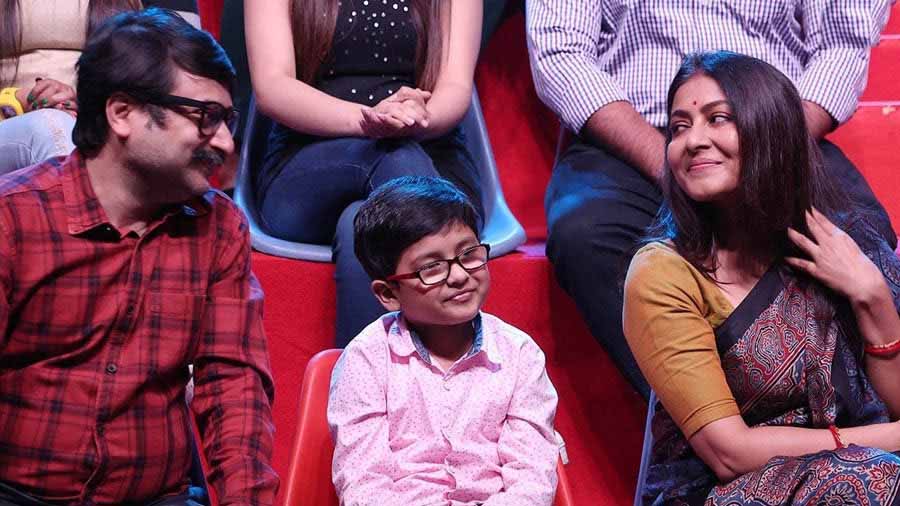 ---
Published 22.12.22, 05:23 PM
|
---
He's ready to tickle our funny bone with his antics as Laltu while also showing us the real picture of reality shows. Shiboprosad Mukherjee, co-director of the December 23 film Haami 2, chats with us about making a sequel to 2018's Haami and the present state of Bengali cinema. 
From your first film Ichhe to Haami 2, how do you think you have evolved as a filmmaker? 
Shiboprosad: Nanditadi (co-director Nandita Roy) and I have directed the films together. It has been a beautiful journey. Whenever we look back at our work, we feel we could have done better. No art form is perfect in the eyes of the artist. You can never be perfect. The best part of our journey is the love and trust of the audience. On the first day of Ichhe, there were only 15 people in the hall. Now, for our films, the first day initial is around 40,000-50,000.
Haami was a huge success. What prompted you to make Haami 2? 
Shiboprosad: We did Ramdhanu in 2014. After the success of Ramdhanu, we thought that with the Laltu-Mitali couple we could create a franchise. We did Haami in 2018. It was a huge success. The film was that year's highest grosser at the box office. Not only at the box office, Haami is the most watched Bengali movie on Hoichoi till today. It received the same response on television too. On all the platforms, Haami did extremely well. Haami 2 is a sequel to the blockbuster, which also addresses the issues of modern-day parenting.
How is Haami 2 different from Haami? 
Shiboprosad: The ratings of reality shows are really high. Around 30 lakh people are watching these shows. But there is hardly any reality involved in reality shows. In these shows, the judges stand up and tell a child that he is a genius. What is happening to that particular kid, then? They are not learning anything. The judge knows that the next day a new contestant will come and he has to say the same thing. 
Kids who don't take part but watch these shows with their families might think, 'I'm not getting 10/10 every day. There's no celebration.' Reality shows are not real. If you want to make it a reality show, you have to check the reality of their life. Talent hunting is not reality. In reality shows, we are creating drama to make the TRP of the show go high. So it is the same as a soap opera, which has got all the emotions and is scripted. 
It is very difficult for a participant who is six or seven years old to cope with the fact that tomorrow is a different day. The participants are known as X channel's Y show's participants. They don't have an identity. If you remove the X and Y, you are just nothing. Somebody will replace you. That's the reality. We're not saying reality shows are bad. We're not saying that the people who are making reality shows are bad. We're just trying to communicate with the parents. Through Haami 2, we want to give the parents and children the right idea of reality shows. 
Did Haami 2 need a lot of research? 
Shiboprosad: To be very honest, I did not have to do much research for this film. The only reason is that we both are from the television world and have directed reality shows. We know exactly what happens. We had directed the celebrity dance reality show, Ritur Mela Jhoom Tara Ra Ra, and Tolly vs Bolly which had six Kolkata and six Bollywood dancers. We have seen grown-up participants being unable to cope. How is it even possible for a kid? 
Films meant for children are not made very often. What are the challenges of making films for children? 
Shiboprosad: It is actually very fun and refreshing for us when we make films for children and also when we work with them. The only thing we need to keep in mind is that whatever we're saying through our film or showing in our film, the audience and the children believe that. Haami was one of the most risky films in our career. Our work was to make the audience gain their trust in the school back. It would have been very easy for us to say that the schools are bad. But we did not do that. Nanditadi and I love making children's films, especially films that deal with serious issues in a simple way. How difficult is it to direct children?
Shiboprosad: As an actor, you have to be a kid, else you'll not be able to perform with them. I had to be friends with them. Let me share two stories with you. We were shooting an ad film. There was this little girl who was in the ad along with Abir Chatterjee. Abir asked her, 'What do you want to be when you grow up?' She said, 'I am thinking of becoming a teacher.' Then she looked at Abir and said, 'What do you want to be when you grow up?' Abir said, 'I haven't thought about it, let me see.' (Laughs) In Posto, there was a scene involving Soumitra Chatterjee and the little kid playing Posto. After the scene, Soumitra Chatterjee told him, 'You did very well.' The kid said, 'You have done a good job too!' Kids are like that.
What made you cast Prosenjit Chatterjee and Anjan Dutt in Haami 2?
Shiboprosad: Bumbada (Prosenjit Chatterjee) has seen Haami many times with his son. He wanted to be a part of the movie from day one. We were waiting for Haami 2 to happen. It was very difficult to convince Anjanda for the role. Anjanda's cinema and our cinema are poles apart. When I visited him to read the script, he listened to my reading quietly. His first reaction was, 'You want loose pajamas, right?' (Laughs) I did not have to ask him if he's doing the role or not. He was already into the character and we were discussing the costumes. This role is tailor-made for Anjanda.
How has the character of Laltu evolved through Ramdhanu, Haami and Haami 2?
Shiboprosad: Nanditadi created this character keeping in mind RK Laxman's The Common Man. He's like Mr Bean. He laughs at everything without a reason. He confidently highlights the fact that he has failed seven times in a school job interview. Laltu is very simple. He is a family man. He doesn't believe in the rat race.
Do you think we are witnessing a resurgence in Bengali cinema? There are a lot of new subjects and genres being explored.
Shiboprosad: I think this is the best year for Bengali cinema. So many films have done well — Belashuru, Aparajito, Ballavpurer Rupkotha, Karna Subarner Guptodhon. There's been so much variety, from Baba Baby O and Eken Babu to Dostojee and Lokkhi Chhele. Bengal is doing really great in terms of work. Regional content is doing better than national content.
The only thing we have to change is the dependence on satellite and OTT platforms. Filmmakers are making films with the motive to be screened on OTT and television. We need to come out of that.
How soon will we get to see Posto in Hindi?
Shiboprosad: The shooting is done. Post-production is going on. We are getting a little delayed because we have a lot of content lined up here in Bengal.