Shefali Shah on Jalsa, her 'labour of love'
'I am someone who never does anything that my heart is not completely into'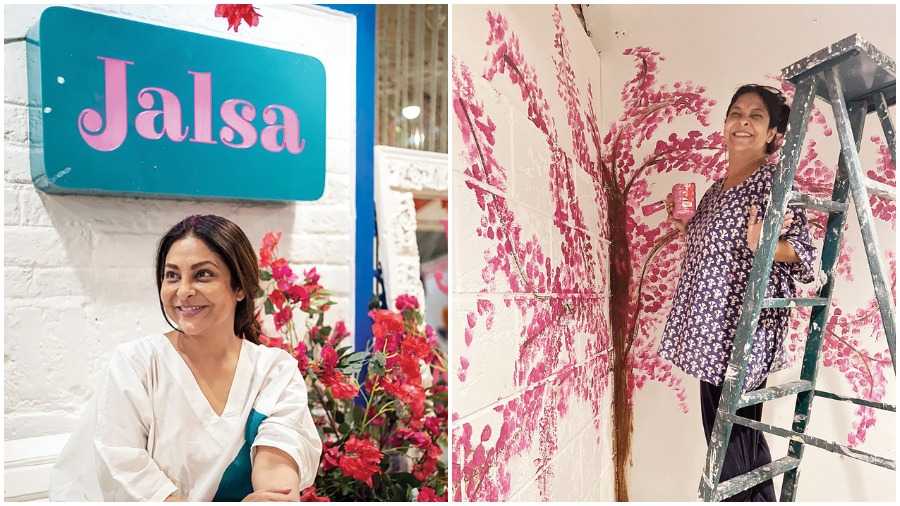 (L-R) Shefali Shah, she painting one of the walls at her restaurant Jalsa
---
Published 18.11.21, 02:33 AM
|
---
Even as she juggles a bunch of films, both as actor and director, Shefali Shah has just realised a long-cherished dream. The actor has just opened Jalsa, a 7,500sqft restaurant in Ahmedabad that she describes as more of an experience than a food stop. And with good reason. From puppet shows to dance performances, mehndi artists to candy floss sellers, Jalsa, as its name suggests, is truly celebratory. t2 caught up with Shefali — who also has a slew of interesting roles coming up — to know more.
It's quite exciting speaking to you about something other than films. How did Jalsa happen?
I always wanted to be in the hospitality business. My dream is to have a small resort of my own by the sea, one that I would clean myself, cook myself, a community table, and stuff like that.... I have always been inclined towards an idea like this. I enjoy cooking, I love food and I genuinely feel that every moment one gets is worth celebrating. Instead of waiting for special moments, why not do it on a day-to-day basis? Especially after what the world has been going through in the last few years... you suddenly realise how important it is to make the most of every living moment.
Jalsa actually happened quite suddenly... in less than a month, to be honest. My sister, Neha Bassi, has been in the hospitality business for many years now. We decided to start this on our own... all woman power (smiles). It's been taxing and really heavy, but I have really enjoyed setting up Jalsa. I have been in and out of shoots, but I wanted Jalsa to be done exactly the way I had envisioned it. So, from selecting napkins to even the table mats... I am a stickler for perfection, which my sister would probably put down to me being stubborn! (Laughs) I am very proud of what we have created. Everything we have put in is very special. I just went into this thinking, 'Why not? And why not now?'
So you are very hands-on with this....
I have always been hands-on with everything that I do... totally and absolutely! I love designing spaces, hosting friends and family, I enjoy cooking... so this has been a whole dream come true for me. I am completely hands-on... as a person, homemaker, wife, mother.... It's not that I don't trust other peoples' ability, I just want to do it on my own rather than explain my vision to someone else.
I had a lovely art designer called Silky who normally designs film sets. She came over to Delhi and met me when I was shooting for Season 2 of Delhi Crime, we did sourcing together and it's shaped up exactly the way I wanted it to be.
What made you name it Jalsa? You have just wrapped a film called Jalsa with Vidya Balan. Coincidence much?
Yes, I am doing a film by the same name (smiles). I just love the name! There is a certain kind of openness and flair that I associate with the name. And it absolutely, bang-on, describes what the restaurant is. It is a celebration of friends, of family, of food, of fun activities....
At Jalsa, we are not just serving food, we are serving an experience. There is something for everyone. Puppet show to Kachchhi Ghodi dance, Macarena to even patrons just standing up and doing the garba.... There is a mehndi artist, a tattoo artist, someone selling bangles, an astrologer.... We serve things like gola, the kamrak and amla we used to eat outside school, Bali Chai, Burmese Khowsuey to world cuisine to Litti Chokha to traditional cuisines from different states....
This sounds like a carnival!
It is a carnival! That was the idea.
What are your favourites on the menu?
I am a hardcore foodie. Neha and Deepak (Bassi, husband and hotelier) wanted to bring in some of the dishes that I cook. So, in fact, I cooked a meal for the chefs there while we were getting it ready. I have so many favourites there. Besides the ones I mentioned, I love the chana jor garam, the candy floss, the pasta, the Litti Chokha.... The other day, the chefs at Jalsa whipped up a kebab made of suji which was 'wow!'
But why Ahmedabad?
Honestly, why not? We needed a big space and Jalsa is sprawled across an area of 7,500sqft. The kind of design and activities that are involved required this kind of space. Well, Gujaratis are foodies. And, fingers crossed, we would love to open Jalsa in other cities too. Neha and Deepak have restaurants there and so they are well-versed with Ahmedabad and have business relationships there.
Please bring Jalsa to Calcutta!
I would love that!
I really, really hope! Fingers crossed!
So what does Shefali cook best?
I can rustle up everything from Gujarati to Maharashtrian to South Indian to continental.... During last year's lockdown, I would cook and share recipes on Instagram and a lot of people tried them. I love cooking traditional Gujarati food. There is a Gujarati version of Baingan Bharta which I really love, and which is actually chilled. Then there is naani's dal, which my mom would make, and it's got that name because my kids would call it that. 
And even while doing all this, you have been wrapping up scores of films. There's Jalsa the film, Darlings, Doctor G and you have directed a few short films. Where have you been getting the time and how important is it for you to diversify?
I am someone who never does anything that my heart is not completely into. For me, Jalsa is a labour of love. It was a calling for me. I do the films I do because I love those projects. So everything that I do will always come from there (points to her heart). In everything that we do, Vipul (Amrutlal Shah, film-maker and Shefali's husband) is the brain and I am the heart (smiles).
As far as films are concerned, I haven't worked as much in my entire life as I have done in the last one-and-a-half years. This is the busiest I have ever been! But I am loving it. All these projects have been so special, and again, they called out to me. So with everything I do going forward, I will follow the thumb-rule that I have followed all my life. I will only do the things I fall in love with... otherwise I won't.
What changed things for you?
Delhi Crime changed everything for me. I used to get complimented that I am one of the finest actors out there, but it never translated into work. The advent of OTT platforms has changed so much for female actors. In life, women are at their prime in the 40s... but in our films, they don't know what to do with us. But that's changing... whether it's Badhai Ho, Tumhari Sulu or Lipstick Under My Burkha... women of my age have really found a place on screen. I am so happy with the work I am doing now.