She storytellers: Zoya Akhtar, Reema Kagti and Nitya Mehra
The three directors talk about Made in Heaven, Amazon Prime's latest show created and directed by them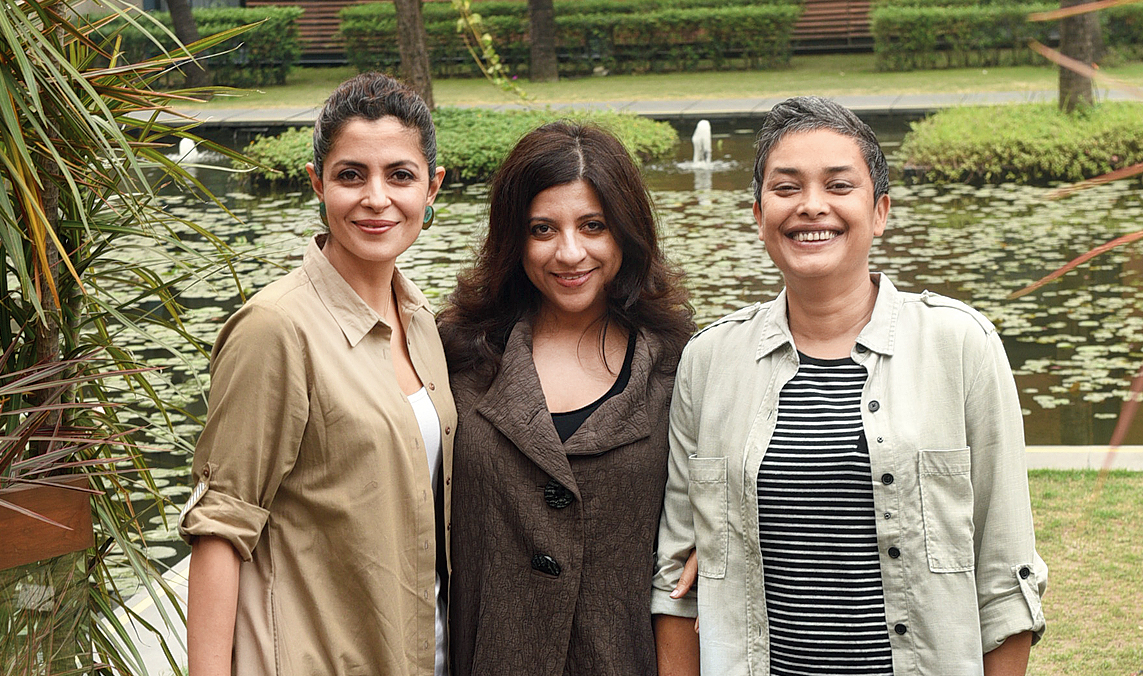 (L-R) Nitya Mehra, Zoya Akhtar and Reema Kagti at ITC Sonar, Calcutta
Picture: Rashbehari Das
---
Calcutta
|
Published 07.03.19, 06:38 PM
|
---
Made in Heaven, a compelling nine-episode series built around the drama that accompanies weddings, drops on Amazon Prime Video today. Boasting a stellar cast (including Kalki Koechlin and Jim Sarbh), Made in Heaven is created and directed by a team of strong women storytellers — Zoya Akhtar, Reema Kagti, Nitya Mehra and Alankrita Shrivastava. With three of them — Zoya, Reema and Nitya — in Calcutta this week to promote the show, t2 caught up for a chat on what working together as women means to them and what will it take for more women to break into male-dominated Bolly bastions….
Weddings, especially Indian weddings, come with their fair share of stress with the potential of so much drama in and around it. Was that the idea that spurred you on to write Made in Heaven?
Zoya Akhtar: I think the idea did come from the drama that happens at weddings. I have friends that work in the business and one gets to hear a lot of stories. It's an interesting space. There's so much theatrics that goes on because we make weddings such an event in this country. It goes on for so many days, there's so much money spent, and it's a production… it's a show! To go behind the scenes of that show and see what all is happening was fascinating. It's a very juicy space!
Nitya Mehra: I think the narrative has also been structured in a compelling way. Each episode deals with a different wedding and there's a kind of social commentary that accompanies every wedding. We touch upon social nuances that affect our country. All of this is juxtaposed with Karan (played by Arjun Mathur) and Tara's (Sobhita Dhulipala) personal lives and the trauma that they are going through.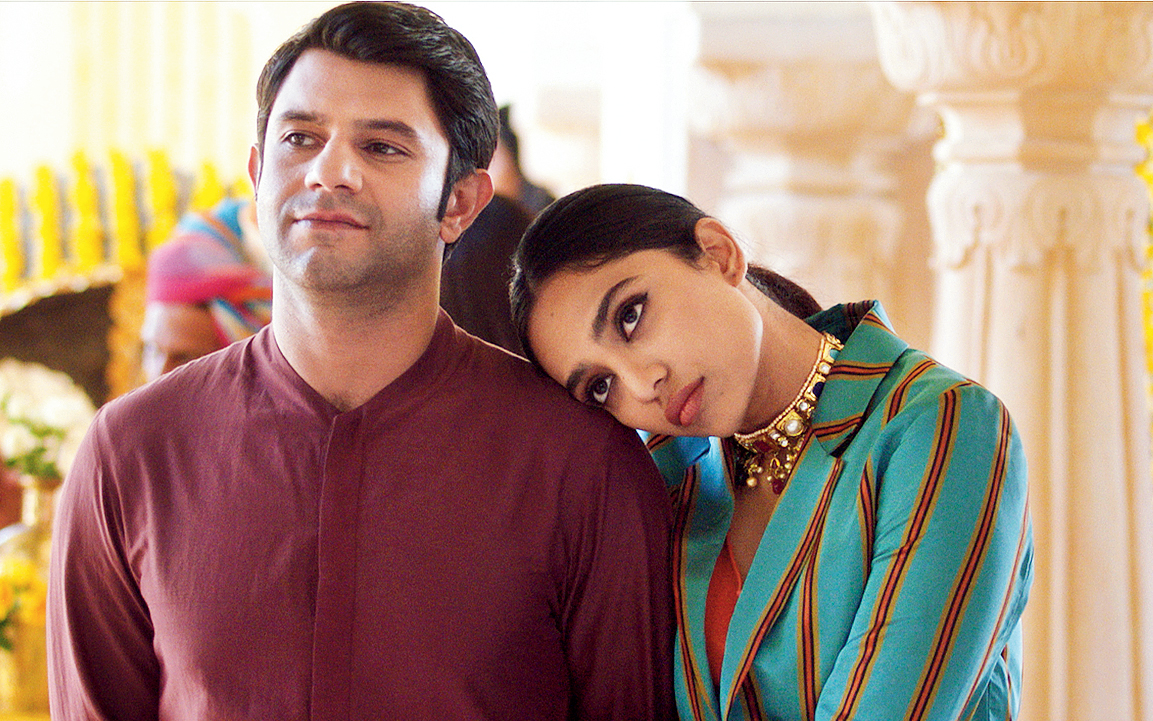 Beneath the glitz and glamour of weddings, the show is a study of human psyche and a commentary on social ills like patriarchy and subjugation of women. How did you weave that into the narrative so seamlessly episode after episode?
Zoya: As writers, Reema, Alankrita and I like our writing to be very rooted. We like to layer it and also want it to be a reflection of what is around us… the social dynamic that we are a part of. When you take patriarchy alone, there's so much that comes along with it — whether it's forced marriage, dowry, a premium on virginity… weddings done with an eye on corporate dealings…
Nitya: And with nine episodes, we've barely scratched the surface!
Reema Kagti: What we really needed to do was balance the trajectories of the main characters with all these episodic issues. We kind of tried to have the two have some kind of correlation.
Nitya: The series format lends itself beautifully to ensembles. So I think it was a great playground for the writers to delve deep. We were able to give a lot of time to our main characters to develop them. There was a lot of meat to chew on.
Are the characters — and more importantly, the weddings — inspired from observations or from imagination?
Zoya: Half and half. You always use characteristics from people you know and meet and then mix it up. You obviously keep only what's interesting and suits the narrative. A lot of it is also inspired by newspaper headlines!
Reema: Ya, I read a piece somewhere where a wedding was called off because chicken biryani had been served instead of mutton! (Everyone laughs)
Zoya: That's understandable! (Laughs out loud)
Reema: Then there was another instance where the bride called off the wedding because the groom broke into a naagin dance in front of all the guests! Which I think is justified… imagine waking up every morning and watching him do the naagin dance! (Everyone laughs)
Nitya: Honestly, apart from the social angle bit, we also wanted to celebrate Indian weddings… they are so cinematic and beautiful. I, personally, have never been to a wedding where the decor has been the same. So yes, we have brought in the beauty and the glamour that accompanies our weddings into the show.
Zoya: You've watched the show, so you know how big it is in scale. We wanted to shoot on location and not just knock it off in some studio.
Zoya, you and Reema have been collaborators from the beginning of your careers. What was it like having Nitya and Alankrita on board? Were you guys on the same page all the time or would that have actually made it boring to work with each other?
Nitya: If we agreed on everything, then something is definitely wrong!
Zoya: I don't see any reason to collaborate with people who will not open my head and mind to something completely new. Having said that, you can't collaborate with people who aren't on the same side of the fence as you. Like I can't collaborate with anyone who thinks dowry is okay…. That's a problem… a big, big, big problem! As long as your politics, your value systems and so on are similar, then the different backgrounds, principles and influences that different people bring in are interesting.
Nitya: Because it's a different wedding in each episode, we took turns in directing the episodes —Reema didn't direct any because she was making Gold at that time — but I think having different directors worked because we brought in a different aesthetic. And my job as showrunner was to ensure that even if the director and DoP (director of photography) changed in every episode, it all felt like a cohesive whole… as long as we knew the characters' arcs and kept hitting the sweet spot each time.
What do each of you bring to the table?
Zoya: With Nitya, we are on very familiar and safe territory. She came in as showrunner and she was the one who could read what we wrote and point out the inconsistencies. It was very nice to have someone from outside look at the writing objectively because, honestly, we are myopic! (Laughs) She's come back to us with, 'Dude, this doesn't work, this doesn't flow', and that really worked for us. She's been a first AD (assistant director) and she knows how to run a ship. And then she brought on her aesthetics as director.
Reema: I'll tell you what Zoya brings to the table…
Zoya: Oh, a lot of fabulousness! (Everyone laughs)
Reema: Apart from a lot of self-praise and modesty (laughs and rolls her eyes), Zoya is a keen, keen observer of human behaviour and she locks it all in her brain. I love writing with her because she brings a depth to people and situations and she pushes me to do the same. She brings in subtext like no one else. She has visual strength and she can make even this bottle (points to the bottle in front of her) act!
Nitya: I think both Zoya and Reema bring in the power of the written word. I love their minds!
Reema: You didn't mention our good looks! (Laughs)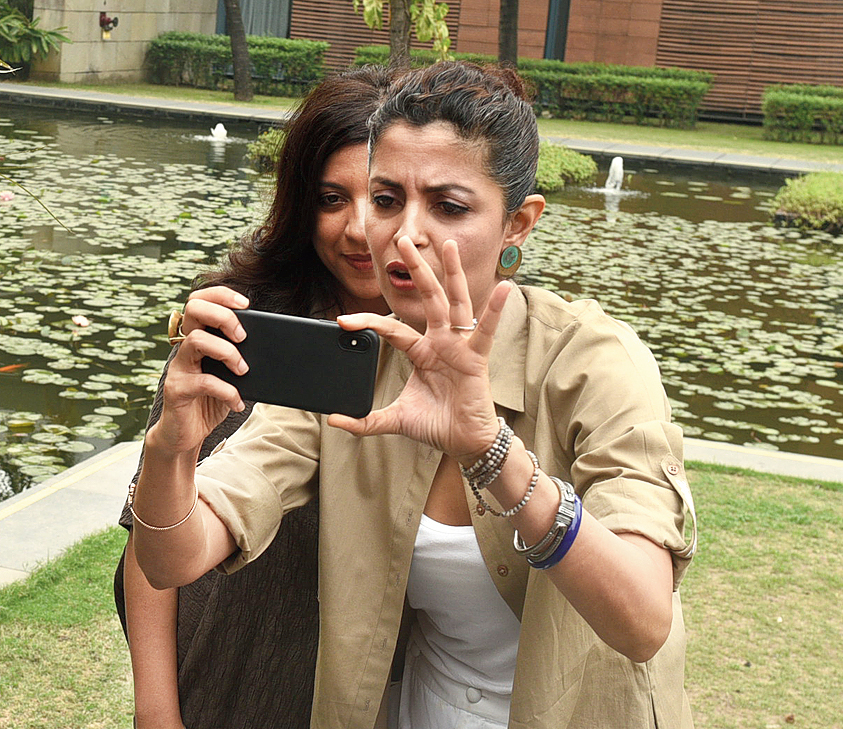 What will it take for more and more women to come in and explore bastions in our cinema that are predominantly dominated by men?
Zoya: I feel it's already happening. The more women work in this business, it will enable more women to come in… it's as simple as that. You create more opportunities and safer environments and you will see that women are excelling not only as directors and actors, but also as producers, DoPs, editors….
Nitya: These days, films with women protagonists are doing consistently well. When I joined the business 10 years ago to what I see now, the ratio of women to men on set has really gone up. There's a huge difference.
Zoya: Like Namrata Rao, the editor of Made in Heaven and a lot of other big films, is very prolific. She's probably an inspiration to a young girl who doesn't have it in her to be a director but knows that she will make a good editor. So now we do have women in the Hindi film workforce who are inspirational and are working in hitherto male-dominated jobs. You won't believe the number of people I meet who tell me that their 14-15-year-old girls want to be directors. So the aspiration is there and so is the support.
Nitya: And let me tell you that working with women has been so empowering. We understood each other, we knew where we were all coming from and brought in our emotions as women into the sets that really helped the show, I feel. So yes, having more and more women coming in to tell stories is a need.
The more women work in this business, it will enable more women to come in… it's as simple as that. You create more opportunities and safer environments and you will see that women are excelling not only as directors and actors, but also as producers, DoPs, editors
- — Zoya Akhtar
Between the three of you, you've directed some big films with big budgets and superstars. Do you still have to deal with stereotypes at work on a daily basis?
Zoya: Forget about work, you have to deal with stereotypes in the country! Actually, the film industry, to me, is better than all the nonsense that happens outside it.
Reema: The film industry doesn't care about your gender or your religion… they just care about whether you can deliver or not.
Zoya: Success matters! More than anything else, it's success that works in this industry and producers are very quick to recognise that. If you can get in money for your producers, they will promote you… they will not think of your gender.