Shashi Tharoor's The Great Indian novel has completed 25 years in print. the silver jubilee was celebrated over satire & sips
Read more below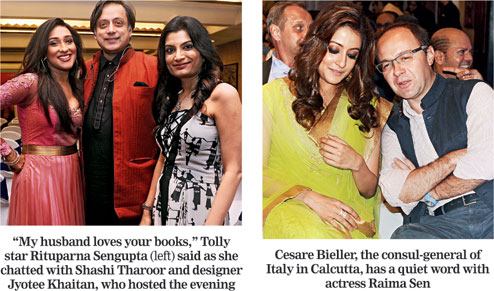 ---
---
In the year 1989, V.P. Singh was briefly the Prime Minister of India, Sachin Tendulkar made his Test debut and Salman Rushdie went into hiding after the infamous fatwa. Today, no one really knows who V.P. Singh was, Sachin belongs more to football than to cricket, and though the fatwa against Rushdie doesn't hold, he's often kept out of little Indian cities, making big headlines. But another 1989 milestone is still going strong — Shashi Tharoor's The Great Indian Novel, which has enjoyed 43 reprints!
This grand dose of satire that draws a parallel between The Mahabharata and the crucial decades before and after Indian Independence to hilarious effect has just completed 25 years. The silver jubilee was celebrated at a cocktail and dinner do at The Park on Sunday.
Tharoor spent the evening obliging autograph and photograph requests and chatting with guests. He also read out his favourite sections from The Great Indian Novel, which has been republished by Penguin in a special 25th anniversary hardback edition (Rs 799). One of Tharoor's picks was the Mango March by Gangaji, an obvious parody of Gandhiji's Salt March. As his readers have been for 25 years, the audience was left in splits.
While Tharoor admitted that such a book couldn't have been written today — "we don't live in epic times anymore" and "I am too involved in politics now, you need a certain distance to satirise something" — he acknowledged that despite our flaws, "we as a society have matured enough to laugh at things we hold precious."
Samhita Chakraborty
Pictures: Pabitra Das