Shah Rukh Khan's hero to Zero story
'I am no longer the King of Romance; main khud hi romance hoon... I am love' — Shah Rukh Khan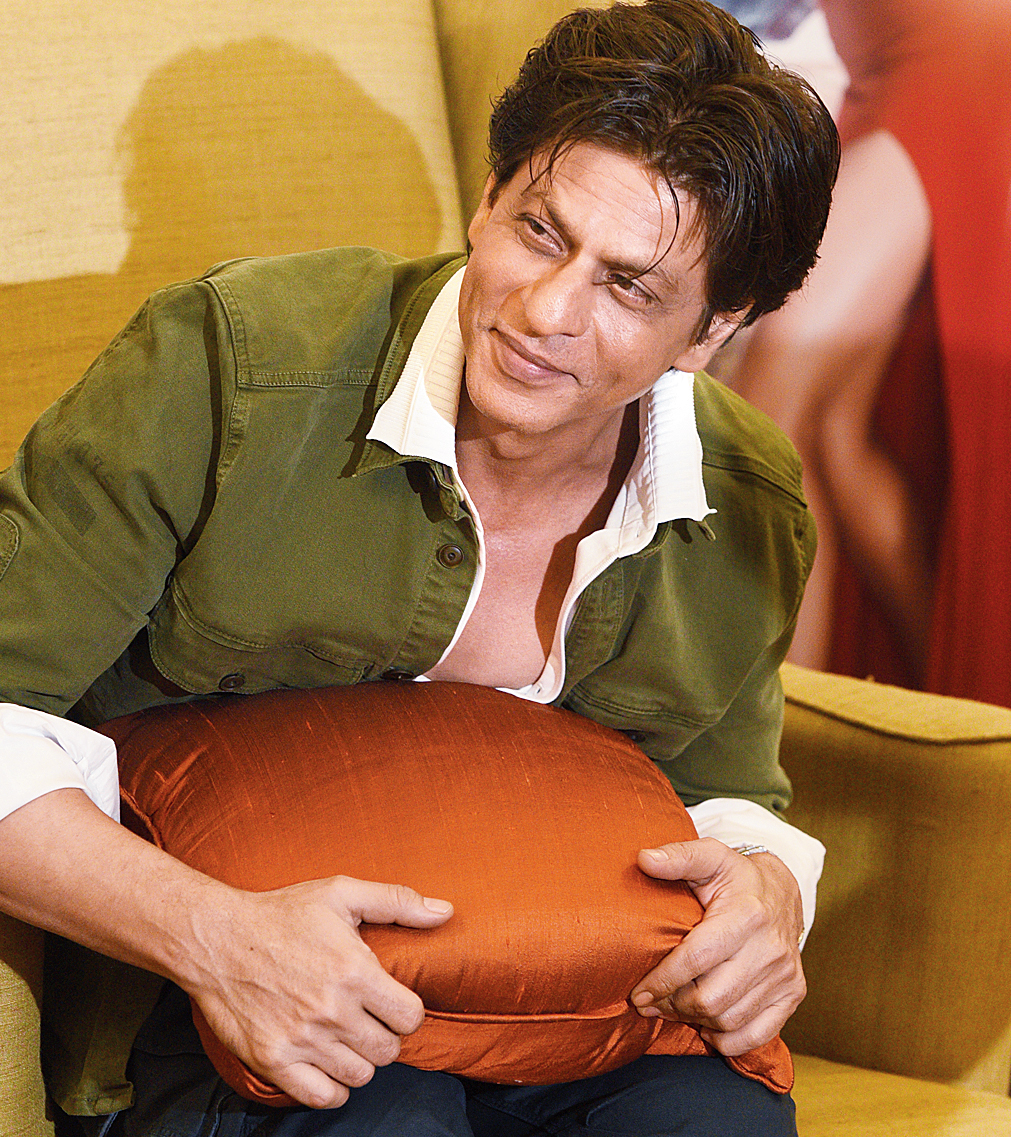 ---
Published 12.11.18, 06:05 PM
|
---
Wry wit. Fun lines. Deadpan humour. Life lessons packed into every answer.
Shah Rukh Khan is always a delight to talk to. On Saturday, King Khan was in Calcutta for the inauguration of the 24th Kolkata International Film Festival, at which he's been a regular for some years now. His work commitments wrapped up, the 53-year-old superstar — dressed cool in black cargo pants and olive green jacket — made time for a chat with t2 in the presidential suite at The Oberoi Grand. On the chat agenda — his December biggie Zero, son AbRam's priceless reaction to the film's trailer and why the actor doesn't have a low day. Accompanying SRK during the half-hour chat was his Zero director Aanand L. Rai.
Congratulations for the Zero trailer, which has more than 100 million views in a little more than a week. Did you think it would become so big so soon?
Aanand L. Rai: Sir (Shah Rukh)ko toh aadat hai of big numbers, for me it's a big thing. I've always told everyone that mujhe numbers se matlab nahi hai, mujhe sirf pyaar samajh mein aata hai. But now after being with sir, numbers bhi samajh mein aa rahe hain. Now I am understanding what 100 million means (smiles). It feels very nice.
Every time I watch the trailer and the film, I feel ki meri aukaat se bahut badi hai yeh film. Not in terms of mounting, but in terms of emotion. The thought that I wanted to tell this story gave me strength. It's been a very tough process of making the film, but it's been rewarding because I've made it with the people I've wanted. When people ask me now that how was the process of making this film, I tell them, 'Bas Ludo khelte khelte bana li film'.
What's the most enduring feedback that you've got for the trailer?
Shah Rukh Khan: The film stems from what the director feels in his heart; then we all think it through. We are the thought process for it, the heart always comes from the director and that's how it should be. If that happens, then the film more or less gets made the way you want it to… how well or not well, that of course, comes from the audience reactions later.
He had made the trailer a long time back… he showed it to me about two months ago. The first reaction — which I think Amitji (Amitabh Bachchan) also had as did a lot of people — was 'Arre yaar, kuch emotional sa ho jaata hai'. That's nice to hear because the trailer is not cut like that and the character (SRK's Bauua Singh) is definitely not like that. We were very clear that while portraying this character, who is specially abled, we will not ask for sympathy. We only wanted to celebrate and tell people that it's all right to be incomplete, in whichever way it is. That people are finding it emotionally touching is a very nice thing.
When I saw the trailer, I found it funny. And because I am a bit of a materialistic man, I found it big (smiles), which is what I like in cinema…
Aanand: Achha, yeh aise hain nahi… he just likes saying these things (looks at SRK and laughs).
Shah Rukh: I liked Katrina's (Kaif) entry in the trailer… I liked how Anushka (Sharma) was subtly introduced… it's a very major character and people didn't know what she played before the trailer came out. But yes, I found it thrilling too, especially last mein when the rocket comes in… I told him 'Yeh bahut solid lag raha hai'.
A big takeaway from the trailer has been the paisa-vasool dialogues…
Aanand: The full credit for that goes to Himanshu Sharma who's written them and Khan saab who's delivered the lines.
Shah Rukh: There are many nice scenes and lines in the film, but invariably there will be two-three things that an actor will develop an attachment to. I have an inherent sense of humour and an appreciation for irony, so there are some lines in the film that I find quite magical.
However, when we sat after the edit, I realised that my three favourite lines from the film are no longer there (looks at Aanand L. Rai and laughs). So I keep threatening Aanand sir that if you don't put them back in in some form — even if it's in a voiceover — I will tell the whole world! (Laughs)
At the trailer launch in Mumbai on your birthday, you had said the line, "Le aa apne teen Khan, yahin khada hoon meri jaan" was your favourite…
Shah Rukh: Arre, woh bhi nikaal diya hai, yaar. But don't worry, it will make its way into the film (smiles and winks).
Aanand: For all the films I've made, I have had a couple of lines in each where I've thought, 'Agar Shah Rukh Khan yeh line bolta toh uska impact kuch aur hota'. And now that I have made him say so many lines in my film, it's honestly been a dream come true.
What's been a hit is also that line where Bauua underlines the side effects of chewing gutkha…
Aanand: I knew that line (where Bauua says that his father's habit of chewing gutkha had affected his sperm count and therefore, Bauua was born a dwarf) would stick. I think they should run this instead of those disclaimer ads before films. Male ego bahut hurt ho raha hai! (Laughs)
Shah Rukh: For me, it's the funniest line of the film.
Aanand: Sir was always doubtful whether everyone would understand the line.
Shah Rukh: I even told him that I would emphasise it more in the dubbing so that people understand it. I told him that if people don't understand this line then mujhe bahut dukh hoga.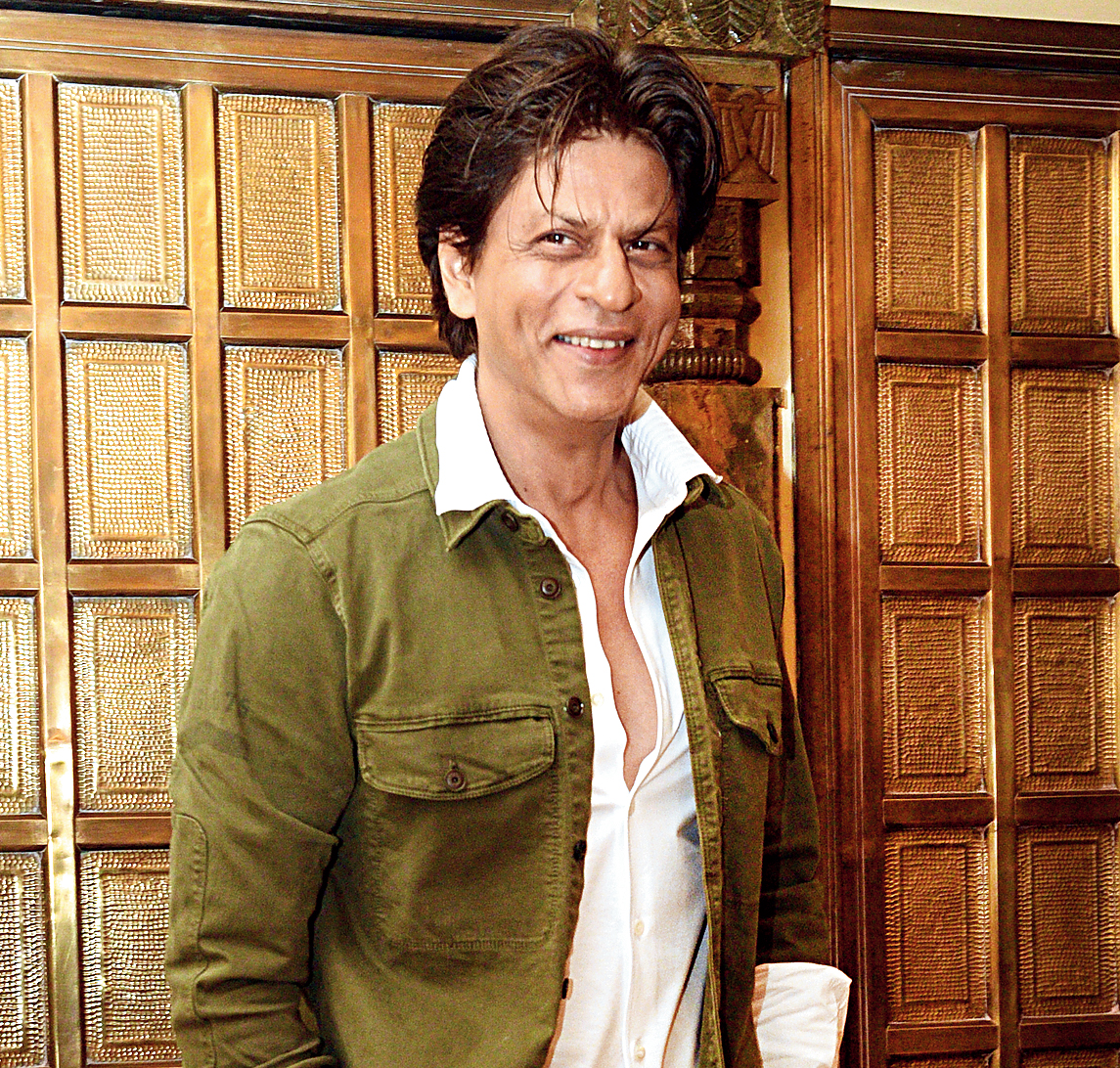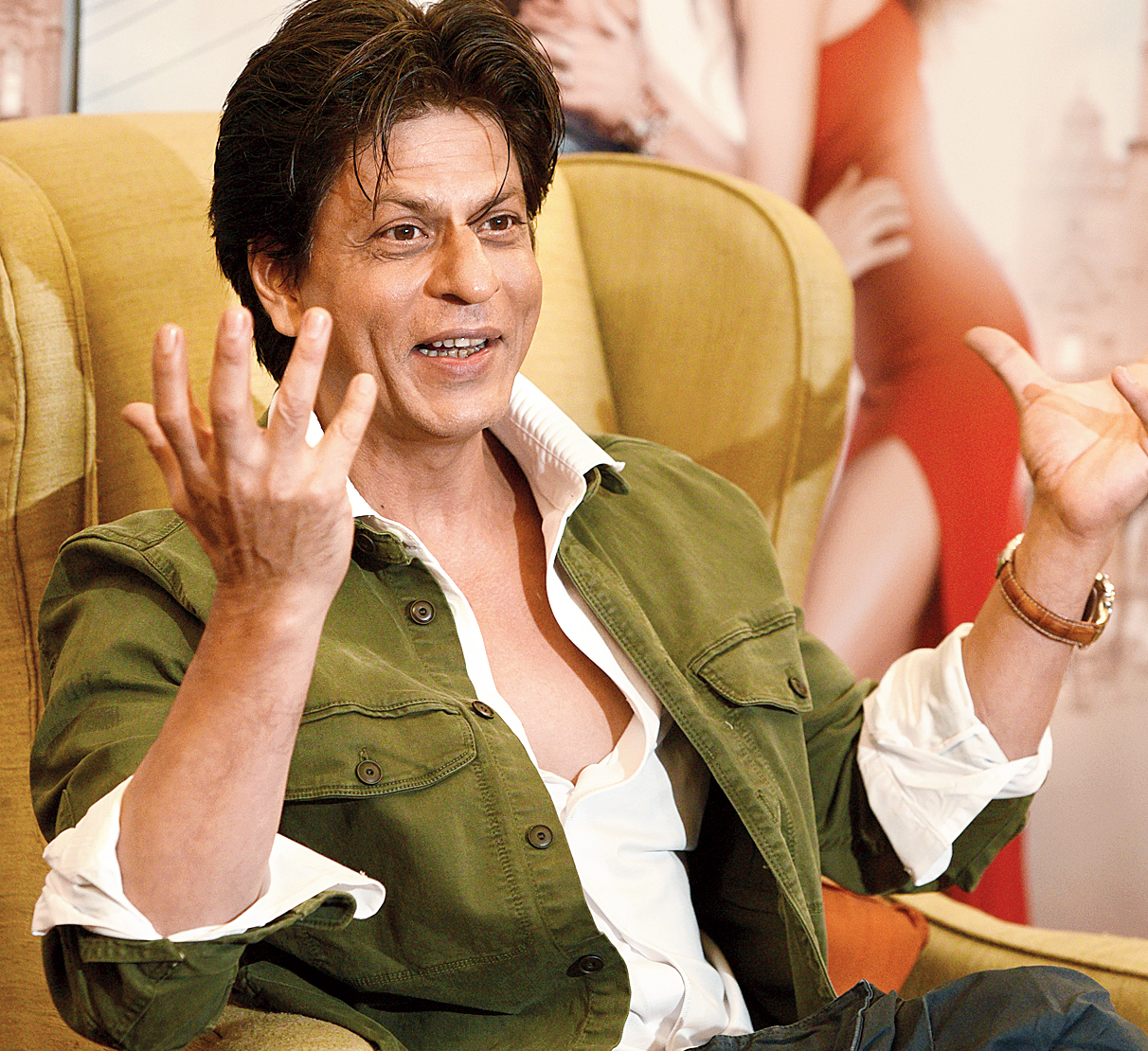 Bauua Singh seems to be a unique character; he's cocky and endearing, which isn't an easy formula to crack. How would you describe him?
Shah Rukh: It's nice when we can turn a character into adjectives like this (smiles). As an actor, I never figure out 'how to do', for me it's always 'how will I feel like doing this'…. I have said this about Bauua (takes out his phone and reads from it), 'Main Saharanpur hoon, main Jaisalmer hoon, main Trichy hoon, Indore hoon, Amritsar hoon… main desh ka har chauraha hoon, kasba hoon, paan ki dukaan hoon… aapke saamne neele suit pehenkar baithi huyi ladki hoon aur laal shirt pehna hua ladka hoon. Aap sheher hai, main gaon hoon, aap badshah aur main fakir hoon'. All this and a little more sums up the character.
A character is a little difficult to define, yaar. I feel that once you define it, it becomes two-dimensional. What I want to tell everyone is, 'Can you find yourself in the character?' That will be my victory. Today, when people see the character, we get to know what they like and don't like about him. It will just take an edit change for us to rectify what they don't like; but every day we quietly agree with everyone, but we want him to be left undefined. Let people take what they want from the character. The actor Michael Caine had once said, 'I never show myself. I walk on to the stage or a film set and then hold myself in so that the audience can see themselves in me'.
What I like about the character is not all commercial Hindi films allow you to be someone like that. In most of my films, I am 'hero type'… that's also nice because I feel it's difficult to be 'hero type'. This character is like a mirror in which you will see yourself or someone you know.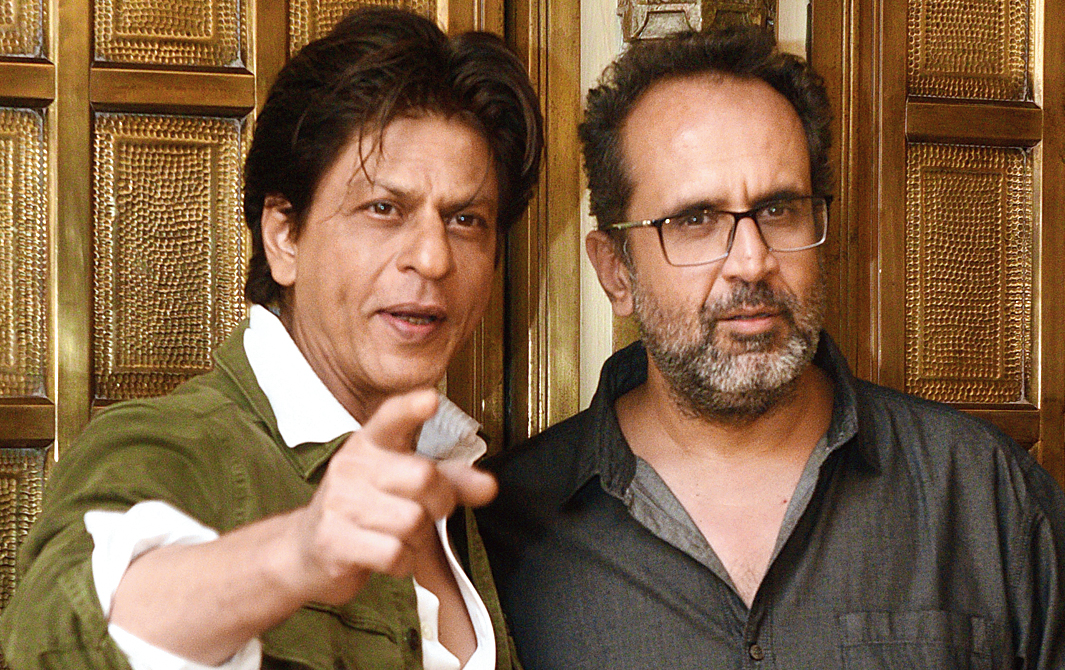 Would you say that taking on this character has been a risk?
Shah Rukh: Everything's a risk. I treat every film as a start-up, it could go right or wrong. If it's not a risk, then it's not worth it. God has been kind to me. When I came in, a lot of what I did no one had done before and it became a success; and God is kind to me now also because I do a lot of things that no one has done before, and it fails (smiles).
Shah Rukh, you've said in the past that working with friends keeps you in your comfort zone. Aanand L. Rai wasn't part of your circle. What clicked between the two of you?
Shah Rukh: I think who I mean as my 'friends' is a little misunderstood. It's not true that I only work with the friends I have. Of the two very close friends I have, one is a pilot and the other is in the business of steel. They don't make films at all, but they have actually acted in my films… you will find them in Farah's (Khan) films….
Aanand: Oh, really?!
Shah Rukh: Jo director tha Om Shanti Om mein woh mera dost Vivek Khushalani hai, aur jo hero tha jo Deepika (Padukone) ko bolta hai, 'Milenge raat ko, kya kar rahi ho aap?' is my pilot friend Raman Sharma. They were also there in Main Hoon Na… peechhey ID card ya kuch bhar rahe thhe (smiles).
What I mean is that the people I work with, I hope they become my friends. It just makes the process of making a film nicer. I hardly remember the last time I was 'professional' when I made a film — I don't mean I'm unprofessional — but it's never been, 'Hello sir, chalo… okay, bye bye'. I can't function unemotionally.
This process of writing the film took five-six months from the time Aanand sir told me about it. In those six months, I decided that this is the only film I'm going to be doing. It's a very simple idea and it's simple ideas that attract you the most.
Pre-production took about three-four months and during that time, we got the opportunity to become friends even before we took the first shot. So much so that by the time we came on set for the first time, a lot of people would have got the impression that we had been working together for a long time.
What's your son AbRam's reaction to the trailer?
Aanand (to SRK): Maine aapko bola tha ki sabse bada acid test iss film ke liye AbRam hai…
Shah Rukh: Arre sir, maine AbRam ko poochha tha. Just pretend you are Shah Rukh and I am AbRam and now ask me how did I like the trailer…
Aanand: AbRam, kaisa laga trailer?
Shah Rukh (looks away pretending to be busy and waves his hand): 'Too good… too good' (laughs). He doesn't have time for anything!
Is he normally so dismissive?
Shah Rukh: I don't know! I assume that at age five, you become a little sensible and so this will be my first film that could probably appeal to him. (Jab) Harry Met Sejal was a little adult for a kid and Fan was probably scary for him… he was just three then. So maybe Zero will be the first film of mine that he will like or dislike. Someone asked me if AbRam thinks that Bauua is him, but I don't think he thinks like that.
Aanand: He's too smart for that.
Shah Rukh: Ya he must be thinking, 'I'm much better-looking!' (Laughs)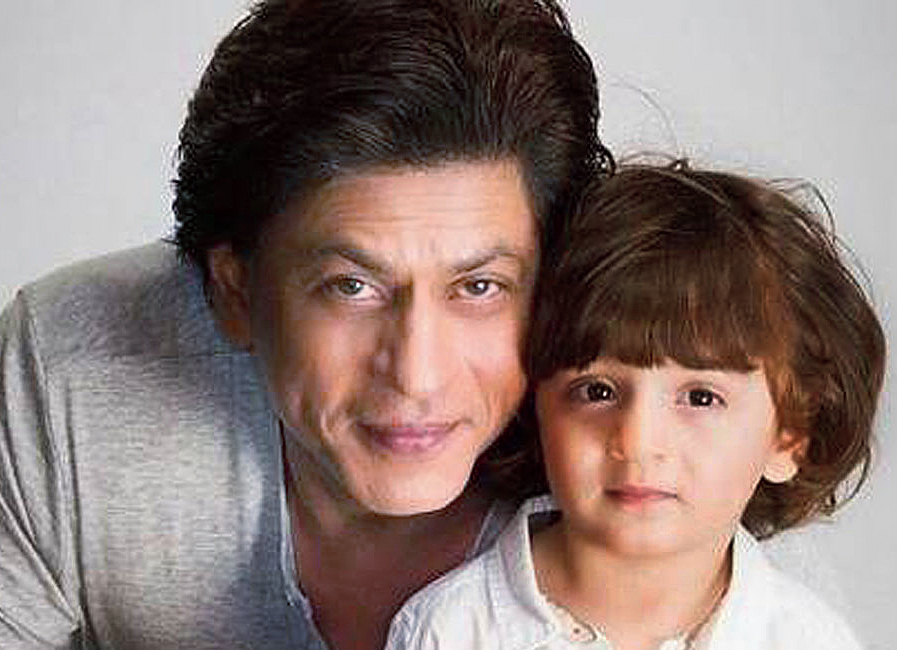 Is the pressure of being a Khan now more than ever?
Shah Rukh: In 27 years, I have performed as Kumar, Raj, Rahul… the only thing that I haven't performed as is a Khan. I don't think I will ever do it, and neither will the other Khans. Kya pressure, yaar? Bhagwan ne itna de diya. The one thing God hasn't given us is pressure; what he's given us is opportunities, a chance to work with someone like him (points to Aanand). Now he's a friend, so it seems awkward to praise him.
But I am lucky that I get to do the films I wish to do. Every year, I am thankful that I get the opportunity of at least two films… ki yaar, yeh bhi kar sakte hain, woh bhi kar sakte hain. What more can an artiste ask for?
I remember, in my early days, I was working with Sarojji (Khan, choreographer). In those days, I would work three shifts and would be like this (leans back on his chair and sticks his tongue out). I told her, 'Sarojji, itna kaam hai, thak gaya hoon'. She would be very motherly towards me and she slapped me on the cheek, pyaar se, and said, 'Kabhi yeh mat kehna ki zyada kaam hai'. In this area of work, there is never too much work. I just feel fortunate that I have so much to choose from. So, no pressure.
What does love now mean to a 53-year-old who's been the King of Romance for the last 25 years?
Shah Rukh: I told someone the other day that I am no longer the King of Romance; main khud hi romance hoon. Toh agli baar jab kisiko bolna hai ki 'Mujhe tumse pyaar ho gaya hai', then people should say, 'Mujhe tumse Shah Rukh Khan ho gaya hai!' I am love... main seriously bol raha hoon (laughs).
There's been talk that Sanjay Leela Bhansali is signing you and Salman Khan for a film together...
Shah Rukh: Sanjay Leela Bhansali is a fantastic director and he always has lots of stories to tell. He loves both me and Salman. He comes and tells me all his stories, lekin yeh waali abhi tak bataya nahi hai usne (smiles). The only film that I have committed to doing right now is Mr Mahesh Mathai's Rakesh Sharma biopic (tentatively titled Salute).
If there is an opportunity to work with Salman or Aamir, why wouldn't I jump at it? For me, it's going to be a big deal. I have done a film with Salman (Karan Arjun), but not with Aamir….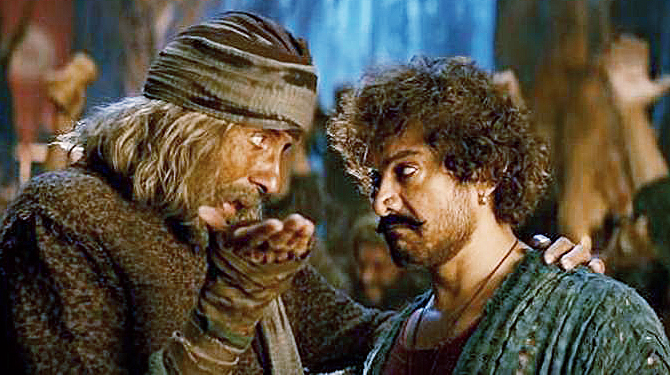 Your recent selfie with Aamir that you captioned as 'Hug from the Thug' went viral…
Shah Rukh: Toh socho picture kitni hit hogi! (Laughs)
It's been a unique year at the movies with seemingly small films like Stree and Badhaai Ho hitting Rs 100 crore and a star project like Thugs of Hindostan struggling to stay afloat. Do you always have a box-office target in mind with every film of yours?
Shah Rukh: Not in hundreds, but in thousands! (Laughs) Main dhai sau, teen sau crore mein believe nahi karta… ab toh seedha thousand crore!
Jokes apart, I would like to say something. It's a little personal and I don't know whether it's right to say it or not. This is something that's saddened me and so I want to share it. When it happened to me personally, I wasn't so sad, but this time I am. There are people who have given excellence to cinema for years. A film can be good, a film can be bad; none of us can ever claim ki maine duniya ki sabsi achchi film banayi hain. Mr Bachchan and Aamir have been people who have constantly contributed to the excellence of cinema. The greatest contribution to Hindi cinema in the last 10 years has been from Aamir, and with Amitji, it's been even longer. Now if a film of theirs (Thugs of Hindostan) doesn't reach the level that you expected it to, does it take away from what they have done for cinema?
I think some people have been a little too harsh. It's heartbreaking. It doesn't mean that their spirit is broken, they are all amazing artistes who will bounce back. But one needs to be a little less harsh. I think Stree was fabulous and we need to make 20,000 films like that. But I also think that Thugs of Hindostan is fantastic. Sometimes we do go wrong, but Aamir has never done a film in which he hasn't put in his best… I've known him for 20 years. And if there's anyone who can put in even more effort than Aamir — which Aamir will also agree — it's Amitji... and at this age! So they've come in with good hearts and great talent and tried to make a film which tries to open up a new genre.
I may be speaking out of turn, but just like we have embraced Stree, we need to give some leeway to films like Thugs… that attempt something different. An adventure film has not been made in India in decades… probably Parasmani (1963) in black and white was the last one. Thugs… has tried to introduce this genre and kabhi kabhi upar neeche ho sakta hai. But the fact remains that in our cinema, we haven't made an Indiana Jones and screw the comparison yaar, humne Pirates of the Caribbean bhi nahin banayi. So props to them for the attempt.
I have faced this with Ra.One… woh galat bann gaya, but at least mera effort tha to introduce superheroes into our cinema. Effort can't be derided like this. If it was my film, it would seem like I was taking it personally, but yes, I am taking this personally.
I let people down with Jab Harry Met Sejal, which was an utter flop. But I didn't want to let anyone down; I just liked the fact that koi story nahin thi, sirf ek ring ke chakkar mein the two people (SRK's Harry and Anushka Sharma's Sejal) kheechey chale jaate hain… it was very organic, slice-of-life thi. The other day I met a director who mentioned the term 'slice-of-life' and I said, 'nahin, poora pumpkin do mujhe iss baar' (laughs).
What I am saying is that we need to give everything a chance. If Zero works, it will give people encouragement to make films that are even bigger in scale and story. And if we keep doing it, then maybe one day we will be able to make a good Mahabharat too. Nahin toh sirf bahaar waale hi hamari stories banate rahenge. Aur hum dekh ke sochte rahenge ki humne Gandhi kyun nahin banayi?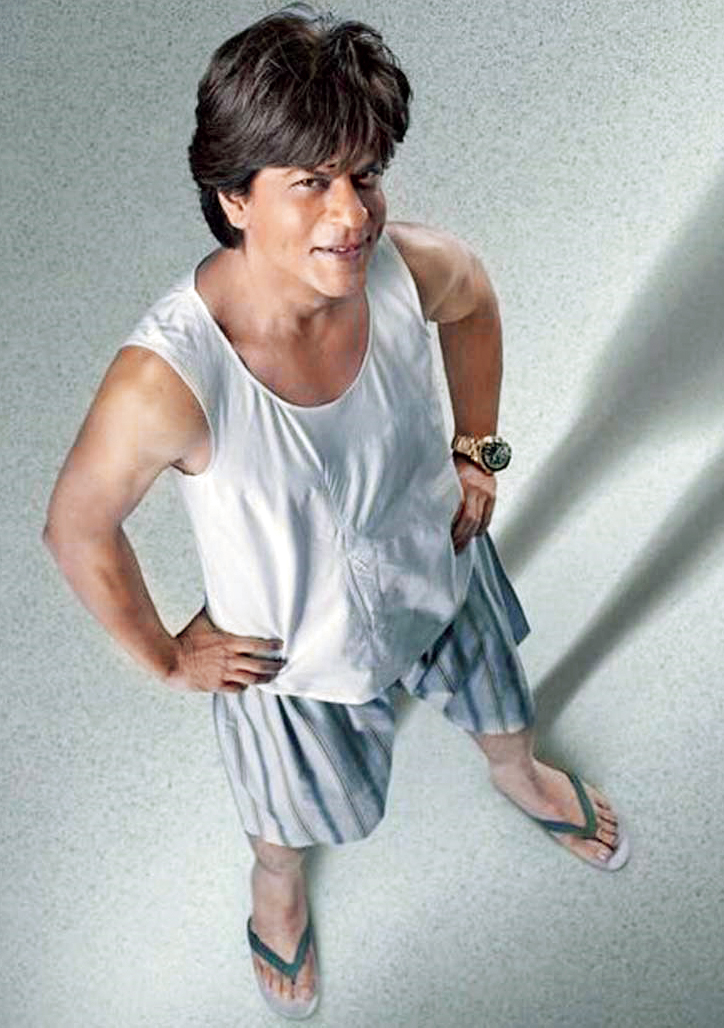 You have the energy of a 16-year-old. But are there days when even SRK is low on energy and maybe just wants to curl up in bed and shut out the world?
Shah Rukh: Physically, I never have days when I am low. And when I am mentally down, ab toh mere paas bachche itne hain that I can play with them (smiles). I have days when I don't want to meet anyone, but that will be an emotional down, not a physical one. When I am down, I teach my kids wrestling techniques aur saara gussa main unpe nikaal deta hoon! (Laughs)