Anushka Sharma
She may not have had a film release in two years now, but as a producer, Anushka put her money where her mouth is, churning out clutter-breaking content this year. Both Paatal Lok and Bulbbul turned out to be genre-benders. And there's production No. 3 on the way, with Anushka and Virat Kohli expecting their first baby next month.
Bella ciao
The Italian resistance anthem is the cornerstone of the hit Netflix series Money Heist that dropped Season 4 in April. Played in the series in emblematic moments as a metaphor for freedom, its popularity spawned many versions. Even Ayushmann Khurrana — sporting the Professor's trademark glasses, no less — did a take, prompting the Internet to cry out for an Andhadhun-Money Heist crossover.
Chess
The surprise success of The Queen's Gambit brought chess to the forefront, with Netflix's biggest scripted series till date not only proving to be a winner with its plot and players, but also spiralling a resurgence in public interest around the game. Sign-ups on online chess sites have hit the roof, chess sets are flying off the shelves and more women — inspired by the show's female protagonist Beth Harmon, played by Anya Taylor-Joy — are showing an unprecedented interest in chess.
Dil Bechara
For India, Dil Bechara became much more than a film. It was an emotion, a chance to watch Sushant Singh Rajput — who died under tragic circumstances in June — in his swansong. The Bolly remake of the Holly tearjerker The Fault In Our Stars, that premiered on Disney+Hotstar and was made available for free enabling everyone to tune in (95 million viewers watched it within its first 24 hours), was average at best, but there was nothing that could replace the lump in the throat of watching the man laugh and cry on screen for the last time. Adieu, SSR.
Plus: In a year that has seen Bollywood being put through the wringer for reasons more than one, Diljit Dosanjh taking on Kangana Ranaut on Twitter became a talking point, with most lauding the actor-singer. The Punjabi-English translator on Google went into overdrive to decipher Diljit's tweets, but yes, well done, boy!
Emmy
India won its first International Emmy, with Delhi Crime bringing home the big one for Best Drama Series. The 2019 Netflix series — that revisited the horror of the Delhi gang rape of 2012, through a part police procedural, part human drama account, frontlined by an exemplary Shefali Shah — was a deserving winner. Kudos too to Four More Shots Please! and Made in Heaven man Arjun Mathur who notched up nominations.
Farrukh Jaffar
In a film starring Amitabh Bachchan and Ayushmann Khurrana, it was the 88-year-old firecracker Farrukh Jaffar who stole the spotlight. Playing the irrepressible Fatto Bi in the Shoojit Sircar-directed satire Gulabo Sitabo, the Lucknow-based actor was pitch-perfect, having the last laugh in the film and winning hearts, and chuckles, worldwide.
Guilty Pleasure
We all rolled our eyes at it, but we all binge-watched it. Indian Matchmaking, that gave the viewer more than a vicarious peek into the world of Indian arranged marriages, through the eyes of matchmaker Sima Taparia, was slammed for being regressive and sexist, casteist and cringeworthy, but was also inexplicably addictive, making it one of Netflix's most-watched shows of the lockdown.
Later in the year, Fabulous Lives of Bollywood Wives — a look at the manicured lives of the Bolly ladies who lunch — was added to the stack of 'bingeable trash'. Once again, we all LOLed at it, but we all watched it.
Homegrown stars
Shakuntala Devi to Sadak 2, Durgamati to Criminal Justice, Tolly man Jisshu Sengupta has now firmly (and quite successfully) found a foothold in Bolly, scripting a seamless hop, skip and jump from Lake Gardens to Lokhandwala. Swastika Mukherjee also won high praise for her diverse turns in Paatal Lok and Dil Bechara. Dimple Kapadia made a big (make that huge) leap to Hollywood, notching up one of the principal parts in Christopher Nolan's Tenet.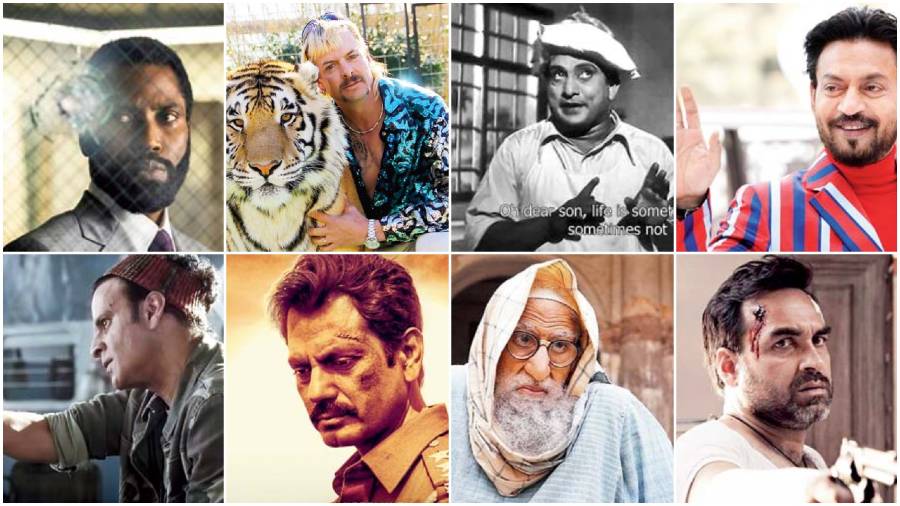 Sourced by the correspondent
Inversion
Time travel is passe, inversion is what we are looking at. Nolan, the man with the consistently big ideas, whipped another mind-boggler out of his hat with Tenet. Even as words like 'entropy' and 'annihilation' are thrown about, it's the concept of time inversion that gives a physical framework to Tenet. Our eyebrows shot up, we scratched our heads, but did we have a blast watching the mind-bending visuals on screen!
Joe Exotic
The business of big cats came alive in the part documentary, part reality show but full-on crazy Netflix true-crime drama Tiger King. At the centre of seven episodes of 'murder, mayhem and madness' was Joe Exotic, a self-styled Don Juan of sorts whose fixation for exotic animals made him pet over 200 big cats in his zoo, his outlandish antics blurring the line between loving wild animals and exploiting them. Clearly one of the most bizarre characters on screen in what's been a very bizarre year.
Kismat ki hawa kabhi naram, kabhi garam
This Bhagwan Dada hummable hit from the 1951 film Albela got a fresh lease of life in Anurag Basu's four-in-one tale Ludo, not only reflecting the quirkiness of the film but also fitting right in with its theme of fate and destiny.
Loss
This was a year that took so much. Irrfan to Rishi Kapoor, Sushant Singh Rajput to SP Balasubrahmanyam, Sean Connery to Chadwick Boseman, the list of the ones we lost is endless. Rest in peace, and thank you for the moments of magic.
Manoj Bajpayee
He's been bringing in his A-game for more than two decades now. Year 2020 simply upped it, giving us turns as diverse as Bhonsle and Suraj Pe Mangal Bhari. He even made hamming into an art in the otherwise intolerable Mrs Serial Killer. He capped it off with his debut Bhojpuri rap number Bambai main ka baa, dropping some major truth bombs about the migrant labour crisis.
Plus: Is the Covid-19 vaccine secretly available in the Maldives, wondered most of us, with Bolly making a beeline for the pristine island country, as part of its promotional campaign to boost tourism after the pause. The indiscriminate posting of pictures on social media was rightfully criticised for its tone deafness, but truth be told, they also made us go green with envy.
Nawazuddin Siddiqui
Joining his Gangs of Wasseypur co-actor in having a fantabulous year was Nawazuddin Siddiqui who mixed it up big time, oscillating between a truth-seeking detective in the paradigmatic noir thriller Raat Akeli Hai and a marginalised man manipulating circumstances to rise above the ugly underbelly of caste in Serious Men. This man is seriously a class apart.
OTT
This was a year when 'OTT' became as much a part of our vocabulary as 'pandemic' and 'social distancing'. Facing a locked-in present and an uncertain future, streaming platforms came to our rescue, churning out content and cheering us up at our lowest. Theatres remained shut for a large part of the year, but oven-fresh releases never stopped coming to us, courtesy the click of a button on our smartphones.
Pankaj Tripathi
Is there anything this man can't do?! Film to ad, series to short, Pankaj Tripathi aced them all, simply reinforcing what makes him one of the best actors we have today. The range — Gunjan Saxena to Mirzapur 2 to Ludo — speaks for itself. And he's bringing the curtains down on 2020, with releases on both screens big (Shakeela) and small (Season 2 of Criminal Justice). Phew!
Plus: With the traditional exhibition of films coming to a halt, innovation became the buzzword. ZEEPLEX, a new pay-per-view format, attempted to recreate the feel of a movie theatre at home, complete with selling of tickets, playing the National Anthem before a show and even Akshay Kumar and Nandu popping up in that infamous ad. But Khaali Peeli — starring Ishaan Khatter and Ananya Panday — had almost no takers.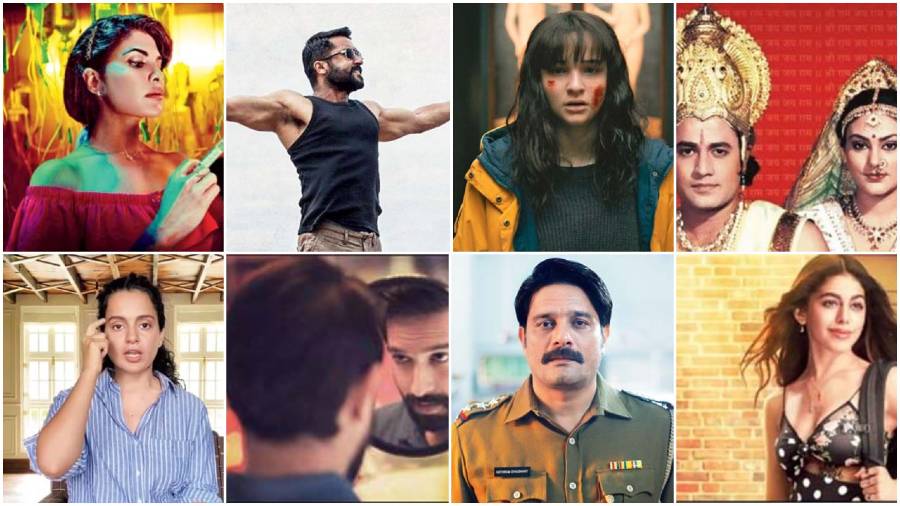 Sourced by the correspondent
Queasy
Year 2020 made us endure howlers like Sadak 2, Laxmii and Durgamati, all big-budget films with an
A-list star cast that proved to be unwatchable from start to finish. But the hall of shame clearly belongs to Shirish Kunder's Mrs Serial Killer that attempted a marriage between a neo-noir thriller and campy Bollywood, but was, putting it politely, stupid and incoherent.
Regional going mainstream
The OTT boom has meant the blurring of regional and language divides, with India lapping up a Trance as voraciously as a Tanhaji. Films from the south — big-budget to indie to anthology — had many takers (all thanks to subtitles), with market leaders like Netflix and Amazon Prime Video giving them a wide release. Soorarai Pottru, starring Suriya, was a firm favourite.
Seasons new
Year 2020 seemed to have more new seasons than any other year (or do we just think that because it's been such a long year?!) Dark to The Crown, Money Heist to Killing Eve, fans waited with bated breath for the new instalments of their favourite shows. But none came with the kind of frenzy that accompanied Season 2 of Mirzapur, with Amazon Prime Video announcing that it became the most-watched show on the service in India within just seven days of its release. Aashram on MX Player — that brought back Bobby Deol — dropped two seasons within two months!
Time travel
Time travel didn't only work as a time-tested (pun intended) trope (think Dark, think Tenet), but the lockdown also meant that we went back to the '80s, waking up to Sunday morning reruns of Ramayan and Mahabharat.
Us vs Them
In an industry already divided, the schisms in Bollywood became even more pronounced in 2020, from the citizenship debate to the brouhaha surrounding Sushant's death, from nepotism to the drug scandal. And then, of course, was Kangana Ranaut unnecessarily fanning every debate to suit her own vested interests.
Vikrant Massey
One of the best actors of this generation who has slowly but surely worked his way in, Vikrant Massey had a bumper 2020. Chhapaak, with Deepika Padukone, released to praise in theatres in January, and then the man had three Netflix offerings on the trot, in Cargo, Dolly Kitty Aur Woh Chamakte Sitare and Ginny Weds Sunny. No wonder they call him 'Vikflix' now!
What we know is a drop, what we don't know is an ocean
Dark, that beauty of a mind-bender that combines thrill and science in the way few others have ever done, lived up to the sky-high expectations of Season 3. While it's a show that's given us many memorable lines since 2017, 'What we know is a drop, what we don't know is an ocean' is what ultimately sums it up most succinctly.
X-factor
This was a year of some jaw-dropping acts, but the ones that packed in that extra something came in from Jaideep Ahlawat and Pratik Gandhi. In Paatal Lok, Jaideep sunk his teeth into the part of a down-and-out cop who rediscovers purpose in life and career when he's handed over the case of a lifetime. In Scam 1992, Pratik was a revelation, altering both body and body language to script the story of the rise and fall of Harshad Mehta.
Young blood
Alaya F's confidence, Ishwak Singh's screen presence, Roshan Mathew's ease in front of the camera, Achintya Bose's fluid moves, Ritwik Bhowmik's pleasing personality, Sanjana Sanghi's assured act... we got some fresh and promising new faces this year. And boy, was fashion designer Masaba Gupta a revelation in Masaba Masaba!
Zoom
It took over our work lives, but Zoom also became a mode of expression in 2020. Creativity arose out of crisis, with cast reunions, talk shows and script readings being done on Zoom, and beamed as entertainment for the world to watch. Comedian Vir Das even churned out a very watchable Netflix special called Outside In last week, which is simply a series of interactive sessions on Zoom carried out with audiences across the world during the lockdown.