Saving our film heritage has to be taken up on a war footing: Shivendra Singh Dungarpur
The founder of Film Heritage Foundation spotlights the 'cultural emergency' of film preservation and restoration as a career option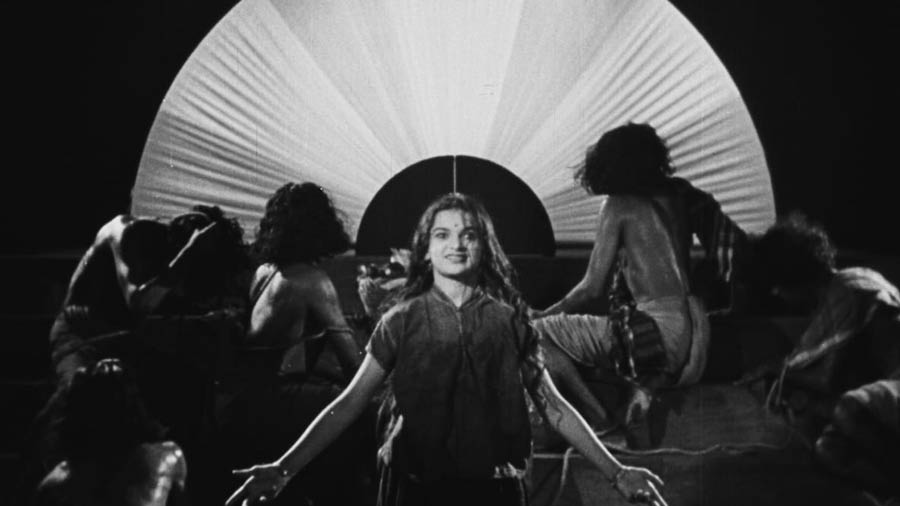 In 2010, I connected with Martin Scorsese's World Cinema Foundation and got involved in the restoration of Kalpana (1948), directed by Uday Shankar
Twitter
---
Calcutta
|
Published 26.12.22, 12:37 PM
|
---
In a country that is notorious for its approach to documenting and archiving film history, Shivendra Singh Dungarpur is a pioneer. His Film Heritage Foundation has rendered yeoman's service to the cause of restoring 'lost' classics of Indian cinema. His efforts to restore two G. Aravindan classics — Kummatty and Thampu — are now part of film folklore and have been celebrated internationally. His recent initiatives, 'Bachchan: Back to the Beginning' and 'Dilip Kumar: Hero of Heroes' brought the iconic films of these legends to the big screen, and have proved to be more successful at the box-office than many recent releases. Riding high on the success of these ventures, Dungarpur spoke at length to The Telegraph Online about the challenges in restoring lost films. 
When did you first start engaging with film restoration? Any particular experience/ incident that made you sit up and take notice of the need for this?
Shivendra Singh Dungarpur: In 2010, life took an unexpected turn. I was immersed in the world of filmmaking with a flourishing career as a filmmaker when I read an interview with Martin Scorsese where he spoke about the Il Cinema Ritrovato festival in Bologna dedicated to restored films. I had never come across the idea of a restored film festival before and my curiosity drew me to attend the festival in 2010. It was an eye-opener. I discovered a whole new world of film archivists and restorers who were dedicated to preserving and restoring films, rather than making films. But there was a glaring absence of Indian films and Indian archivists or restorers. It made me think back to my student days at the Film and Television Institute of India in Pune and I wondered about the fate of all those beautiful black-and-white films that we had watched and loved and learned from and hoped they were safe.
It was in Bologna that I connected with Martin Scorsese's World Cinema Foundation and was told that they had been trying to get the reels of the film Kalpana (1948), directed by Uday Shankar, out of India for restoration for almost three years, but had not succeeded. I told them that I would help them and managed to send the cans to Italy for restoration in about three months. The restored Kalpana premiered at the Cannes Film Festival in 2012 and I was invited to walk the red carpet with Amala Shankar, the wife of Uday Shankar and the star of the film.
I then worked with the World Cinema Foundation to facilitate the restoration of the renowned Sri Lankan filmmaker Dr Lester James Peries's film Nidhanaya (1972), the restored version of which premiered at the Venice Film Festival in 2013. I also supported the restoration of Alfred Hitchcock's silent film The Lodger (1927). This was in response to a campaign launched by the British Film Institute called 'Rescue the Hitchcock 9' to raise funds to restore Hitchcock's nine silent films. Being a Hitchcock fan, I decided that this was my chance to give back and I donated funds for the restoration of the film. 
On my return to India, I went to meet P.K. Nair, the former director of the National Film Archive of India (NFAI), hoping to find answers. Even though he had retired in 1991 and had a beautiful home in Kerala, he continued to live across the road from the archive, unwilling to cut the umbilical cord from an archive he had nurtured from birth. I took him to see the vault at the archive and realised that the archive had been orphaned post his retirement. I saw rusting cans lying in the grass, thick cobwebs hanging from the shelves, vaults where the temperatures were awry. His old office had turned into a junkyard. It was heartbreaking to see a life's work reduced to this, a legacy forgotten. 
That was the beginning of my film Celluloid Man, a tribute to P.K. Nair's life's work as well as a chronicle of the early history of Indian cinema and its tragic loss. The making of the film was a journey of discovery for me. It was over the hours and days of conversations with him and my travels all over the country that the devastating loss of our film heritage slowly revealed itself.  
The journey of Indian cinema began with the release of Dadasaheb Phalke's Raja Harishchandra on May 3, 1913. Phalke advertised the four-reel film with this copy: 'A performance with 57000 photographs. A picture 2 miles long. All for three annas.' Today, of Phalke's wonderful two-mile-long film, only one mile remains. According to the researcher and historian Virchand Dharamsey, 1338 silent films were made in India of which just 29 survive, many only in fragments, some as short as 149 feet. Of the 124 films and 38 documentaries produced by the film industry in Chennai, only one film survives, the 1931 film Marthanda Verma. 
The talkies didn't fare any better. India's first talkie Alam Ara (1931) was sold for silver by the son of the producer Ardeshir Irani. Most of the first talkies in regional languages don't exist. It is estimated that by the late 1950s, we had lost 70-80 per cent of our films. This is excluding the numerous missing short films, animation films, television programmes, advertising commercials, home movies, etc., often forgotten in the shadow of the silver screen, but as important, which form the fabric of our visual history.
I realised that this was a cultural emergency and saving our film heritage had to be taken up on a war footing. We couldn't pass the buck anymore and certainly could not imagine this to be the government's sole responsibility other than in the areas of infrastructure and funding. I had learned that film preservation was a passion, a vocation that demanded its own resource of experts, much like filmmaking.
I had a conversation with Mr Amitabh Bachchan and Mrs Jaya Bachchan about this and they encouraged me to start a foundation. And that was how in 2014, I came to establish the Film Heritage Foundation, a not-for-profit organisation dedicated to the preservation of India's film heritage. Many eminent personalities from the Indian and international film fraternity came on board as advisors such as Shyam Benegal, Gulzar, Jaya Bachchan, Kumar Shahani, Kamal Haasan, Girish Kasaravalli, Gianluca Farinelli, Krzysztof Zanussi and Mark Cousins. Amitabh Bachchan agreed to be our ambassador and we have been very fortunate that he has taken a personal interest and actively advocated for the cause. He has been a fantastically vocal and impactful advocate for the cause in India and the subcontinent. You have said that film restoration is as much an art as filmmaking, with the need to be faithful to the director's vision. Could you elaborate with a particular example of restoring a film?
Shivendra Singh Dungarpur: The approach for restoring a movie is the same as restoring a manuscript or a work of art. You don't work on a photocopy, but restore the original and it involves months of work. The task of restoration also involves studying the film and its production history, understanding the filmmaker's vision or his limitations, knowing the work of the cinematographer, the art director, the costume designer, etc., and this is where the preservation of film ephemera like scripts, director's notes or diaries, posters, lobby cards, song booklets, shot breakdowns, etc. plays a crucial role as they can give the restorers clues to any gaps of information they might be hampered by.
It begins with research, the involvement of the director and the cameraman if they are still available, the search for the best possible source material and repair of the original camera negative or print before scanning and digital restoration. The usual process is to identify the best source material, inspect, clean and repair the celluloid material before doing a scan, followed by a digital clean-up and colour correction and then output on DCP, Blu-ray or a new celluloid preservation print depending on the plans for exhibition and public access.
Ever since I first worked with The Film Foundation on the restoration of Uday Shankar's Kalpana in 2012, I have seen how beautifully and respectfully they have been restoring films from around the world and giving these films a new life. Aravindan Govindan's films have been on top of the list not just because he is a master, but one who I feel has not got the recognition he deserves and whose films sadly are not in circulation. It broke my heart when I learned that all the original camera negatives of his films are lost and all we have are prints, not in the best condition.
I spoke to our long-time collaborators The Film Foundation's World Cinema Project and we came to an agreement to partner on the restorations of Aravindan Govindan's films Kummatty and Thampu. I travelled to Kollam in Kerala to meet K. Ravindranathan Nair of General Pictures, the producer of five of Aravindan's films including Kummatty and Thampu. He very graciously agreed to give permission for the restoration.
[You can read all about the restoration of Kummatty and Thampu in the second part of this interview, on December 28]
You have some fascinating stories of going through flea markets to source films.… Can you elaborate?
Shivendra Singh Dungarpur: One of my favourite haunts in Mumbai is the infamous Chor Bazaar. One of the largest flea markets in India, it is a treasure trove of the country's cinematic history. I often walk the narrow lanes, stopping for a cup of tea and a chat with my friends Shahid, Aziz, Arif and Iqbal who have had shops here for generations selling rare memorabilia and film-related artefacts. Once I even managed to acquire an original camera negative of the film Bharosa (1963), starring Guru Dutt, that had been discarded by a lab. I also bought a 70mm print of the Indo-Soviet coproduction Alibaba Aur 40 Chor (1980) that was sold to me by the kilo. Films are sold here by the kilo: 8mm films for Rs 300 per reel; entire films on 16mm for Rs 4,000 and 35mm films for Rs 100 per kg.
Paradoxically enough, Chor Bazaar has unwittingly been a guardian of Indian cinema, where even today one could find rare prizes like the only known existing song booklet of Alam Ara. Sadly, the whole neighbourhood will soon be redeveloped and nothing will remain of these old streets. Over the years, the word has spread about Film Heritage Foundation's interest in acquiring and collecting anything and everything connected to our film heritage. When I got a call that the century-old Elgin Talkies in Bangalore was shutting down, I managed to procure the two projectors on which Alam Ara was screened.
Once, a scrap dealer got in touch with me asking if I wanted the actress Sadhana's furniture which was being sold for scrap after she passed away. I refused, but asked if he had anything else and was rewarded with a huge collection of photographs right from her young days that she had preserved over the years. Another time we acquired a trove of Sahir Ludhianvi material from a scrap dealer, including photographs from his early days, handwritten diaries and couplets and letters that are priceless records of this great artiste.
What does a career in film restoration entail? What specific age, educational and technical qualifications does one need to make a career in this?
Shivendra Singh Dungarpur: There is no age limit to becoming a film archivist and restorer. You need passion and commitment and a love for cinema as an art form. There are several courses around the world to train as a film archivist: Jeffrey L. Selznick School of Film Preservation at the George Eastman Museum; University of Amsterdam; Hochschule für Technik und Wirtschaft in Berlin; Goethe Universität Frankfurt (Frankfurt Institute for Theater, Film and Media Studies) / DFF — Deutsches Filminstitut & Filmmuseum; Universidade Lusófona de Humanidades e Tecnologias in Lisbon, Portugal; Birkbeck, University of London; UCLA's Department of Information Studies and Department of Film, TV and Digital Media; Tisch School of the Arts, New York University. Each of these courses will have their educational requirements for application.
Film preservation covers a whole gamut of activities from archive management, conservation and preservation of celluloid film, digital preservation and data management, celluloid and digital restoration, paper, photo and object conservation, cataloguing and documentation, film programming and public outreach. We teach all these modules at our workshops, and there is so much potential for growth as both the government and the film industry will need people at archives, libraries, private museums and film studios. People are already realising the importance and the value of preserving our audiovisual heritage. Can you give us an insight into the initiatives of the FHF towards creating more awareness about the subject? In particular the workshops you hold?
Shivendra Singh Dungarpur: We are constantly advocating for the cause of saving our film heritage. I give talks all over the country at museums, universities and film schools speaking about the colossal loss of our film heritage, the need to preserve our films and the need to build an army of archivists. We have been fortunate that we have got outstanding press coverage for our work over the years. We have seen a sea change in the attitude and awareness since we first began when people had never heard of film preservation, didn't know that films had to be preserved and that it was a highly specialised field, which was an actual career option in many parts of the world.
Right from the time we established the Film Heritage Foundation, we realised that there was a dearth of film archivists to take on the monumental task of saving our film heritage. Our collection of films and film ephemera was growing by leaps and bounds. But we were struggling to find archivists and conservators to look after our collection. The only way to tackle this challenge was to train and develop a local resource of film archivists and restorers. We decided to partner with the International Federation of Film Archives (FIAF) for the country's first-ever film preservation and restoration workshop that we held in Mumbai in 2015. We were clear that we did not want to adopt a parochial approach and would open applications to our neighbouring countries Sri Lanka, Nepal, Bhutan, Bangladesh, Afghanistan.
The Mumbai workshop made the headlines. At a glittering opening ceremony with the film industry out in force, Amitabh Bachchan accepted our invitation to be the ambassador for our cause. The first workshop was a huge success thanks also to the curriculum put together by David Walsh, currently the Training & Outreach Coordinator, FIAF, and our collaboration with FIAF that helped us put together a superb faculty from premier film archives around the world. We knew that a spark had been kindled that had to be ignited, but it could not be confined to Mumbai. So we decided to make the film preservation and restoration workshop an annual event and would follow a travelling-school format to target our linguistically and geographically diverse film culture.
We decided to conduct the second workshop at the NFAI, Pune, in 2016 with the aim of upgrading the knowledge base and skills of the NFAI staff to prepare them for the NFHM; the 2017 workshop was held in Chennai; the fourth workshop in Kolkata in 2018; and the last physical workshop in Hyderabad in December 2019. In 2020, despite the pandemic, we went virtual and conducted the first online edition of our film preservation workshop. With every passing year, we have expanded and improved the curriculum based on feedback from the participants and faculty to cover almost every aspect of film preservation, including film identification and repair, scanning, paper and photograph conservation, digital preservation and restoration, archive management, exhibition and access.
With no financial support from the government, we have had to cobble together funding from a variety of donors to encourage participants even from the lower economic strata to have the opportunity to be introduced to film preservation as a possible means of livelihood and a viable career opportunity. Till 2019, we have trained 298 participants, out of which 133 have done the course for free inclusive of accommodation and meals thanks to scholarships from the Tata Trusts, FIAF and sponsors. The participants have included personnel working in government archives and cultural institutions, library science and museology graduates, conservators, film-makers, cinematographers, film editors, heads of film departments in universities and journalists. Many alumni of our workshops are working at the NFAI and at Film Heritage Foundation.
Our annual workshops have been acknowledged by FIAF as the model for their international training programmes and have started a movement to save films not just in India but also in the subcontinent. We began with three Sri Lankans and one Nepalese in our first workshop, and at the end of five years, we had 32 participants from Sri Lanka, six from Nepal, four from Bangladesh, one from Myanmar and 10 from Afghanistan. And this year we have participants from Saudi Arabia and Turkey. So our mission is spreading. Next year we are hoping to conduct a 10-day workshop in association with FIAF in India, which will be open to applicants from all over the world.
What are some of the films that you have under your supervision now? This is Mrinal Sen's centenary year – and a lot of his films are more or less lost.
Shivendra Singh Dungarpur: I recently returned from the Festival des 3 Continents in Nantes, where I presented 14 Indian classic films, including Mrinal Sen's Khandhar, to a very appreciative audience. We would love to restore his films, especially The Calcutta Trilogy, but the source material is not in great condition. I have already spoken to Kunal Sen (son of Mrinal Sen) that we must plan for Mrinal Sen's centenary year. We are working on it.
Shantanu Ray Chaudhuri is a film and music buff, editor, publisher, film critic and writer