Sanjay Mishra talks about Friday film 'Kaamyaab'
'I am actually glad that I am still relevant'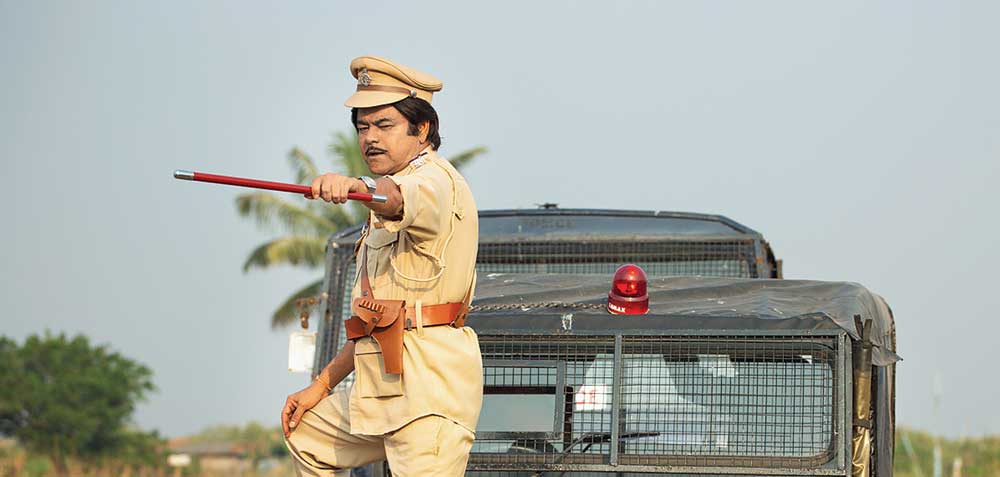 Sanjay Mishra in 'Kaamyaab', releasing this Friday
Source: The film
---
Published 04.03.20, 03:23 PM
|
---
I recently learnt that nothing can prepare you for a Sanjay Mishra interview. On a warm February afternoon, I sat opposite the 56-year-old, Bihar-born actor on the terrace of Shah Rukh Khan's Red Chillies Entertainment in Mumbai. Our conversation leapfrogged from the debutant Hardik Mehta's Kaamyaab, releasing this Friday, that revolves around a washed-up character actor obsessed with making his 500th film, to Pink Floyd and Sanjay's collection of LPs. There were laughs and flailing arms as he re-enacted conversations and some truth bombs.
You seem to fit right into a Rohit Shetty film and also in a film like Kaamyaab. What does it take to maintain this balance?
Basically, I am very inspired by cricketers who play T20 and Test matches. In my career, my T20 matches are on the sets of Rohit Shetty or Anees Bazmee and films like Kaamyaab, Ankhon Dekhi and Kadvi Hawa are my Test matches. When it's a T20 film, everything goes bam-bam, there is no process. I react to what the other actors are doing, everyone laughs and I go home. When I play a Test match, you have to stay in character through the whole film and everything depends on me. 
I am going to shoot Bhool Bhulaiyaa 2 soon. There is no logic, no discussion on why my character does what he does. Anees Bazmee (the film's director) will say, 'Mishraji, let's do something like this' and before you know it, my work is done.
A film like Kaamyaab gives me an opportunity to be involved in the beginning, middle and end of the story. Kaamyaab may be watched by 200 people but the autowaalas only know me because of the commercial films I have done. On the flipside, because of films like Ankhon Dekhi, I have fellow actors praising me and fans wanting to hug me. This business is so fickle... I could very easily go from being 'Sanjayji' or 'Guruji' to 'Aye Sanjay' tomorrow. 
But when commercial films are bringing you fame and money, why do you feel the need to do a Kaamyaab?
Those T20 films will typecast me as a comedian. Films like Kaamyaab remind me that I am an actor and they bring me the most satisfaction. My biggest struggle in the industry has been to not get pigeonholed. I am an actor who enjoys all kinds of films. I know I am good in films like Bhool Bhulaiyaa also. Not many people know that I did the voiceover for Tanhaji. There was no comedy there. People just need to look beyond the obvious... the 'Dark Side of The Moon'.
Pink Floyd's? 
Yeah, what an album that is. I have recently started collecting LPs and I just bought two Pink Floyd albums and also Jim Morrison's American Prayer. I think I got overcharged because he recognised me. I paid Rs 25,000 for one record but that album is special. I have it on tape, on CD and now record as well. There's a Deep Purple record that I've got my eyes on.... (Pauses) Forget this interview. I have to tell you a story. I was recently shooting in Greece. The location was on this huge estate owned by an old widow. She had the biggest LP collection I had ever seen. I kept thinking that she won't even notice if I flicked some records. She noticed my interest in them. On my last day of shoot, she gifted me LPs of Fiddler on the Roof and Jesus Christ Superstar. 
Getting back to Kaamyaab, was there anything particular that got you interested?
I don't read scripts. I need the director to narrate it to me. And if the narration is vivid enough for me to 'see' the film, even better. I am told that when Satyajit Ray used to narrate his scripts, people could actually imagine what the film looked like. As a director, you need to be able to explain your vision. When Hardik narrated this script, I immediately imagined myself in this role. Also, I am very grateful to Manish Mundhra (the producer) for the films they have given me. These are films that I know that my two daughters Pal and Lamha will be proud of.
What I loved the most about this film is that it talks about our society's obsession with age. Casting aside people as they age in favour of younger people is wrong. As a society, we think of older people as a burden. This is a story about a man's struggle to be relevant again. Look at Amitabh Bachchan. He continues to work even though he probably doesn't need to, but he's doing it because he wants to. My character Sudhir has decided that he wants to make his 500th film as a character actor and he gets obsessed with the idea.
You've been working since the early '90s. Do you know how many films you have done in the years since?
No ya, I don't count. I have never counted how much money is in my wallet or how many rotis I eat. But the day our trailer launched someone told me that I have been a part of 173 films. I don't even remember all the names. You become an actor only when people around you say that you are an actor. You might have studied at the National School of Drama but that doesn't make you an actor. Until you don't do that one role that people recognise you for, you don't become an actor. 
We often hear about an actor's struggle to make it... 
It took me nine years... 
I have often wondered about what it is that keeps someone going for years. Is it the love for cinema or the belief that you are talented?
It starts with self-belief. When you have people around you that you respect telling you that you are talented, you begin to believe that you are. If people start avoiding you, then you know there is something wrong... they probably don't want to tell you that you won't make it.
When I had first moved to Mumbai, we counted a day as being successful if we met at least one important person. I remember going to meet Dara Singh. When I told him that I am from the National School of Drama and that I want to become an actor, his only reaction was 'You too!' And, then he told me to improve my physicality and my Urdu. That day I got worried because I felt like maybe I was on the wrong path. I had done a Mirinda ad with Amitabh Bachchan. I was called to dub for it at Famous Studio and Bachchanji was also there. When he saw me, he said that I had done a good job. That's when I felt that I should stay put. 
Also, what is important when you move to Mumbai is the circle of friends you have. Piyush Mishra was one of my seniors. Irrfan (Khan) bhai was there. Tigmanshu (Dhulia) moved to the city a little after me. Irrfan bhai had a motorcycle with no horn, so we had to shout for people to get out of our way! (Laughs) I stuck around only because I love cinema. I would happily be a lightman if it meant that I could work on a set. When I wasn't getting work, I worked in the set department. I was also a still photographer. I could click headshot for people like Nirmal Pandey for Rs 300 a photo. 
When did you feel like you've made it?
My father worked for the Press Information Bureau and one of the last films he wrote about just before his death was Aloo Chaat. He wrote 'Manoj Pahwa is a very fine actor but Sanjay is also'. That 'also' is all the encouragement and validation that I need in my life. 
If you look at my films, many films have brought me recognition but none of them have been big turning points. From Satya to Bunty Aur Babli to Ankhon Dekhi, I am often told, 'This is the film that will make your career'. I am sure they'll tell me this after Kaamyaab also. I am actually glad that I am still relevant. People often tell me that I am underrated. Thank God, no one calls me overrated.