Rytasha Rathore hosts the new Bumble series 'Dating These Days'
She and her guests discuss what it's like to date in the current times, body positivity and the challenges the present-day dating world comes in with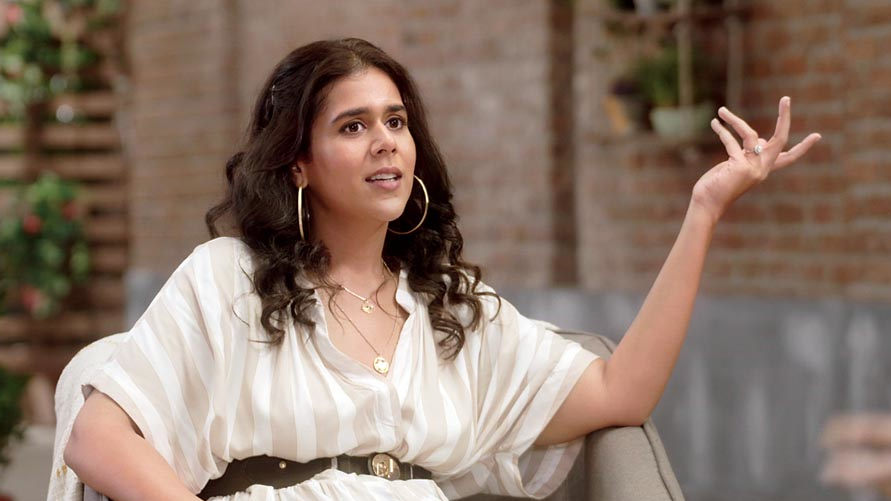 Rytasha Rathore in Dating These Days.
Sourced by The Telegraph
---
Published 19.01.21, 03:13 AM
|
---
Dating These Days — dating app Bumble's latest series — has 28-year-old actor Rytasha Rathore — who has starred in shows like Masaba Masaba and Badho Bahu — and her guests discussing what it's like to date in the current times, body positivity and the challenges the present-day dating world comes in with.We chat with Rytasha, who also has her own podcast with Ayushi Amin called Agla Station: Adulthood.
On the show, what are the topics that you're diving into when it comes to dating?
We have spoken about different things, from families pressurising young people to get married to women making the first move, and how empowering that can be. My favourite episode so far was with Sumukhi Suresh and Sushant Divgikar where we redefined 'sexy' and what it means to accept one's self within a partnership, or feel sexy by yourself.
It's an open-minded show, dabbling in topics that most people don't highlight. What is the aim of the series?
The aim is to start a conversation for our whole generation, and especially the generation that is dating online, to connect with people. We also aren't very open about it with our parents or family members. A show like this is something you can watch with your family and cousins, it's not just for young people. In one of our episodes, (actor) Neena Gupta comes in and provides an interesting take on all of these things. We have this show so we can continue the conversation and provide a kick in the right direction.
We like how vocal you are in your fight towards body positivity and gender equality. Can you tell us what drove you to be the voice for so many marginalised sections?
I'm not sure about anything that drove me because this is just how I've been always. My parents have always been open minded, they raised me and my sister to be strong and independent women. I think it was the difference I saw when I got out into the real world and got a better sense of how women in India are, what the state of affairs actually is. So without meaning to, I just spoke my truth and was being myself. I realised that these are the things I stand for since I've had the privilege of being treated equal by my parents all along.
In the TV show Badho Bahu you played Komal, a plus-sized and confident daughter-in-law. In an interview you had mentioned that it was an eye-opener for you. Could you please elaborate?
When I first read the audition script for the show I was like, 'Yeh kaise hota hai?!' It was regressive, but that is the reality. And I have had such a progressive upbringing that no one even watched the serial or any saas-bahu drama. So when I did this show, what struck me as comical and amusing was that it still happens today. It was a bit of a wake-up call.
Your Gia Irani in Masaba Masaba won a lot of praise...
It was a great experience overall... just working with ambitious, driven, powerful women. Sonam Nair is an amazing director. After I finished Badho Bahu,  I had decided that I just want to work with people who I can learn from and who will help me do the work I want to do. I was lucky to be on Masaba Masaba, which had a great story.
Could you relate to the role of Gia, who was a strong and opinionated best friend?
Gia was a really fun and easy character for me to play and she was very close to me in real life. So not much of hard work went into that, I was playing a version of myself. It was a fresh change from those 500 episodes of playing a bahu.
Your podcast Agla Station: Adulthood touches upon topics like mental health, relationships and current trends. What advice can you give about self love?
I think one of the biggest things that helped me in the mental health department was physical activity and exercise. Ten months into it and now it has become a part of my routine and I always like to turn to journaling or meditation. These are tools I use, and also therapy. Talking is going to make our things easier, so guys, let's just get it out.