Rukmini Maitra plays Binodini Dasi in a new musical period drama
Presented by Dev Entertainment Ventures, the fictional biopic is produced by Shhailendra Kkumar, Suraj Sharma and Prateek Chakravorty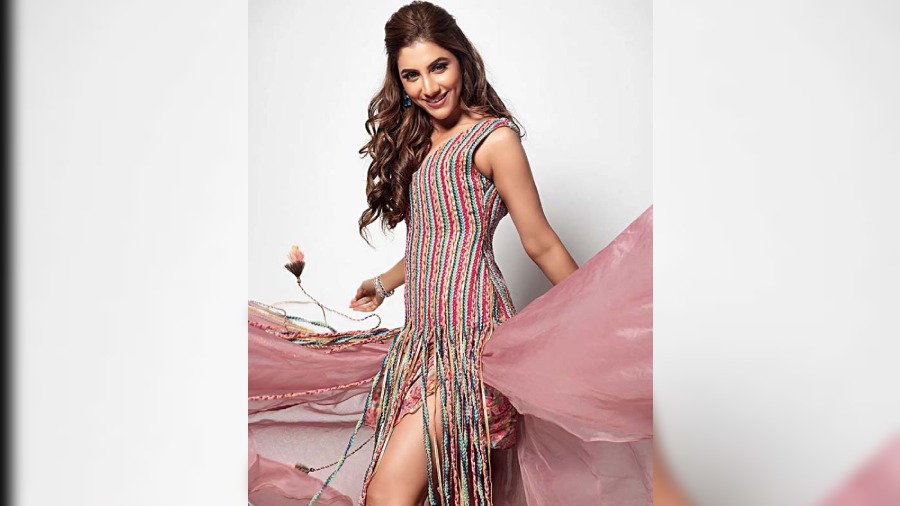 ---
Published 05.09.22, 03:51 AM
|
---
Binodini Dasi, better known as Nati Binodini, was a celebrated stage actress of her time. Now, Rukmini Maitra is all set to play Binodini in a new film, Binodiini — Ekti Natir Upakhyan, which will be directed by Ram Kamal Mukherjee.
From practising Indian classical dance to reading various books depicting the social status of women in that era, Rukmini has been working on this film for the past two years. "Binodini was an iconic, legendary woman. And to play her on celluloid is a huge honour. Her journey is very inspiring. She took on the patriarchy... she was so real. Binodini symbolises woman empowerment, and she carved out a way for women in the industry. Every actress owes it to Binodini. This is a passion and prestige project. With such reputed banners, producers and, most importantly, Dev coming on board as presenter makes this movie a magnum opus indeed," says Rukmini Maitra. Presented by Dev Entertainment Ventures, the fictional biopic is produced by Shhailendra Kkumar, Suraj Sharma and Prateek Chakravorty.
"I've always wanted to do a musical period drama, which is rooted in Bengali culture and history... and that immediately connects with the Bengali audience. This story needed to be told in Bengali. I've always wanted to tell the fascinating story of Binodini Dasi, and I had to struggle for almost two years to get the kind of budget I was expecting to mount a musical film like this. The most interesting part of her life will be covered in the film. I was looking for someone who would portray Binodini from the age of 15 to 26. Rukmini fit the bill. I am confident that I'll be able to extract the performance that I am expecting from her. The dedication she has shown in the past two years, from getting the dialect right to learning classical dance, is amazing," says Ram Kamal. WINNER TAKES ALL Soham Chakraborty, Paayel Sarkar, Ayoshi Talukdar, Sudipta Chakraborty and Prantik Banerjee star in the September 16 film Haar Mana Haar. The team got together to launch the trailer at INOX South City mall recently. Child actor, Sylvia Dey, who plays a crucial role, is set to make her debut. The film follows Mishti (Sylvia Dey) who keeps craving her mother's love and care all the time, as she misses her terribly. This makes her so edgy that she keeps snapping at her father and other family members and friends. Mishti's father (Soham Chakraborty) is deeply concerned about his daughter's well-being. He starts looking for a strong, kind-hearted and loving woman.
 "Haar Mana Haar focuses on various aspects of parenthood. The movie has a different approach to modern-day relationships. It's a moving family drama that weaves in romance and adventure," said director Raja Chanda.
The Telegraph