Rosaline to Jojo Rabbit: 6 period drama films that will leave you in splits
These films star Millie Bobby Brown, Dakota Johnson, Scarlett Johansson, Emma Stone and Olivia Colman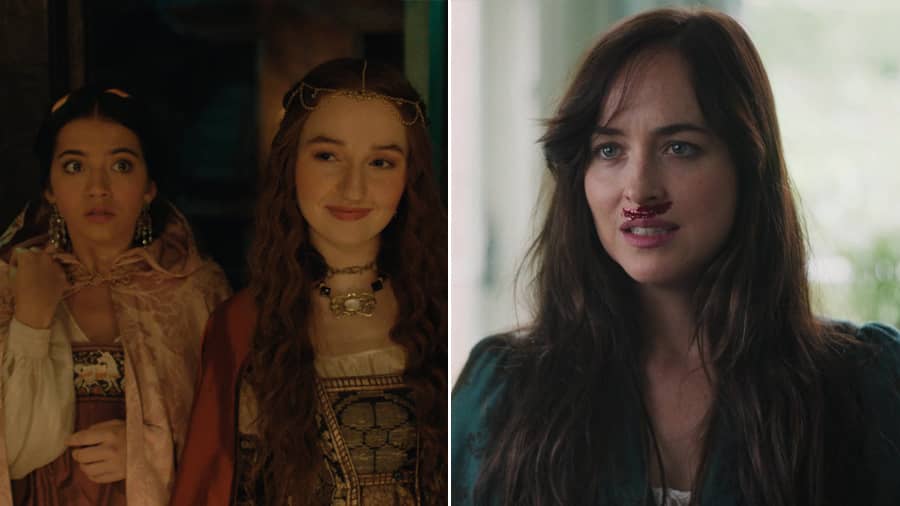 Stills from Rosaline and Persuasion
IMDb
---
Calcutta
|
Published 21.11.22, 03:02 PM
|
---
Contemporary filmmakers like Thor: Love and Thunder director Taika Waititi have given a new lease of life to the period drama genre with recent films that are finding fan-following across the globe among millennials and Gen Z. If you liked Joe Wright's romcom Pride and Prejudice (2005) and the Shekhar Kapur-directed biopic Elizabeth, then these six recent films must make it to your watch list. Take a look. 
Rosaline (2022)
The love story of Romeo and Juliet has been explored by many filmmakers over the past several decades. Rosaline, however, brings to us the less-talked-about tale of a jilted ex-lover that Romeo left behind to pursue Juliet. The Karen Maine-directed film is a comedic retelling of the love story from the perspective of Romeo's ex-girlfriend Rosaline, who also happened to be Juliet's cousin. After being abandoned by Romeo, Rosaline tries everything in her power to create a rift between Romeo and Juliet in order to get her boyfriend back. With feminist themes and funny dialogues, the film rests on the shoulders of Katilyn Dever who plays the role of the witty and independent Rosaline. 
Watch it on: Disney+Hotstar Persuasion (2022)
An adaptation of Jane Austen's novel of the same name, Persuasion retells the author's work with a hint of comedy, which makes it fun to watch. Dakota Johnson's goofy comedic timing is a breath of fresh air in this romcom, directed by Carrie Cracknell. Dakota's Anne Elliot breaks the fourth wall throughout the film, which keeps the audience engaged. Eight years after Anne is persuaded to leave boyfriend Wentworth, her old lover comes back into her life. Anne is now left wondering if this could be her chance at true love. While Dakota takes the helm of the comedic punches, Mia McKenna-Bruce's depiction of her shallow and narcissistic sister Mary Musgrove makes the film a laughter riot.
Watch it on: Netflix Enola Holmes 2 (2022)
The second instalment of the Enola Holmes franchise is a fun-to-watch film with the mystery element keeping you glued to your seat. The stakes are higher than ever for Enola (Millie Bobby Brown) who is tired of living under her detective brother Sherlock Holmes's shadow. The teen sleuth opens her own detective agency only to be turned down by clients for being a woman and the sister of the famous detective Sherlock. She finally gets a case that reunites the brother-sister duo. Millie shines as Enola Holmes and her chemistry with Tewkesbury (Louis Partridge) is to die for. Henry Cavill is impressive as detective Sherlock, who is also a protective older brother in the film. The siblings' mission to uncover a sinister government plan makes Sherlock come face to face with his arch-nemesis Moriarty.
Watch it on: Netflix Emma (2020)
Another adaptation of the Jane Austen novel of the same name, Emma is directed by Autumn de Wilde. Clever and rich Emma Woodhouse (Anya Taylor-Joy) is set on her mission to become the best matchmaker while also finding love for herself in the slumbering town of Highbury. Other than a modern and comedic take on the novel, Emma stands out for its beautiful cinematography and stunning costumes.
Watch it on: Prime Video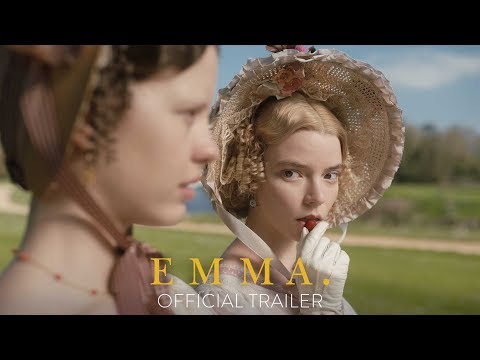 Jojo Rabbit (2019)
The 2020 Oscar's Best Picture Winner Jojo Rabbit is Taika Waititi's reimagination of Hitler's Germany. A young Jojo (Roman Griffin Davis) has an imaginary friend in the form of the dictator Hitler (Taika Waititi). While at a German Youth camp, Jojo discovers that his mother (Scarlett Johannson) is sheltering a young Jewish girl at their home. The dark comedy is told from the perspective of a young Jojo who tries to figure out his way in war-torn Germany while being taught the good and the bad at the German youth camp. The historic tragi-comedy has several rib-tickling scenes, but the one in which a few cops visit Jojo's house for inspection and waste most of their time doing the Hitler salute stands out.
Watch it on: Disney+Hotstar The Favourite (2018)
Yorgos Lanthimos's Oscar-winning historical drama, The Favourite, shows England in the early 18th century while at war with France. A frail Queen Anne (Olivia Colman) is at her wits' end while her close friend Lady Sarah (Rachel Weisz) governs the country by her side. The friendship between the two takes a turn at the entry of Abigail (Emma Stone) who steadily climbs the social ladder by charming the Queen. As Sarah becomes consumed by politics, Abigail steps in to replace her as the Queen's companion. Emma's Abigail shines as the servant-turned-companion of the Queen. Her wit and psychotic charm makes for an anti-hero you want to root for.
Watch it on: Disney+Hotstar