Ritwick Chakraborty on Teko
'There have been films about obesity as well. However, when someone is called Teko and made fun of, people or society don't term it body shaming'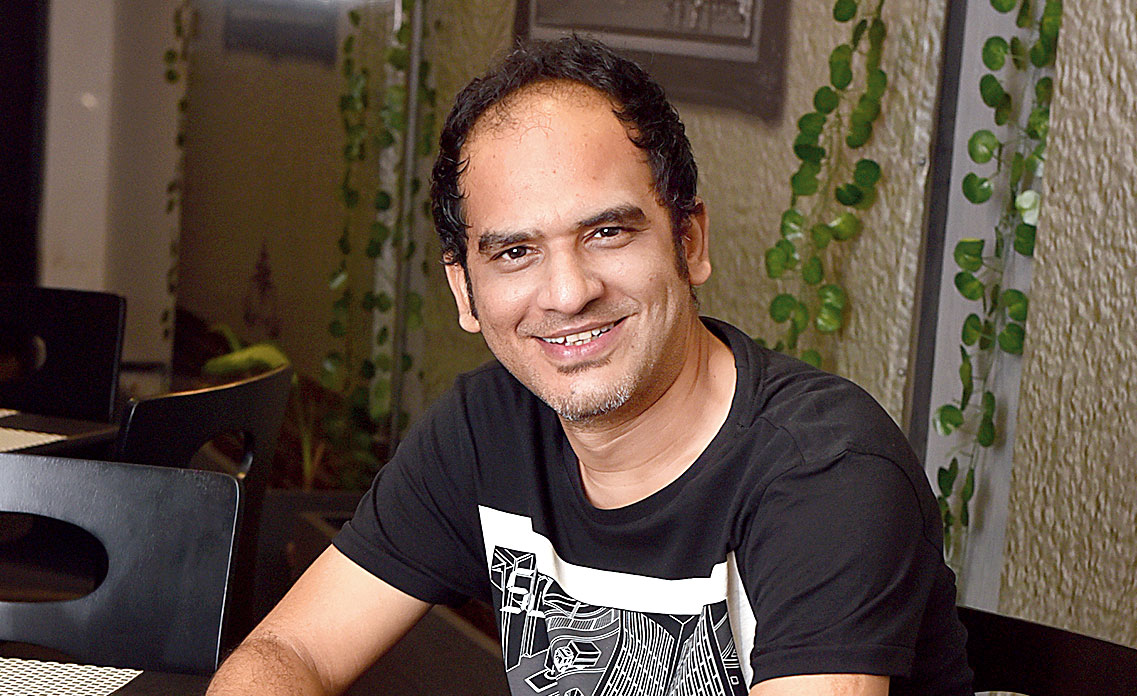 ---
|
Calcutta
|
Published 19.11.19, 03:19 PM
---
A very different film in form and content, the trailer of Teko is on everyone's lips. t2 catches up with Ritwick Chakraborty, who plays the protagonist in the film, at Kolkata Pantry in Hindustan Park, to take us through what the buzz is all about.
Tell us about your role in Teko?
The character, Alokesh, is obsessed with hair. He has got engaged to a girl (played by Srabanti) who has long lustrous hair and likes men with good hair. She used to like cricketer M.S. Dhoni for his long locks but no longer after he went for a short-crop look. Alokesh decides to use a hair oil... with disastrous effect; his hair starts falling off. And society, especially Indian society reacts, strangely to a bald pate. He is ridiculed... he goes into depression. He decides to take legal action against the hair oil firm.
All film industries celebrate body beautiful but this film takes a kind of a stand against body shaming and tries to create a social awareness. Your views?
Films can be based on a lot of issues. There have been films about obesity as well. However, when someone is called teko (bald) and made fun of, people or society don't term it body shaming. Even personally, I see my receding hairline as a natural thing in life. But there have been interviews where journalists have asked me, 'You have a receding hairline, how do you manage?' The question is absurd. But people do ask. A bald pate is viewed very differently. People are sensitive about hair and more concerned about how others perceive them rather than how they feel.
Were you the obvious choice for the role?
Yes... I think. I tell people that I have no problem with my hairline. If my receding hairline affects my profession, only then there's a problem... I will think about it seriously then. If it was some other actor, he would have had to wear a bald cap then (laughs)...
Teko is being compared to Ujda Chaman and Bala that also deal with premature balding...
There is no reason to compare them. People are assuming things based on the trailer. People will think why is there a surplus of films based on receding hairlines and premature hairfall. It's a coincidence. Our film was made much earlier. I believe our film was made when Bala was announced at a news meet. That also means that creative people are thinking about it... no one is copying content, no one is inspired. But now everything is out there on the Internet. People can find out when Teko was shot, when people took selfies and posted them on sites.
There was a controversy surrounding the release dates of Ujda Chaman and Bala...
Some people are being judgemental. They will react on anything and say whatever they feel. I haven't followed the news on them really. I had heard of Bala... I came to know of Ujda Chaman later. The shifting of dates is natural because ultimately everyone wants to rake in the profits. It's from a business perspective.
What did you say when the role was offered to you?
I thought it was a nice character. And I know Abhimanyu Mukherjee (the director) and his stand on various subjects. He has a knack of showing serious issues in a light and funny way. Not everyone has that viewpoint. The script was interesting and contemporary. The hairfall problem has been shown in a funny manner. The thought behind the film is very unique. I liked the character.
This is your first film with Srabanti. How was the experience?
We have quite some scenes together. She is a very good actress and I knew that even before we worked together. She is very natural. And since she has been working from a very young age, she knows the craft well. It's amazing to work with her. She is a fun person... keeps everyone entertained on sets. She does a lot of mimicry too (laughs).
How was it working with Abhimanyu?
I have known him for many years now. I have worked under his direction for TV. He used to write as well. It's nice to be working with someone whom you know. And now he's a well-known director. Plus, as I said, the viewpoint of his was very different. It was amazing.
A lot of the film focuses on the consumer forum. What do you think about it?
Since our lives are governed by a 'market'... as buyers we are always lured and wooed to buy stuff. We are being bombarded with marketing gimmicks. Having said that, we, as buyers, as consumers, have a responsibility — to be sure of what we purchase. We need to choose carefully. Do we succumb to the lure of the advertisements or do we check facts? It's possible in this age... to cross-check.
Do you have a personal experience where you had to approach the consumer forum?
I never had to complain at the forum but it is an important organisation. It's a vital part of society anywhere but more so in India where there's so much of poverty and corruption.
How did you prep for the role?
We all have observed people like these who become frustrated with premature balding. And especially young people... say around 24 or 25 years of age, they sink into depression. Their main worry is 'What will people say?' or 'Will I ever get married?' The character did not require a lot of preparation in that way. The key was to understand his psyche.
The choreography for the song Keshto has been very well-received...
It's a great feeling. Whenever a scene involves me dancing, I almost die of fear. I get tense if dancing is involved. We had decided before shooting it that the character would dance in a happy state of mind but since he is not a professional dancer, he can end up making mistakes here and there. This made me relax a bit. I think that's why people connected so well to it.
How important is it for a Bengali film to address social issues?
It's not really a film's responsibility. But when a story is being narrated that affects everyone on a daily basis in a light-hearted manner, it has an impact. For example, Lage Raho Munna Bhai, the way Gandhiji has been portrayed... at least one generation will try to know more about Gandhiji. Maybe most people know but there could be others who don't. But yes, socially aware films should be made... all kinds of films should be made. I think a very serious film on a socially relevant issue will have takers. Akshay Kumar is making so many of them. Different films have different value. But it's nice if socially relevant films become commercial successes.
Teko's trailer garnered over a million views in a very short time. What do you think connected with the audience?
I think the fact that it's a problem faced by many people. There are discussions in households over this particular issue of premature balding. Some people don't think about it too much but a large section of people are very worried... mostly owing to societal pressures and insecurity. That is the reason I think that the trailer clicked with people. Plus with the advertisement of fairness creams and all, it's a very contemporary plot. We look at ads every day and we also come to know that people have been duped... so it's natural that people took notice.