Rituparna Sengupta plays Goddess Durga For a Mahalaya TV show
The show Debi Doshomahabidya will narrate the story of Sati and her Dosh-Mohabidya avatars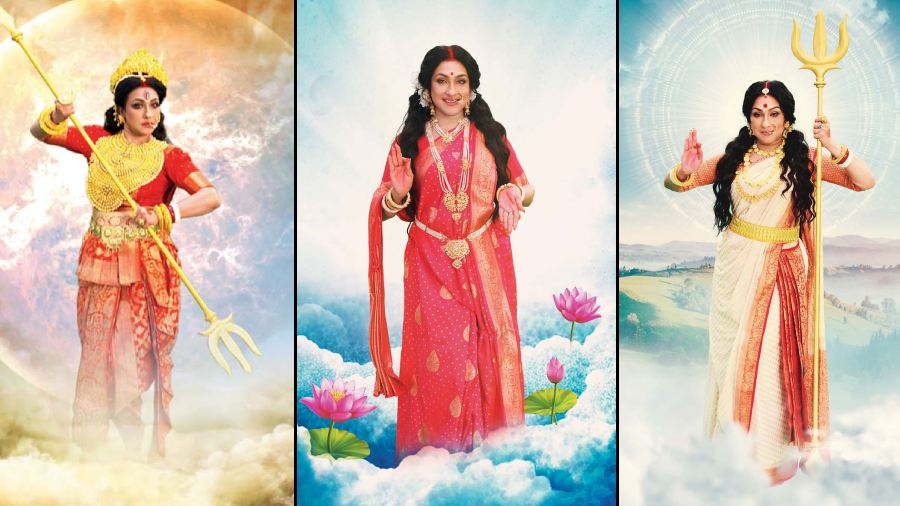 ---
Published 19.09.22, 03:29 AM
|
---
It is the daybreak that many look forward to for the whole year. It's the day that ushers in Devipaksha and marks the beginning of  Durga Puja festivities. On the occasion of Mahalaya, Rituparna Sengupta will be seen donning a new role as Ma Durga for the show Debi Doshomahabidya, which will air on Colors Bangla on September 25 at 5am. "Playing Ma Durga is a blessing... it was a fabulous experience.... as an artiste I was elated when I got the call for this. I have played Ma Durga on stage many times. But this was different since it was for television. The script was so good... every make-up and costume was so genuine. It looked like a costume drama. We can make a difference with the performance. The show Debi Doshomahabidya will narrate the story of Sati and her Dosh-Mohabidya avatars. The whole team has put in so much effort... everyone in the team right from the hair dresser to costume designer to choreographer, each one has contributed in their own way to pull this off. In my room I had 20/25 people doing my hair, drawing Trinoyoni etc," says Rituparna.
The show will be about the story of how Ma Durga comes into being and saves the Gods and mankind from Mahisasur. It will begin from a real location and travel into a mythological zone.
Mahalaya brings back warm childhood memories for Rituparna. "The voice of Birendra Kishore Bhadra resonates with me! I remember my grandmother putting on the radio at the crack of dawn. We grew up with that.... and we knew that Ma is coming. We still listen to it," says Rituparna, who will be seen as Durga, Parvati and Sati.
On the same day, the channel will also air Dugga Maa er
Golpokotha, a 2D animation story that starts in the jungle, with the lion king worried about his subjects, who are under the threat of poachers. The terrified animals report to the lion who then narrates the three different stories of Ma Durga, depicting how good wins over evil. Dugga Maa er Golpokotha airs at 10am.
"Durga Puja is a carnival for us Bengalis and an emotion. Mahalaya marks the arrival of Goddess Durga on earth. We have specially curated two different programs for Mahalaya for the whole family to come together. We hope viewers of all age groups will enjoy watching the visual extravaganza that we have put together," said Sagnik Ghosh, business head, Colors Bangla.
The show will have an ensemble cast comprising Adrija Roy, Sairity Banerjee, Dona Bhowmik, Deboleena Dutta, Titiksha Das, Sruti Das, Rimjhim Maitra, Debadrita Basu, Sanghamitra Talukdar, and Oindrilla Sharma.