Rituparna Sengupta on working with Anurag Kashyap
The film 'Bansuri', is a moving story of a family and a little boy who wants to play the flute like his father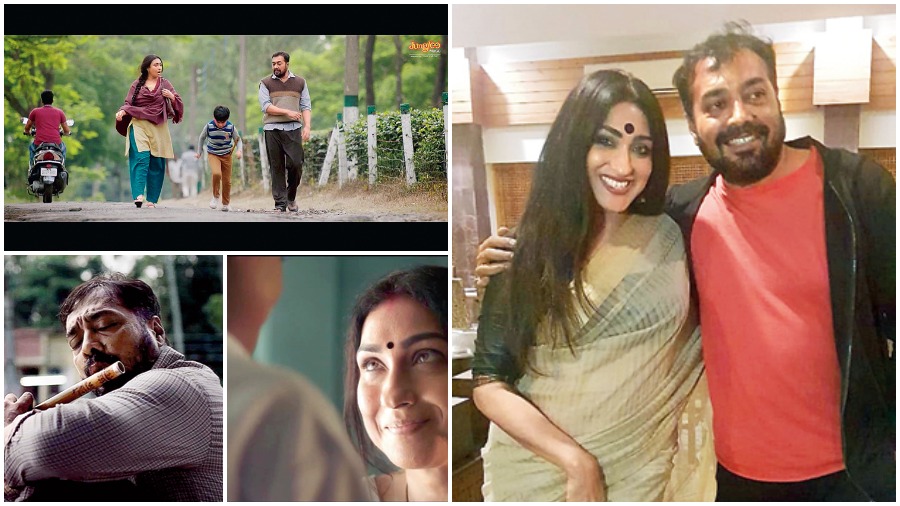 ---
---
What was the starting point for Bansuri?
Bansuri started really interestingly. Director Satarupa Sanyal got in touch with me and told me that a very talented director from the South wants to work with me... he has been a follower of my films and has always made it a point not to miss my films at film festivals. His name is Hari Viswanath, who has made the award-winning film Radiopetti. Soon after he flew in from Chennai to meet me and I was quite astounded to know the number of my movies he has seen. He revisited all my characters and gave me great insights about those performances. I was quite impressed and pleasantly surprised.
What is the storyline of Bansuri?
He narrated the story of Bansuri to me, which is a beautiful story of a mother and her little son who wants to play the flute like his father (Anurag Kashyap). The mother always tells him that his father is a great flute player. Mom buys the flute for him... the story is beautifully woven, and the characters are so real. The mother and the child are deeply connected and the father, who was distant, finally joins them through a turn of events.
Tell us about your character?
The interpretation of motherhood comes in manifolds through this simple, innocent story... it's really intriguing to know how a child's mind works. I have a very subtle and nuanced character, as a mother, as a daughter- in-law, wife. I play a simple woman trying to put a life together with a son who is less than nine years old. The film is set in the tea gardens and gives a very fresh feel to the project. I loved shooting for it. Hari is such a sensitive director. Satarupadi kept an eye on every single detail. I am really excited about the film. My association with Satarupadi goes back a long way and I was so happy to know that she will be the executive producer of the film.
Why the name Bansuri?
Bansuri (produced by Mou Roychowdhury) is also about playing and learning the flute. It's a touching and moving story.
What was your first reaction when you got to know that Anurag Kashyap is there in the film?
It was quite a thrill to know that Anurag is acting in the film. Gradually I got to know him as an actor. He was also excited to know that I was doing the film. He praised some of my works which he had seen earlier.
How was your shooting experience with Anurag?
We shot our scenes in Jalpaiguri. It was a lovely atmosphere on the sets. Our team was amazing. Anurag and I had some really intense scenes... and he was very particular about the way he was doing it. We would chat over dinner on various topics. He loves having fish... we chatted about his films and the new ones as well. We had a wonderful shoot in Jalpaiguri in a sprawling tea garden. Our producers were extremely kind and graceful. Everything was properly scheduled and we finished the shoot on time. The kids were a delight to work with. Their parents would visit the sets on occasions. One day I invited everyone to my guest house and we had a ball. My children also visited during that time.
How is Anurag as an actor? Is he a method actor or a natural?
He is a combination of both... he is so intelligent... since he knows this craft so well as a director-writer, it comes naturally to him. He is also quite in tune with the methods an actor should possess.