Rituparna Sengupta gets candid about Mahishasur Marddini
'The marriage of theatre and cinema in this film talks of a new form', says the actress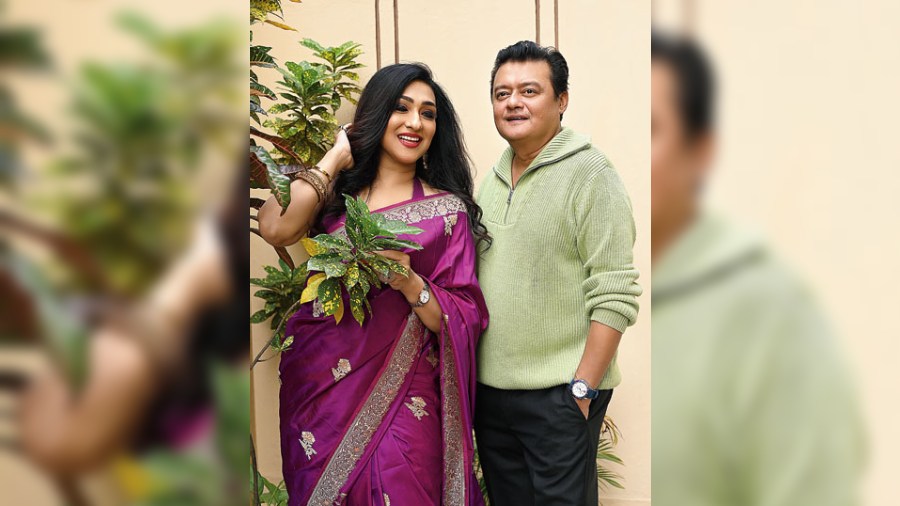 Rituparna and Saswata star in Mahishasur Marddini, which is running in theatres now.
Picture: Pabitra Das
---
Published 26.11.22, 02:33 AM
|
---
Rituparna Sengupta plays an Air Force test pilot on her way to becoming the nation's first female astronaut in the film Mahishasur Marddini, which is a letter of protest "against the wrongs done to women through the ages". Directed by Ranjan Ghosh, the film stars Rituparna Sengupta, Saswata Chatterjee, Parambrata Chattopadhyay, Shaheb Bhattacherjee, Poulomi Das and others. The film is running in theatres now. The Telegraph chat with Rituparna...
Why did you say 'yes' to Mahishasur Marddini?
The inner power of the story intrigued me... the brutal face of today's society, the unapologetic behaviour of the people around and the crying plight of innocent faces... the inevitable struggle of carrying on for decades and years needed to be told through the language of cinema.
What is the USP of the film?
The sensitivity and vulnerabilities of the subject... the marriage of theatre and cinema in this film, which talks of a new form... also, Param, Saswatada and I have come together in a film for the first time.
Tell us about your character in the film?
My character is on leave for some time to enjoy her Durga Puja holidays... and one night she faces some devastating experiences, which changes everyone's lives.
You shot for the film during the pandemic. How challenging was it?
We shot the film during the pandemic and more so in a location far away from Calcutta. There were instances when we had to face lockdown situations after 9pm... it  was quite a challenge... the setting of the film was beautiful and eerie.
How was it like working with Saswata and Param?
I have worked with Param and Saswatada separately... they both have their own distinctive style and understanding of characters... it's always a pleasure to work with actors of such calibre.
Why is the film special for you?
It has a very special element which is the realisations of guilt and compromise... it's a document of determination, a depiction of killing the demons inside and giving an awareness to mend the society.
This film is an interesting mix of cinema  and theatre where the characters come  and go seamlessly! That reminds me of my US trip where I witnessed the musical Ramavana directed by Rimli Roy in New York... it has an excellent narrative of how Diwali began and is celebrated... it was mostly performed by the Americans. I introduced the show as a guest of honour and I would like to present it throughout the country. The subject is so familiar and yet the execution is so innovative... on the eve of my birthday we had a cake-cutting ceremony with all the cast and crew present. After that I travelled to Los Angeles. We saw pictures of you with Priyanka Chopra's mother and Nick Jonas at their home...
Priyanka Chopra's mom Madhu Chopra invited me to visit her and we dropped in for a bit. She was so warm and nice, and the house looked like a dream... later she sent me the photograph of the candle I had gifted her and wrote a note saying how beautiful it was. Priyanka was travelling... I met the full Jonas family and it was wonderful to meet everyone.
Did you have a chat with Nick Jonas?
We exchanged pleasantries and he welcomed us. I told him that I missed attending their wedding reception in Mumbai since I was shooting for Bela Shuru at that time. Also, I told him that I missed Priyanka this time. His younger brother and parents were there... we all took some pictures and walked around the beautiful poolside. He was very nice and cordial to us.