Rituparna Sengupta and Subhashree Ganguly will play Devi Durga in Mahalaya shows on TV
The lineup of actresses in the shows include a bevy of television stars like Sonamoni, Debleena Dutt and Rimjhim Mitra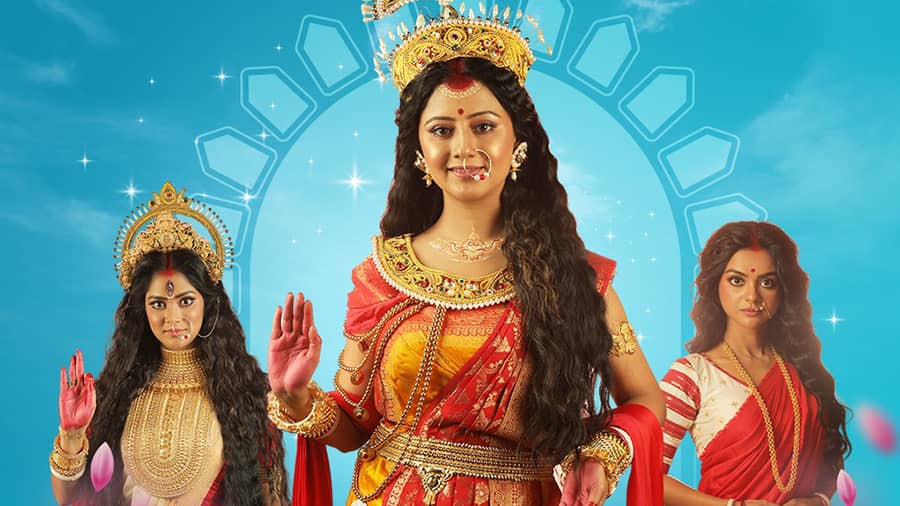 ---
Calcutta
|
Published 22.09.22, 02:43 PM
|
---
Mahalaya marks the beginning of Devipaksha, the fortnight of goddess Durga. In Bengal, the morning of Mahalaya is associated with the historic radio programme Mahisasurmardini by Birendra Krishna Bhadra, narrating the tale of Durga vanquishing the buffalo demon Mahisasur.
With the advent of cable TV, Mahalaya special episodes became an annual TRP-garnering race for the channels. Every year Star Jalsha, Zee Bangla, Colors Bangla and others vie for people's attention at 5am on Mahalaya morning. Every year, the channels pick a fresh face — a film or TV actress — to play the goddess in the dramatic retelling of mythical legend. 
Here's a look at the actresses who don the garb of Durga in the Mahalaya special programmes. 
Mohor's Sonamoni on Star Jalsha
Titled Ya Chandi, the Mahalaya special programme on Star Jalsha will feature actress Sonamoni as Durga. Having won hearts as Mohor in the popular daily soap of the same name, she is already winning accolades online for slipping into the goddess's attire. 
The Star Jalsha show will also feature the lead actresses of the channel portraying different forms of Durga. Devchandrima Sinha Roy from Saheber Chithi will be seen as Parvati in Ya Chandi. Swastika Ghosh aka Deepa from Anurager Chhoya will be essaying the role of Chamunda. Khelaghor actress Swikriti Majumder will be seen as Maheswhari. Manali Dey, Fuljhuri from Dhulokona, will be playing Jogomaya. Solanki Roy from Gantchhora will be seen as the human form of Durga. Montu Pilot actor Sourav Das will be playing Mahisasur in the show.
Shubhashree Ganguly on Zee Bangla
We generally tend to associate Durga with Mahisasurmardini, but the goddess has several other lesser known forms. Zee Bangla will be narrating the tales of these goddesses in their Mahalaya special this year. It will feature 12 forms of Durga. Apart from Mahisasurmardini, the stories of Lakshmi, Saraswati, Jagaddhatri and Skandamata, among others, will be a part of the retelling.
Tollywood actress Subhashree Ganguly will be seen as Durga on the Zee Bangla show. TV actress Shweta Bhattacharya (Jamuna Dhaki) will be narrating the tales of Durga as Parvati to her son Ganesh. Idhika Paul, popular as Ranja from Pilu, will play Chandika, who slays the demon duo Shumbha and Nishumbha. Soumitrisha 'Mithai' Kundu will be seen as Joy Durga. Megha Daw (Pilu) will play Kushmanda, who creates Lakshmi, Saraswati and Mahakali with energy emanating from her third eye. Khelnabari's Mitul (Aratrika Maity) will be portraying Lakshmi, while Ei Poth Jodi Na Sesh Hoy's Urmi (Annwesha Hazra) will be seen as Saraswati. Tubri (Sohini Banerjee) from Uran Tubri will be playing Mahakali. 
Rooqma Ray, who has wooed viewers as Anamika in Lalkuthi, will be seen as Skandamata in this show. Hansh (Sharly Modak) from Lokkhi Kakima Superstar is all set to charm the audience as Jagadhatri. Shinjinee Chakraborty (Uma) plays Kamakhya.
Rituparna Sengupta on Colors Bangla 
The theme for Colors Bangla's show for Mahalaya is Debi Dashamahabidya, for which the channel has roped in Rituparna Sengupta. The Tollywood star will be playing the role of Durga on the small screen for the first time. The show will showcase the ten avatars of Durga. Rituparna will play three among these — Sati, Parvati and Durga.
A host of TV actresses will play other goddess roles. Shruti Das will be seen as Kali; Adrija Roy will play Bhubaneshwari. Dona Bhowmik will essay Kamala, while Titiksha Das will be seen as Bagala and Debadrita Bose as Chhinnamasta. Debleena Dutt and Rimjhim Mitra will be seen as Tripurasundari and Bhairavi, respectively.