Ritabhari and Soham on Brahma Janen Gopon Kommoti, breaking taboos and future plans
The Telegraph chats with the actors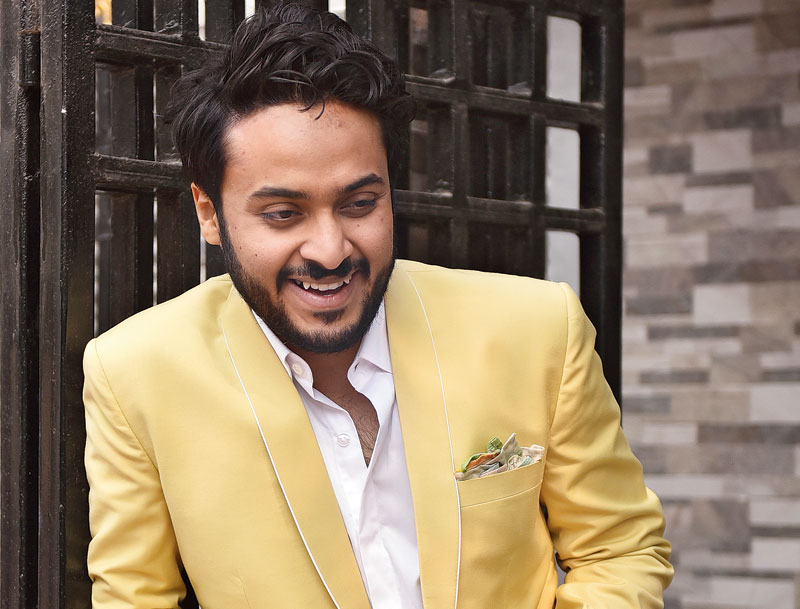 ---
Published 10.03.20, 02:30 PM
|
---
Ritabhari Chakraborty and Soham Majumdar are soaking in the adulation and accolades coming their way after the release of the film Brahma Janen Gopon Kommoti. The Telegraph chats with Ritabhari and Soham, who had starred in Kabir Singh...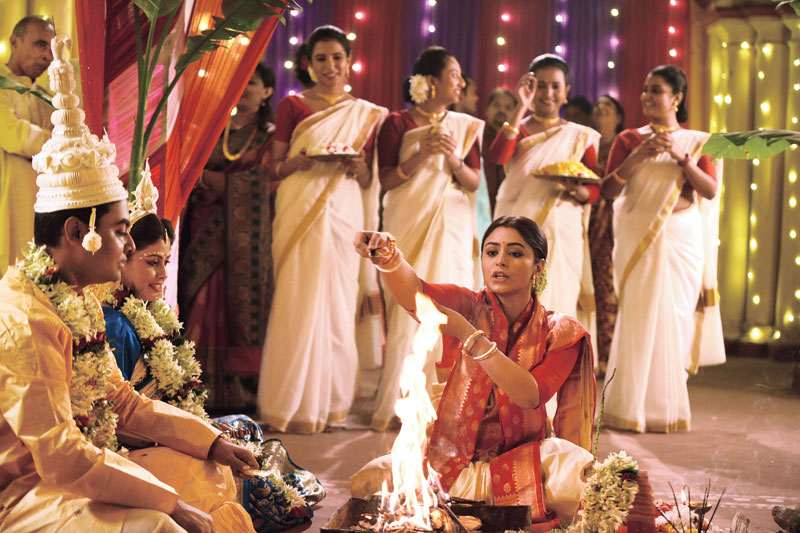 How's the feedback till now?!
Ritabhari Chakraborty: The feedback is very, very good, and I am really happy! People are loving the film. The theatres are going houseful. The reactions are incredible. Women are messaging me and thanking me for speaking up for them… that's the biggest achievement.
Soham Majumdar: The feedback has been amazing and the hall visits euphoric. A group of men and women shouted "Kanyadaan aar chai na" in a couple of our hall visits.
Ritabhari: Our main inspiration behind this film is Nandini Bhowmik, who is a woman priest. I had asked her about the obstacles she had faced. She told me that initially people would not accept her. They felt it was pretend playing. She was like, 'I am a Sanskrit professor, I know the mantras. I have more education than the priests who have just learnt the mantras and memorised them. They don't even know what it means.' She was like, 'My fight was longer.' She has this all-woman team with whom she performs the rituals, which is also true for my character Shabari. She performs with a whole woman group, which she has named the 'Spice Girls of Batashipur'!
Soham: It's about a female priest who is trying to break all the taboos. I play her husband, Vikramaditya.
Ritabhari: Being a woman priest is a taboo-breaking thing.
Soham: Imagine anybody fighting for their identity. It becomes a problem. You do not know whether you'll be accepted. Can you imagine going to your workplace and not being accepted or not being accepted in your society? The deep root is much more important. One has to identify the root causes for this problem and then act upon the superlative idea… then only we can make certain changes.
Ritabhari: Shabari's point is very simple — if you have a rational scientific logic to counter me, do that. If not, don't come.
Ritabhari, your Calcutta home is beautifully decorated. There is a sense of order, calm. But film shoots can be so different, it's not in your hands… there can be complete chaos, you are waiting indefinitely. How do you reconcile with this?
Ritabhari: The first two days I am very angry, upset, annoyed! But by the third day I ease into it. This is life. I would like to control things but I have to accept that I cannot control things. I may have an overall plan for what I want in life but what I have got… some are better and some are not. It is not in my control. I really listen to what the director has to say. How do you see yourself navigating the film and web space? How would you like to position yourself?
Ritabhari: I have always wanted to cater to both kinds of audiences… Ogo Bodhu Shundori was a massive hit. For me, shorts like Naked or Fool For Love is as important as doing Shesh Theke Shuru. I am a global person in my mind. I watch all kinds of content. People are now approachable, through Twitter or Instagram. Maybe superstars are not treated like gods any more now, but the actor-worshipping has not ended. Look at a digital portal or a blog... the maximum engagement is about celebrities. People are obsessed with stars. And if people accept you, like you, then you'll go on to star in many, many films, no matter where you are coming from.
Soham: Every day we are evolving as people first and then we get to learn something new each day. Everyone wanting to become an actor should visit Aram Nagar, Andheri, once. They will get a reality check there.
Ritabhari: Good-looking, presentable youngsters, who are just looking for an opportunity to even get an audition.
What's the Bombay scene like for both of you?
Soham: I want to do films in all languages. After Kabir Singh, I had to be careful about my choices… I don't want to be a part of 200 films. I would rather be part of a legacy. Even if I do 15 films in my lifetime I would be happy… but those 15 films should count.
Ritabhari: Soham is so honest with his effort in what he wants out of a film. He will go places people can't even imagine. This is my prediction for him.
Will you be spending more time in Bombay now?
Ritabhari: That's the intention. I would ideally like to spend more time in Bombay… I really need to feel at ease with the city. But people in Calcutta are giving me such fantastic work now. I have to strike a balance. How About A Kiss? is going to come out on Zee5. The one with Rajat Kapoor. I always look forward to the screenings in Bombay because I get to meet a lot of people whose work I like. I am open to doing good work. In the past I had turned down good scripts in Bangla, which turned out to be hits. I had turned them down because the parts that I was being offered had nothing to do.
Soham: I'll keep shuffling… films can be in Hyderabad or Bangladesh also. I don't want to settle now. What happened after Kabir Singh is that the auditions were filtered.
Ritabhari: Yes, that is one big benefit. People literally come down to Calcutta to take a screen test. Casting directors are like, 'Send it in your own time or with your camera person.'
Soham: I prefer going and giving it.
Do you set goals for yourself?
Ritabhari: I do big time and too many… and I have to stop it!
Soham: Four years ago I did not even know that I would be sitting here talking to you. Now that I am here I would like to give it my best. I would like to do films in all languages. But how can I plan that? Somebody has to offer me that. Until and unless I am offered I won't be able to deliver.
Ritabhari: Four years ago my goals were so sky high you can't even imagine!
Soham: The Nobel Peace Prize?!
Ritabhari: It's on my wish list, don't make fun of it (smiles). My grandfather used to say, 'Sky is the limit and one can go ahead and do anything they want.' I took his words very seriously. Four years ago I saw myself doing more phenomenal cinema.
Soham: People will give her more quality films after watching Brahma.... She is impeccable in the film.
Ritabhari: I am grateful that things did not immediately pop up for me. I have learnt something in the last four years… like how to produce, how to write, how to execute an editing that is happening, and every detail around a production… how to pitch a project, how to get your project approved, how to reach your social media audience.
Now I am planning bigger. I am going to produce three Bengali films this year of different flavours. I have got two directors working on two films. I am looking for the third one. If somebody wants to collaborate please reach out to me! I am not acting in all three. One actually. I am also producing Arijit Singh's non-film song. It is a classical Bengali song. The digital content I make… like Fool For Love (starring Ritabhari and Anurag Kashyap) or Naked… gives me incredible profit. That's how I make money.
How important is it for you to project an image through your work?
Ritabhari: My audience has been loyal to me… they have stayed with me, waited for my good projects... and I don't take my audience for granted. Sometimes I might make things that may not please them. If I had to please everyone then I would be an ice-cream seller. I am an actor, an influencer… I have some responsibilities. I have to lead by example and do the right things rather than pleasing everybody. On screen I would not do a project that is demeaning to the society. There is such high level of expectation from each woman that it is insane. I want to be a real person. I go wherever I want, I do whatever I want, I say what I want.
Soham: There is a fine line between black and grey. We are all in that grey space now, trying to do all kinds of characters. Some of the products out there are so derogatory... to the extent that they hamper someone's confidence. And there is this obsession of being perfect all the time! Dude it is okay.
Ritabhari blazer: Tessuti (Dapper); make-up: Babusona Saha; hair: Gini; stylist: Anupam Chatterjee; Soham's outfits: Shivan & Narresh (Dapper) and Surbhi Pansari