Ridhima Ghosh on Mafia, shooting in the jungles and playing pranks on her co-actors
'Staying together for a month, we all became friends. We had some really great times! The only thing was that our sleep cycle went for a toss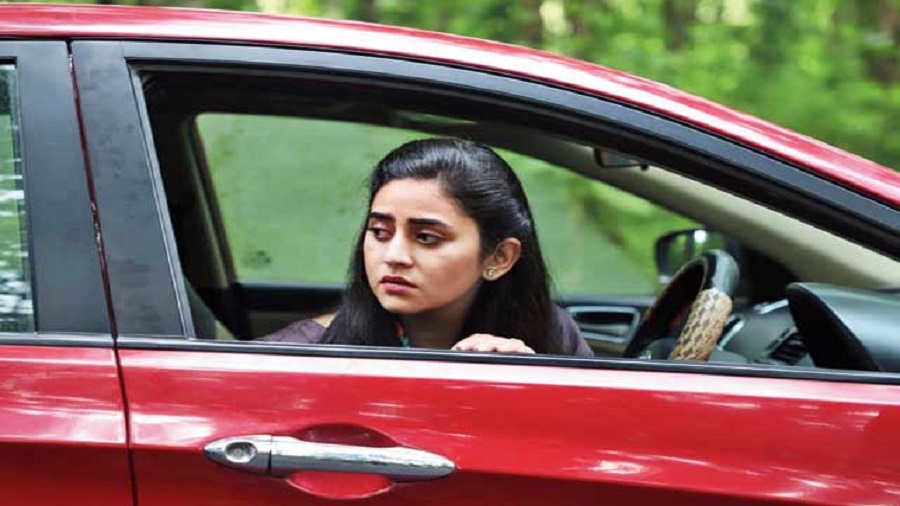 ---
---
Ridhima Ghosh and her husband Gaurav Chakrabarty met for the first time on September 5, 2010, at Kaushik Ganguly's place for the script reading of the film Rang Milanti. The two started dating within two months. During the shoot of the film they had played the game Mafia for the first time with friends like Anindita Bose and Tanmay Dhanania. Ten years later, Ridhima is part of a Zee5 web series called Mafia (along with Anindita and Tanmay), which is based on the game! And they played it once again on the sets. A chat with Ridhima...

How's the feedback so far for Mafia?
The feedback is very good, positive and everyone is saying it is binge-watch worthy. That's something great for any series. Gaurav and I started watching it in the afternoon on Friday and finished it by evening.

Do you talk during scenes or analyse once an episode gets over?
If we are watching something together and we feel something, we immediately share it. The impulsive reaction comes out! We say whatever we have to and when the episode finishes then we elaborate on it. Same thing happened with Mafia. For Mafia though I watched my scenes a bit more critically, which always happens to me when I watch my own work for the first time. I always feel that I could have done something a little better. I am extremely hard on myself. I watch it properly the second time.

What are Gaurav's views on your performance in Mafia?
We were both pretty glued to it. He said that I have done justice to my character (Priyanka). He said that I played it in a subtle, sublime way.
How did you like Gaurav's performance in the recent web series Lalbazaar?
I loved Lalbazaar and his performance. It is a difficult series to make. Since Gaurav has played so many parts as a cop, I told him to keep a uniform at home (laughs)! He was fantastic. Now I want to see him play a bad cop. I have seen him play a good cop so many times. I want to play someone different, someone who is not always so good. I want to challenge myself as an actor. Any actor would want to try out different things. Same with me.
The concept and story of Mafia is very interesting. It drives the narrative. (Cinematographer) Gairik Sarkar deserves special mention… the look and feel of the series is amazing. All of us looked very good because of Gairik. It goes hand in hand with the narrative. The production design is awesome. On top of it are the performances, which are so good.

How do you see your character Priyanka? She is a bit quiet, not like you at all...
Priyanka is the wife of Ritwik (Saurabh Saraswat), who is going on a reunion with his ex-girlfriend, and his other friends. Priyanka is very naive and innocent. She tries to impress other people… she does not want people to hate her. That is why she goes on this trip with her husband because she also wants to be cool like the gang. But she is always the outsider… though she would want to be a part of the group. That is why I made Priyanka completely different and made her quiet. On a lighter note, I am absolutely not like Priyanka. I am always the heart of any group.

Were you familiar with the game Mafia?
Yes, we (Ridhima, Gaurav, Anindita, Tanaji and Tanmay) had first played it on the sets of Rang Milanti in 2010. And after 10 years I played Mafia the game on screen with Anindita and Tanmay once again!

Is it tough to maintain focus for an outdoor shoot that went on for 30 days?
No, I don't think so. The advantage was that we were staying in the same hotel, travelling together to the location and shooting. You are not going back home or having a separate life. Staying together for a month, we all became friends. We had some really great times! The only thing was that our sleep cycle went for a toss. We were awake every night and we slept during the day. Getting used to that was a little difficult.

Did you play a prank on anyone?
I can take this opportunity to apologise to Ishaa (Saha). I irritated her a lot in the beginning (laughs). Initially, Ishaa was reserved. If we would finish shoot at a decent time, say by 2am, we would be up till 5am to maintain our sleep cycle. Ishaa would go back to her room always. And I would go to her room at 3am and keep ringing her doorbell, saying, 'You have to come out and chat with us!' That was the start. To go back a bit, on the first night all of us hung out together. By evening we were free since it was a day shoot. We were chatting but everyone was not opening up. So I had a weird idea and I made up a game on first impressions. I told them one has to say one good thing and one bad thing about the other person. And some still hold a grudge till today for those 'bad' observations!
You have a crucial scene in Mafia where Priyanka talks to her husband's ex about someone's addiction. That scene is really heartfelt and sincere. How did you prep for it?
That's one of my fave scenes. As an actor, I am really instinctive. I don't sit down and think about a scene too much. A scene where a wife talks to an ex-girlfriend and tries to help her out… is not everyone's cup of tea. That comes from a place of goodness in you. That attracted me to the scene. There is awkwardness but I have to make the other person comfortable for her to open up. That was the motive for Priyanka. It was a one-on-one scene. We did it in one take. And I had to do it once in Hindi and once in Bangla. The scene worked because it was very honest. I believed in the moment.

Mafia is also a reunion story of friends. Have you gone for reunion trips with your school friends?
I am close to my school and childhood friends. We would meet up at a friend's place or a restaurant but we have never gone on trips. We never had a five-year gap, so there was no need for a reunion.

In the first episode there are scenes of you driving…
That was a three-page scene and I am not a regular driver! I can drive but I don't like driving. My patience level is zero! Of course, if it is for a shoot, then I will drive. But acting and driving together with a camera in front of you is a different ball game. You can't even see the road properly. I was nervous, yes! I did not want to hurt my co-passenger or the camera. Of course that would not have happened… I can drive. That was my first day of shoot. I had practised driving for a day before that. But I have realised something happens to me when the camera is on. I can do anything. It gives me some sort of motivation. I can drive properly when the camera is on.

How safe did you feel shooting in the jungles?
We felt very safe. The whole unit was there and I have been to jungles before. It was the rainy season and the only two things I was very scared of were leeches and snakes. There was a cobra just outside our jungle resort. I am petrified of lizards and there was one in my room!

Did a stranger knock on the door at night… like it happens in the series?!
Thankfully NO! Then I would not have asked that person to come in and stay like Priyanka does (laughs out loud)!