Tribhanga comes off as a mixed bag
Women making their choices and owning them lies at the core of of this film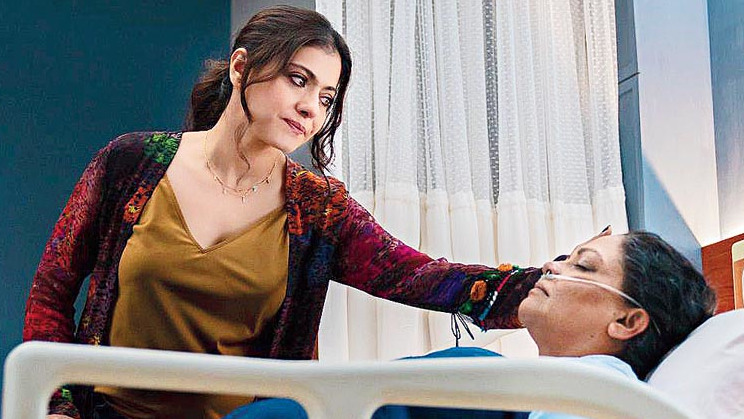 A still from Tribhanga.
Sourced by The Telegraph
---
Published 19.01.21, 02:30 AM
|
---
Childhood angst can find its way into adulthood in many ways. Some block out the troubles of their growing up years, most learn to live with it, while a few allow it to fester to the point of it converting into extreme hatred.
In Tribhanga, Anuradha Apte — the product of a broken home, the victim of filial negligence and a rebellious single mother — allows that angst to rip through in the form of rudeness. She barks at anyone within earshot, shoots off the choicest of cuss words and often pushes away those who care for her. She is flawed, like all of us are, and that's what makes her relatable. The one big problem? Kajol, for the most part, plays Anu with such screeching exaggeration that it often grates on one's nerves. By the time she reins herself in — which is only in the last few moments of this 95-minute film — the damage is already done. You don't feel for Anu, despite all that she's gone through in her life.
Directed by actor Renuka Shahane, Tribhanga, now streaming on Netflix, is the story of three generations of women driven by the choices they make, and it's these choices that often drive a chasm between them. Shahane, whose dazzling smile in Hum Aapke Hain Koun..! remains fresh in public memory close to three decades later, inventively describes the three women through various stances of the Odissi dance form. While Nayan (Tanvi Azmi) is 'Abhanga', an eccentric genius whose love for her writing often gains precedence over her duties towards her family, her granddaughter Masha (Mithila Palkar) is 'Sambhanga', denoting balance, a young girl wanting to live her life within the constructs of a society that her mother Anu has consistently defied. Anu is the titular 'Tribhanga', a form both unconventional and rebellious, succinctly exemplifying the film's tagline of 'Tedhi medhi crazy'. The three forge different paths for themselves, which tear them apart at regular intervals, but each has the courage to own her choices. Nayan suddenly plunging into a coma sets off the family's journey towards reconciliation, understanding and catharsis.
Initially mounted as a Marathi film, Tribhanga gets its milieu right, with the actors often lapsing into Marathi. The film peels off the layers with quiet and sensitive efficiency, with Shahane using the device of Nayan speaking to the camera — before sinking into a coma, she was in the process of narrating her life story to a biographer, played by Kunaal Roy Kapur — to throw light on the irreconcilable estrangement between Nayan and Anu. That, coupled with flashbacks and Anu gradually opening up to talk about her festering emotional wounds, is what makes Tribhanga engaging for the most part.
The film aims to provide a portrait of what keeps families together and what drives them apart, but while Tribhanga is mostly successful in putting forth its point of how we all need to respect each other's choices and also own the ones we make, the rushed screen time doesn't really give us more than a superficial peek into the individual and collective worlds of the three women at the centre.
Mithila, in particular, is given very little to play with, her Masha hardly rising above the character brief on paper, save for that emotional scene towards the fag end between Masha and Anu in which they examine their relationship and own up to their respective mistakes.
Tanvi Azmi, as expected, holds the film together, with the men for once — besides Kunaal Roy Kapur, the other male character of import is Anu's brother Robindra ( played by Vaibhav Tatwawaadi), who unlike Anu, has decided to let go instead of holding on to any ill-will against his mother — functioning as supporting acts to the women.
Tribhanga strives to say much — there's sexual assault, domestic violence, patriarchy — in its limited screen time, but much of it doesn't come together like it should have. In the end, however, the film's message — of three different directions making peace to align themselves towards a common goal — lingers.