Shershah: more or less satisfactory tribute to Vikram Batra's valour
An almost unwatchable first half — with the film, now streaming on Amazon Prime Video, following a Lakshya-like trajectory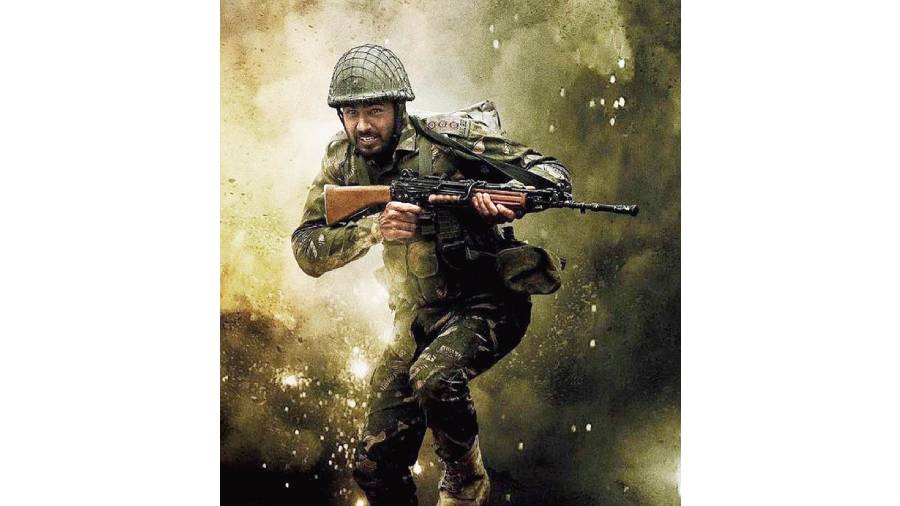 A still from the film
Sourced by the correspondent
---
Published 13.08.21, 12:56 AM
|
---
For all of us growing up in the 1990s and who watched the Kargil War play out almost beat for beat on our TV screens, Captain Vikram Batra is a name that still brings a lump to the throat. A bearded young man, sitting in a tent on the Kargil frontline, looked directly and fearlessly, and even perhaps nonchalantly, into the camera to say, "Yeh dil maange more," thus singlehandedly elevating a soft drink slogan into a national war cry.
But Vikram Batra — whose brief but meteoric rise has been written in the annals of history and posthumously crowned by a Param Vir Chakra, India's highest gallantry award — was much more than a war hero. Here was a young man, felled at 24, whose short but stirring life has given generations later a sense of nationalistic pride, his daredevilry defining both his life and his death.
Shershaah — named after Batra's code name during the Kargil combat — is a film, however, that is too linear, and with very little layering, to do consistent justice to the man's incredible story. An almost unwatchable first half — with the film, now streaming on Amazon Prime Video, following a Lakshya-like trajectory, comprising a romantic subplot undone both by song and silliness — is thankfully redeemed by a far more solid Half Two when the action, well and truly, kicks in.
Sidharth Malhotra, in what is the actor's most meaty role in a career spanning almost a decade, plays Batra. Over the last 20 years, stories of Batra's valour have been accompanied by accounts of his swashbuckling, almost filmi, swag. Director Vishnuvardhan — in what is his Hindi film debut — unfortunately reduces the young man to a goofy caricature in the film's first hour. As the first reels unfold, a knee-high Vikram, hailing from a family of teachers, is shown having dreams of becoming a "fauji" and watching army heroes on TV being awarded gallantry awards. Cut to a young man in college losing his heart to classmate Dimple Cheema (played by Kiara Advani), with their budding romance — though accompanied by the soulful Raataan lambiyan, surprisingly a Tanishk Bagchi original — becoming a speed-bump in a film that we know has the potential to play out more compellingly on the battlefield.
Kiara has a pleasing screen presence, and Dimple is blessed with more agency than her Preeti did in Kabir Singh, but this segment of Vikram Batra's life is given far too much screen time. Given its languid, and almost laughable, first half, Shershaah could have some viewers switching off, a risk that is a given with a streaming platform release.
But we suggest that you stick on. Despite Vikram Batra's trajectory from "Palampur ka seedha-saadha launda" to a soldier of grit mouthing lines like, "We live by chance, love by choice and kill by profession", lacking the layering that it deserves, Shershaah transitions to displaying some welcome energy when he is posted with the 13 Jammu & Kashmir Rifles in Sopore and then kicks into full gear when the Kargil conflict erupts.
The combat scenes are immersive and would have made for some great viewing on the big screen, with Captain Batra and his men showing immense courage in recapturing crucial points in what is extremely treacherous terrain. These scenes, with Sidharth Malhotra's front-and-centre act — out of depth in the first hour, but gradually coming into his own and aided by a physicality that helps him organically — being given a fillip by Kamaljeet Negi's superlative camerawork and a pulsating background score from John Stewart Eduri.
Where Shershaah also scores, its clunky structure notwithstanding, is in its refusal to go in for chest-thumping jingoism — a trope Bollywood films of this genre have invariably adopted over the years and a trap that a film built around the Kargil War, that ignited nationalistic passion like few others, could have easily fallen into. Shershaah, however, presents a superficial view of cross-border politics, but then one may argue that this is a film that single-mindedly focuses on celebrating the heroism of a man, and more or less delivers on that front.
With Sidharth being the pivot around which Shershaah revolves, the rest of the players are reduced to uni-dimensional characters, but the actors playing those parts — Shiv Panditt to Shataf Figar — probably bring more to screen than what was on paper. And you really can't hold back that lump in the throat as Batra's eyes close as he watches the Tricolour flying high, and then again as the end credits roll. Thanks to Half Two, Shershaah may be a more or less satisfactory tribute to the man. But yes, yeh dil maange more, yeh dil maange better.
Shershaah
Director: Vishnuvardhan
Cast: Sidharth Malhotra, Kiara Advani, Shiv Panditt, Nikitin Dheer, Shataf Figar, Shanu Vaid, Raj Arjun
Running time: 135 minutes