A feminist fable
Bloodied and brooding, 'Bulbbul' has credible acts but substance is sometimes overpowered by style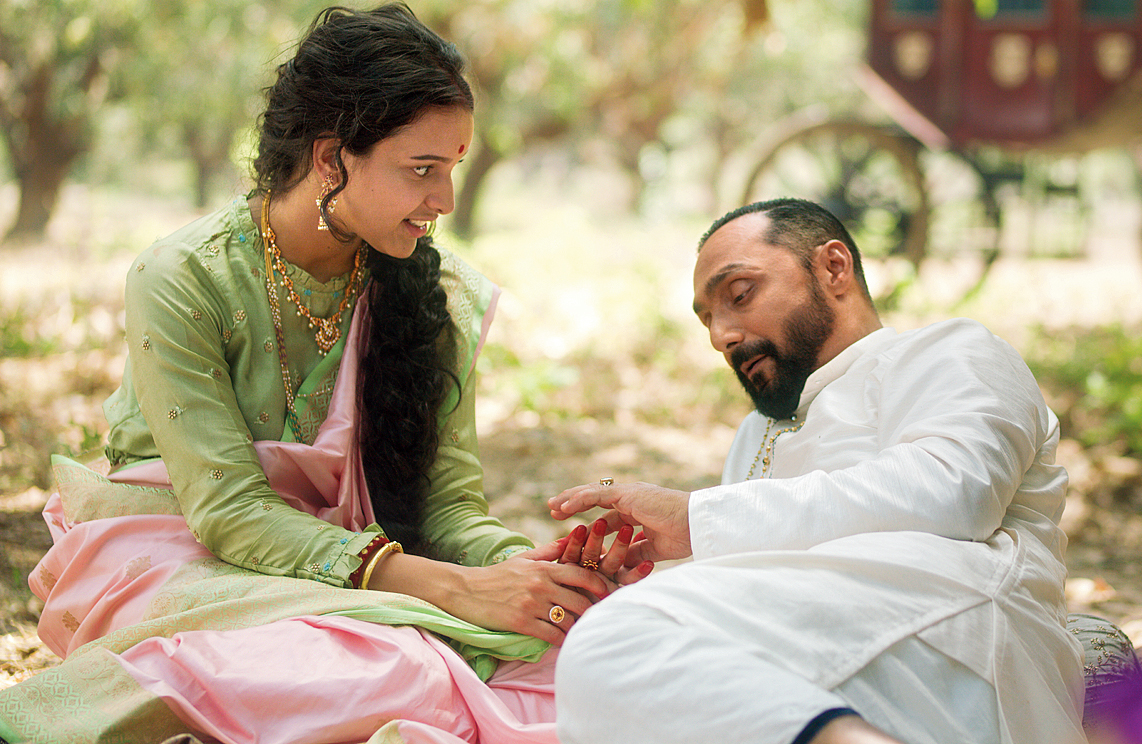 ---
Published 24.06.20, 10:15 PM
|
---
We create our demons. The ones within us, the ones outside us. Bulbbul talks about both, and how they often meet. Hinging itself on the fantastical, if slightly flimsy, myth of the she-demon or chudail, Bulbbul attempts to tell a story of the everyday horrors, both physical and psychological, that women have faced over centuries now. Women, boxed in by both fate and circumstance, who mostly accept what life and society throws at them, but sometimes strike out in ways that are horrific, and in Bulbbul's case, heartbreaking.
Essentially a feminist fable that's both bloodied and brooding, Bulbbul sets its initial scenes in the Bengal Presidency of 1881. The first frames of little feet, smeared in alta, dangling from a tree set the tone for the visual palette of the film. Knee-high Bulbbul is married off to the much-older zamindar Indranil (Rahul Bose), but she instantly forges an enduring friendship with his younger brother Satya, who is much closer to her age. Indranil has a developmentally challenged twin brother Mahendra (also played by Bose), who is married to the wily and insecure Binodini (Paoli Dam). Bulbbul, told from a young age that she needs to toe the line (and not just through the motif of her "loose" toe rings), is free-spirited and curious. But she's a woman, and quickly discovers that she can afford to be neither.
Twenty years later, the film cuts to a grown-up Satya (Avinash Tiwary) returning home after studying abroad, but nothing is really what it used to be. Bulbbul's (Tripti Dimri) free-floating spirit has been replaced by a steely, if smiling, resolve and she lords over the haveli, in the absence of a male figure, but is constantly told — in ways both direct and indirect — that she's a woman. That's built against the intrigue brought on by a series of unexplained murders in the vicinity, with the villagers perpetuating the myth that it's the handiwork of a she-demon. "Kaun si aurat kisi aadmi ki aise jaan le sakti hai?" asks a perplexed Satya. Bulbbul simply smiles.
Aided by Siddharth Diwan's striking cinematography and production design by Meenal Agarwal — every frame is exquisite, from the shots of the blood moon to the gorgeous interiors of the rajbari to the rain pelting down, evoking the frames of the similarly shot Tumbbad — and Amit Trivedi's visceral, and aptly melancholic score, debutant director Anvita Dutt beautifully sets up the world (the Charulata influence is unmistakable) of Bulbbul. Every moment speaks a story, with the night scenes bathed in deep red and signifying everything from passion to rage, violence to murder.
Bulbbul is both enigmatic and endearing, with even her childhood friend Satya (who, despite being one of the film's most likeable characters, often exhibits, through action and words, how patriarchy is ingrained) not being able to read her sometimes. Her smile almost seems cruel in some instances, like she knows much more than you do. After all, very early on, Bulbbul is told, "Bade haveliyon mein bade raaz hote hain… chup rehna".
In keeping with that vein, the film compellingly examines everything from child marriage to the ill-treatment of widows, but most of all the claustrophobia of women, conditioned to stay silent for centuries.
Produced by actor Anushka Sharma, Bulbbul — an examination, and often an upending of the ideas of both feminism and the paranormal — may be looked upon as the third film in a loose trilogy, after her Pari and Phillauri, of the female supernatural entity created out of violence and oppression. In Bulbbul, the violence is stark, playing out over two grisly scenes, but Dutt can't resist aestheticising at least one of these frames, somehow taking the bite off the horror. Violence can never be beautiful.
Operating within the space of a supernatural thriller, Bulbbul effectively builds the atmospherics (period Bengal has rarely been depicted so strikingly before), but is low on jump scares. The twist in the tail is, however, predictable, and the ending may come off as either silly or credible, depending on which side of the 'I believe/ don't believe' divide you are on.
With style taking over substance in some instances, it's the performances that redeem Bulbbul's problematic parts. Tripti Dimri impressively plays Bulbbul with a mix of impish charm and intriguing mystery, while her Laila Majnu co-star Avinash Tiwary does well in a part that is somewhat underwritten. Rahul Bose excels in his twin roles, while Parambrata Chattopadhyay is expectedly very effective as the only man in the film invested with sensitivity and conscience. Paoli Dam's Binodini is perhaps the most interesting character in the film, a woman both tragic and canny, and the actor bites into the role with relish, making us wish there was much more to Binodini.  
The sum of its parts may not add up to a consistently satisfying whole, but Bulbbul does mark yet another credible entry in Anushka's non-conformist filmography as a producer. Here's hoping she gives wings to many more unconventional tales that speak of courage. Women have so many stories to tell... "chup nahin rehna".