Rekha Bhardwaj: The melancholic and mischievous voice that Gulzar calls his Farida Khanum
What's remarkable about Rekha Bhardwaj's journey is the way she has made her music an extension of her quest for spirituality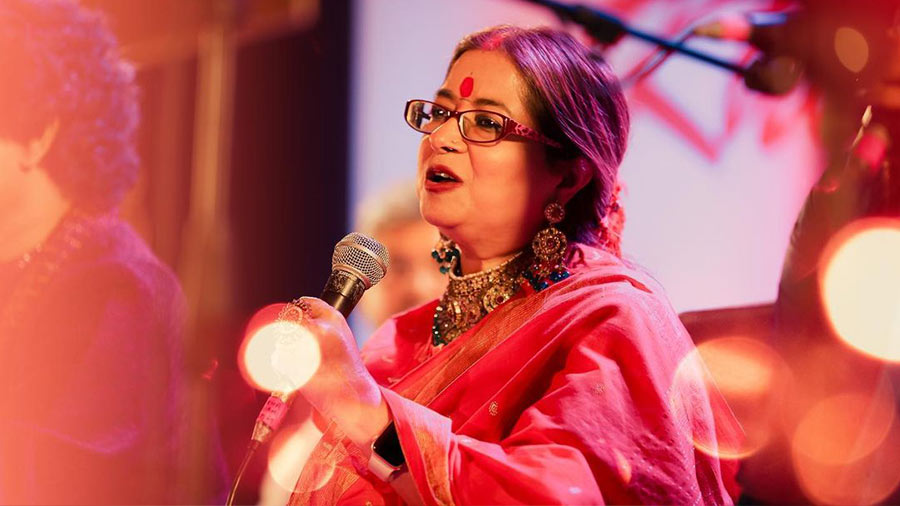 Rekha Bharadwaj.
Instagram
---
Calcutta
|
Published 24.01.23, 03:29 PM
|
---
'Music has been a process of learning, of realising that all the restlessness I have experienced was towards this end … it was inevitable, as is the restlessness I feel now for what will unfold. To get to sing is a grace showered by the divine through his instruments – a composer and the poet. What more can one ask for?' – Rekha Bhardwaj
An album of ghazals written by Gulzar, composed by Vishal Bhardwaj and sung by the legendary Farida Khanum. What would have been a music lover's dream never materialised as the singer could not travel to India. Years later, when Vishal lamented the inability to bring the doyen of the ghazal to India, and mentioned his desire to revive the project, the poet told him that they did not need to get the legend anymore. 'Now I have my Farida Khanum here itself,' he said.
Gulzar was referring to Rekha Bhardwaj.
My first memory of Rekha is the song from Chachi 420 (1997), 'Ek wo din bhi thay'. The voice touched a chord that made me want to stay till the end credits, which mentioned one 'Rekha' among the singers. Having sort of tuned out of film music in the 1990s, the name did not ring a bell. Though Vishal Bhardwaj had made a splash the year before with Maachis, I did not relate him to the 'Rekha' in the end credits of Chachi 420. Sometime later, I bought the cassette of a film that never released: Jahan Tum Le Chalo. Only because the songs were written by Gulzar, and included one in English rendered by Gary Lawyer. In an album that was a throwback to the kind of melody I loved and that had five lilting songs, one caught my attention: 'Yeh kaisi chaap'. The name of the singer on the album: once again the cryptic 'Rekha'.
Hindi film music had a new star
There was something elegiac about the voice that I found irresistible. It spoke of emotions that were ethereal, a 'divine' elusiveness. This was before she burst on the music scene with the non-film album Ishqa Ishqa in 2002 and the word 'divine' came to be associated with Rekha's voice.
Even as one was drawn to this voice that articulated melancholy like no other (Rekha would later narrate how even as a child of seven, she was mesmerised by songs like 'Yun hasraton ke daag', though what she made of them at that age is anybody's guess), came 'Namak ishq ka' (Omkara, 2006). Hindi film music had a new star. Here was a voice that could be elysian and earthy, wanton and wholesome in the same breath, in equal measure.
For someone who was time and again rejected early in her career for not having 'a conventional high-pitched voice like the legendary Lata Mangeshkar and many other traditional playback singers', Rekha Bhardwaj has scaled incredible heights over the next decade and a half, with her 'deep and low-pitched voice infused with melancholy'. 
What's remarkable about her journey is the way she has made her music an extension of her quest for spirituality — or is it the other way round: her inherent spirituality has found an outlet in music, so that in her voice the raunchiest of numbers seem touched by the mystical. As she says, quoting Murshid Hazrat Inayant Khan, with whose work she is now passionately involved, 'I come from a perfect source and I am bound for a perfect goal. The light of the perfect Being is kindled in my soul. I live, move, and have my being in God; and nothing in the world, of the past or present, has power to touch me if I rise above all.'
Ek wo din bhi thay: Chachi 420 (1997) My first experience of the Rekha Bhardwaj magic. Even twenty-five years after I first listened to it, I still get goosebumps hearing her caress the words 'Koi aata hain palkon pe chalta hua'. There is something so fragile about the rendition that you can almost visualise someone walking, in Gulzar's poetic universe, on eyelashes. The person Rekha considers her spiritual preceptor, Osho, once spoke of dewdrops falling on flowers, 'peacefully, silently, with some much love … their footsteps could not be heard … You realise it is happening only when it has already arrived.' 'Ek wo din' descends upon the consciousness in much the same way. You realise you have been through something transformative without even being aware of it.
Rekha says
"I had sung a song "Ye kaisi chaap kadmo ki" in a film titled Jahan Tum Le Chalo directed by a friend, Desh Deepak. Gulzar saab had written the song and Vishal had composed it. I had basically sung a dummy for Lata Mangeshkar-ji. But everyone insisted that it should be retained in my voice. And it was. After that, Vishal started composing for Chachi 420. The original director, Shantanu Shorey, was looking for a new and fresh voice. At the time, Vishal used to introduce me as a struggling singer. He played my song to him. Shantanu heard it and said that this was the voice he was looking for. I recorded the song. After a day or two, he told Vishal that he wanted a popular singer to dub it. Vishal was adamant about using my voice because he felt I had done justice to the song. Then something transpired between Shantanu Shorey and Kamal Haasan saab. The latter took over the film and directed it. He wanted the song in my voice. I redubbed it a half semitone down. Kamal Haasan sent the English part with which the song begins. The song was received very well though I felt I hadn't done justice it. Eventually I started meeting people who said that they loved the song. Later, they got to know that I had sung it. The film's end credits mentioned the singer as 'Rekha'. People would wonder which Rekha is this? When Gulzar saab and Vishal work together, they create magic. You cannot tell if the lyrics emerged out of the tune or the melody happened because of the words. There is a philosophy to Gulzar saab's words. It keeps unfolding, like life. Just consider the words: 'Waqt saalon ki dhund se nikal jaayega / Tera chehra nazar se pighal jaayega / Aankh band hogi to neend aa jaayegi / raat ye bhi guzar jaayegi.' The situation talks of a separation and the words convey how we lose people and start forgetting their faces. There is a sense of melancholy for the people we have lost. That comes across so beautifully in this song."
Rone do: Maqbool (2003) Rekha has probably never sounded as gossamer as when she implores 'Rone do' with a heart-breaking tremor in her voice, conveying a lifetime of unshed tears. At the end of the first stanza, there's a soft intake of the breath as she sings 'rona hai toh rone do na' with a slight nasal drawl, as if one has been crying, and a delectable play on the 'na'. It is incredible how the singer vocalises what the character (Tabu) is going through. Even as Nimmi and Maqbool spend the night together and the montage plays out – Nimmi sulking, Maqbool splashing her face with water to cheer her up, they end up making love – the melancholy in Rekha's voice hangs over them like a night without end.
Rekha says
"Till I sang 'Namak ishq ka', I believed I could sing only ghazals, melancholic songs imbued with pathos and sadness. Vishal observed me at riyaaz every day. He knew what I was capable of as a singer. But he never composed anything thinking that I will sing it. But when he composed 'Rone do', he felt that I could sing it better than anyone else. If you notice, the song has an inherent pathos but the strains of the guitar change the spirit of the song. Vishal wanted to add a brighter tone to it. I remember breaking down during the recording. After listening to the song, someone actually said that it felt like the singer was almost crying. I was going through a lot personally at the time. The song is more effective probably because of the emotional upheavals I was experiencing."
Ranaji: Gulaal (2009) Though 'Namak' and 'Genda phool' might be ahead in the popularity stakes, my vote for Rekha at her saucy best goes to 'Ranaji'. It is, however, the mischief that her voice is capable of that floors you, nowhere more apparent than in the way she articulates 'Yeh dil maange more'. The music is folk, the words unerringly modern and Rekha's voice strikes just the right balance between two contrasting worlds. Piyush Mishra's acerbic words are brilliant, echoing Sahir Ludhianvi at his satirical best in 'Jinhe naaz hai Hind par' and 'Chino Arab hamara'. And Rekha's vocals amp up the sardonic quotient.
Rekha says
"I had not yet sung 'Namak ishq ka' when Piyush Mishra approached me for the songs in Gulaal. After hearing 'Beedo' and 'Ranaji', I didn't think I could sing these because they were unlike anything I had done so far. The songs had a mischievous element that was alien to me. Piyush insisted that only I could do this. We tried and it didn't work. The film came to a halt in between. By the time they resumed shooting, I had already sung 'Namak ishq ka'. That is when I realised that I could sing these two songs. Piyush said that he always knew. 'Namak ishq ka' is the song with which I discovered myself as a singer. I realised the impact of the different kinds of music I learnt and listened to in my childhood, melodies that were embedded in my subconscious. Whenever Vishal composes music he makes me listen and asks for my opinion. He asks me to sing the songs so that he gets a perspective. After 'Beedi jalaile', I thought that these kinds of songs would be sung by Sunidhi Chauhan. It was a phenomenal song and she is a powerhouse singer. One day, Vishal came back from the office and said, 'I have composed this song, should I go ahead with it?' He sang, 'Jaba pe laga, laga re, namak ishq ka!' I liked it. He asked me to sing. I sang in high notes and made a few variations. He was amazed. He recorded that on his phone. He said, 'You are going to sing the song.' As he worked on the song, he kept telling me that it was turning out great and that it would showcase my range and capacity. That put me under some pressure. Finally he completed the song but there were so many changes that I said I won't do it. I wasn't sure I could. He remembered that he had recorded it on the phone. He found that and made me listen to it. He said, 'Only you can sing it.' He pampered and forced me a little. I used to literally cry while practising. He made me sit with a dholak for a few days. Then I recorded the song. Little did I know I would discover a whole new side of me as a singer and as an artist. As a child I was very soft-spoken and obedient but at the same time I've also been very naughty. Through this song my naughty self was born again (laughs). It helped me to know myself and honed my skill and my craft."
Ek ghadi: D-Day (2013) The heart breaks as Rekha gives voice to the words 'Shab ke chehre pe chadha rang savere ka toh kya / dhalte khwabon mein abhi apn jahaan baqi hai' in this exquisite ghazal written by Niranjan Iyengar and composed by Shankar-Ehsaan-Loy. And the way she breathes 'Abhi haathon se teray jurm-o-gunah baqi hai' invites you to commit every 'sin' possible in the cause of love – everything is forgivable. No wonder Gulzar likened her to Farida Khanum – the longing Rekha brings to it is comparable to the legend's unforgettable 'Aaj jaane ki zid na karo'. Geeta Dutt may have set the bar for desire with 'Na jao saiyyan', but seldom has it sounded as haunting since. The sensual and the spiritual make for a heady mix in Rekha's flawless interpretation of desire.
Rekha says
"This is a personal favourite. The song is based on Raag Bhoopali. Shankar Mahadevan sent me the ghazal version he had sung. I listened to it a few times and then recorded it with the basic chords and rhythm. Shankar asked me to sing the song in one go. I improvised during the rehearsals. I wasn't quite happy with the way I was singing the refrain 'Baki Hai'. After listening to the rough cut, Rishi Kapoor-ji said, 'What a voice!' I never listen to my songs when I record them or immediately after they are released. I am very tense. If the composer trusts me and says it has come out well, I leave it at that. After I heard it, I was like, 'Oh my god, is this my song?'
It is so beautifully orchestrated besides being a great melody. The silences in between with minimalist instrumentations made it more effective. When I sing it on stage, it just takes me to a different dimension as I whirl swiftly. There is a lot of scope to improvise the song on stage."

Aaj ke naam: Haider (2014) The poems of Faiz Ahmed Faiz, including 'Intisaab: Aaj Ke Naam', have been rendered by a number of singers. Mehdi Hasan, Iqbal Bano and Nayyara Noor are generally considered to have sung the definitive versions of many of these. Rekha's rendition ranks up there with these. The rudaan, melancholy, that is such an integral part of her voice makes her the perfect candidate to give voice to the desolate landscape that Faiz weaves in the nazm. In a creative masterstroke, Vishal not only incorporates it in the soundtrack of Haider but also has it play out with the end credits, so that the narrative does not let go of you even after the film ends. Such is the power of Rekha's interpretation that you carry the song with you as, arguably, the biggest takeaway from the film. Which is saying a lot for a film that makes such a shattering impact.
Rekha says
"Vishal composed and recorded this beautiful nazm by Faiz Ahmed Faiz for a play, Manto Ismat Hazir Hai, directed by Naseeruddin Shah in 2004. At that time it was recorded with just a harmonium and a tabla. Naseer Bhai loved it. In 2014, when Vishal was making Haider, he wanted to include this at the end, as the theme of the film also talked about 'half-widows' like Gazala. He asked for permission from Naseer Bhai. Whenever Vishal composed for his plays, Ratna-ji [Ratna Pathak Shah] and Naseer Bhai wanted me to sing. People would often ask for a CD. We always had a plan to release the songs and that didn't happen. For Haider, Vishal recorded a quartet over the nazm in London and the rest of the song's composition remained the same. The tabla was originally played by Vinayak Netke and that was retained as was my voice. I just redubbed a few parts. Even though the song played out with the end title, I used to hear all the time that people wouldn't get up from their seat until the poem would finish. It is a tribute to womanhood. The words make my heart cry. I feel honoured and blessed that I got to sing this. I feel every song I sing adds to my life's journey. The lyrics impact my inner being. I just don't sing, I also feel the lyrics. To feel the lyrics you need to understand it or interpret as per your experience. It is not necessary that my interpretation while singing the song will remain the same after five years because that keeps changing with time."

(Shantanu Ray Chaudhuri is a film and music buff, editor, publisher, film critic and writer. The article was written with Soujannya Das)