Ranveer Singh on becoming Kapil Dev for 83
'I have played some very strong and memorable characters in the last 10 years but this just takes the cake. It tops it all'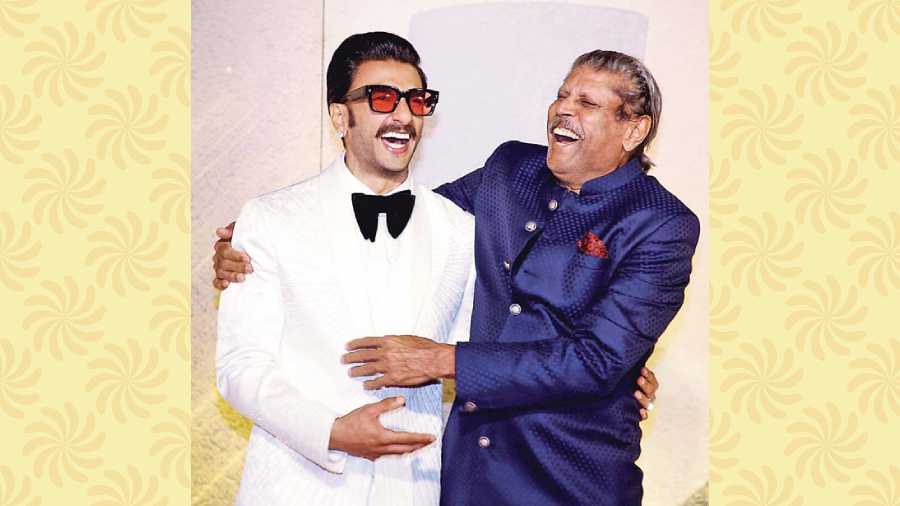 Ranveer Singh with Kapil Dev at the premiere of 83 in Mumbai last week
---
Published 31.12.21, 01:34 AM
|
---
I did read your review of 83 and after this interview, I will go back and read it again,' Ranveer Singh tells me when I log in on Wednesday evening for a video chat with the actor. Ranveer, expectedly, is on a high after the "avalanche of praise", in his words, that has poured in for his spot-on act as Kapil Dev in the Kabir Khan-directed film which has also, overall, met with unanimously rave reviews.
Over 30 minutes, Ranveer spoke about the unprecedented praise for 83, his process of becoming Kapil Dev, what makes him a secure actor and what still drives him a decade into the business.
83 is one of the best reviewed films of all time. The praise has been unanimous, for almost every aspect of the film....
It's been an avalanche of praise. There's been an outpouring of emotional expression. It's been very, very overwhelming. I have not experienced this in the 10 years that I have been in the movies... this volume of praise and appreciation, the kind of thoughts, ideas, expressions, language that people are using to talk about the film. The wonderful thing about being in this technological age is that whatever people are saying, you can get to know it firsthand. There were so many pre-release screenings of 83 that this process of people reacting positively to the film started 10-12 days before the film's release.
All of it has been overwhelming. It would be unfair on my part to single out any one. But I can tell you that it has been unanimous, emphatic.... There are people who have said: 'We don't even watch cricket and we still felt the emotion.' That, I feel, is a victory for us. For me, personally, my peers, senior members of the fraternity, those whose work I admire immensely, when they heap this kind of praise, that I feel, is a victory.
But more than anything, the idea that we set out with was to immortalise the achievement of these heroes (the World Cup winning team of 1983) on celluloid and their emotional reaction to the dramatic rendition of their story is the highest form of praise. Kapil Dev's teammates saying, 'We couldn't believe we were watching Ranveer Singh the actor, we thought it was Kapil Dev on screen.' (Smiles) For them to say that means so much. For the audience to say that, for those who have known and seen Kapil sir for so many years, for them to say that, is a huge victory for me.
Kapil sir, himself, to react in the way that he did... he told me, 'I interacted with you in the two weeks that you stayed in my home and I knew that you were a solid actor... a very meticulous and homework-ed actor, and I figured that my mannerisms, nuances, my way of speaking and my language, that you would get easily because that's your job.... My curiosity was with regard to the cricket and would you be able to bat and bowl in a way that looks professional.' He walked out of the screening and validated my effort. That was a victory as well.
I have a very small circle of friends and family. These people have known me for the last three decades or so. For them to come out of the screening and say, 'We came in to watch you. But we got a little anxious because we couldn't find a trace of you. It was just Kapil through and through... not even for a split second did we see our old friend. Where did you disappear?!' (Laughs) I did this movie and then we went into two lockdowns and I was in a completely different zone after that. Two lockdowns later, I watched this film and I looked at myself and was like: 'Wow! That's Kapil through and through!' (Smiles) So you are saying that after a point of time, you could be objective about your performance....
Ya, because I did it and then I left it for two years. The pandemic has, anyway, been life-changing for all of us. It has been a different mind trip altogether.
After two years, I could watch the film with a certain degree of objectivity. I also had Amiya Dev, Kapil Dev's daughter, who worked as Kabir Khan's assistant in this film and was truly my touchstone in this whole process. She helped me create this character, from the homework stage to the execution stage. There were some little-little things that I had consciously built into this character in the form of details and nuances, which only if you are extremely close to Kapil sir, will you recognise them. I would spot them and would look to my side and exchange a look with Amiya that said: 'That's so astonishingly Kapil'... and she would smile and wink and nod her head (laughs). I am so happy the way it's turned out.
So, I won't say it's been a wave, it's been a tsunami of praise, love, recognition, respect.... I have played some very strong and memorable characters in the last 10 years, but this just takes the cake. It tops it all.
You have always been known to be a shape-shifter, slipping into becoming Bajirao in Bajirao Mastani or Alauddin Khilji in Padmaavat. 83 is different in the sense that you knew that Kapil Dev would watch you playing him on screen. What was that 'pressure' like?
Yes, it's a different kind of challenge, but I had certain parameters within which I wanted to work. No one really knows what Alauddin Khilji was like or for that matter, Bajirao... the same goes for some of my other characters. This, as I said, was a very, very different challenge, and I was up to the task. I always wanted to explore something like this and I relish new challenges.
Due to the lack of footage, as everyone knows by now, I actually had to go and stay with Kapil sir for two weeks. The family opened their home and hearts up to me and in that time, I picked up everything that I needed, and I am not just talking about surface-level things. I tried to peek into his mind, what he thinks, what makes his brain tick, what drives him.... When I came out of it, I felt I had all the ammunition I needed.
Of course, as you said, I was aware of the fact that a living legend like him would be watching me playing him on screen. I was very conscious of that.
I had a very surreal experience when we were shooting that iconic knock of 175 not out that he scored. We actually shot that at Tunbridge Wells on the same pitch that he played on and he was to give his cameo shot and so he was on set that day. So he was watching me playing his iconic innings in his character. It was a very, very surreal trip. What was important for the entire team of this film was that the original players should feel proud of the cinematic rendition of their achievement. That meant everything to us.
And so that experience of the premiere night when they were all sitting together and watching the film for the first time... and I was standing on the side and watching their faces.... They were laughing, crying, clapping.... It was so unforgettable and fulfilling for us. Our idea with this film always was that these guys made us proud and now it was our turn to make them proud.
You were not born in 1983 (Ranveer was born on July 6, 1985). What's your earliest memory of watching Kapil Dev play?
I remember watching him on television. He was, of course, a senior player by that time. I really got hooked on to cricket when Sachin (Tendulkar) started making waves and I think Azhar (Mohd Azharuddin) had the captaincy. That was the time I really developed an interest in cricket.
I was born into an age when he (Kapil) was already a hero... but I didn't now how he got there. When Kabir sir pitched the film to me and told me how these guys became what they became... I was in disbelief because this, for me, is the classic underdog story. I was like, 'You must be joking! Did this win actually happen in this spectacular, astonishing way?!'
What they achieved in 1983 was always going to be an astonishing movie... a group of ragtag boys from all over the country banding together and led by the self-belief and conviction of one man and he led them to a glorious win after which the entire spirit and attitude of the nation changed. They believed they could stand shoulder-to-shoulder with anyone in the world, knowing that they were the best. That's what makes it such a proud and glorious story. And Kabir and I keep telling each other that we are lucky to be the ones chosen to tell this story in cinema.
As an actor, one has always seen you evolve with every part that you play. Has that always been the goal or is that an organic part of the process?
I guess that's what I consciously and subconsciously want to mould myself into. I always wanted to be this kind of an actor. Growing up, I would be most fascinated by actors who had a chameleonic quality. And so when I got into films, I started moulding myself into being that. For me, the greatest performers are the ones who are able to straddle diverse genres effectively, those who have an inherent versatility in their repertoire, and also manage to pack in a surprise element in their performances.
I am a risk taker. I change my voice, my physicality.... There are so many actors who I admire and they tell me, 'Man! Your face changes from character to character, your eyes change....' These are things that I always endeavoured to achieve.
83 has come after a range of diverse characters in films like Padmaavat, Gully Boy, Simmba.... That echo of 'versatile actor, screen chameleon, shape-shifter' is now louder than ever before.
One also gets the impression that you are a very giving actor, one who is secure about his space and craft. Despite being the lead in both 83 and Gully Boy, you have stepped back and allowed everyone else to shine as well....
There are different kinds of parts that one chooses as an actor, and some of them are in ensemble films. And in an ensemble film, I am clear about the fact that the ensemble has to shine. I understand all too well that film-making is a collaborative effort and in order for a film to be elevated, the entire ensemble has to shine. I recognise that it's the contribution of the entire cast — individually and as a collective — which elevates a film. And I have a very honest approachto the creative collaborative process.
In the past, I have been at the receiving end of selfish actions. I have had co-actors who have tried to play the game of one-upmanship and that upstaging game with me. That has only gone further to drive home the point in my being that, 'No, I don't want to be this way.' I was hurt, you know. And I don't ever want to hurt any of my co-actors in this way. In the ensembles I have been a part of, I have been the lead. And if you are the lead, act like a leader... take a leaf out of Kapil's book... encourage, motivate and bring the best out of everybody. I try and give my co-actors all the comfort, support, love, power and energy that I can. I have always been a team player.
You are a rare actor of this generation who has won accolades for your performances as well as commanded big box-office returns, and also taken home quite a few awards. How much do box office and awards matter to you, or is it purely the love for the craft that drives you?
I will be honest with you. It's a miracle that I even became an actor. If you just look back at 10-12 years ago when I was trying to get my foot into this very insulated entertainment industry, given that my chances were close to none, it's really a miracle that I became an actor. I treasure and value it so much. It may sound like an exaggeration, but there is not a single day that passes where I don't have at least one moment to myself where I feel an overwhelming sense of gratitude for the opportunity that I have been — to be an actor in mainstream Hindi films, which was my life's big dream.
Just the fact that I get to be an actor, that I get to go to sets and be a part of memorable films and work with the finest talents... is a huge award. When people tell me, 'Your performance affected me emotionally'.... If I get to add some value and evoke a certain emotion or feeling in my audience, a certain catharsis within them, that's a victory for me. That's why I always say that for me, the process is the prize.
Over and above that, if there is a certain amount of box office, that is, of course, something to cherish. Big box office means a lot of people came and watched your film. It also means you can greenlight stories that you believe deserve to be told. It gives people more work. I am a champion of the theatrical movie-going experience, of the emotional, community-viewing experience. And big box office means you can create spectacle films.
Awards are also great because that's a pat on the back and it validates what I do. It gives me motivation to go out there and do more of the same. It keeps me going.