Rannvijay Singha gets candid about Zee Zest's Safari India
The adventure seeker is all set to take us on a jungle safari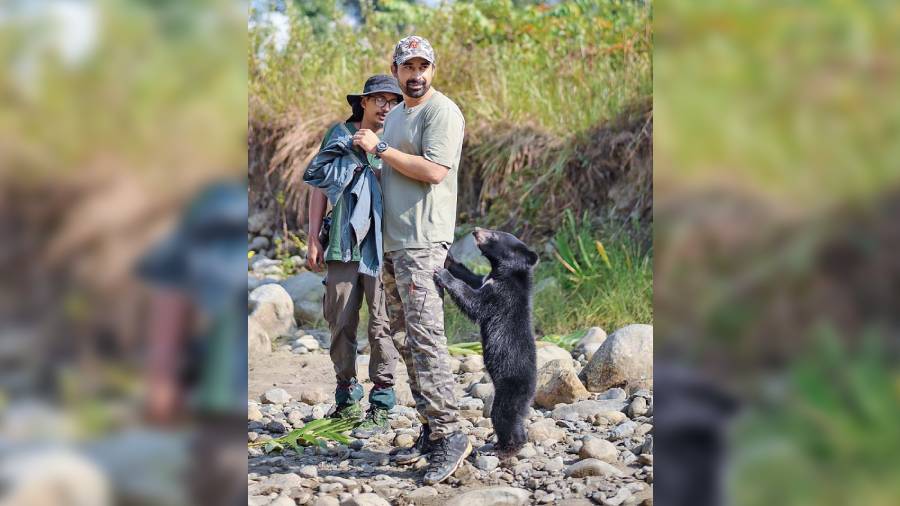 Rannvijay at the Centre for Bear Rehabilitation and Conservation (CBRC) at the Pakke Tiger Reserve in Arunachal Pradesh
---
Published 21.01.22, 04:31 AM
|
---
Rannvijay Singha is an adventure seeker by heart. So, when he landed Zee Zest's Safari India, he was one happy soul. The eight-part tentpole series premieres on January 31, at 8pm (every Monday) on Zee Zest SD and HD, along with ZeeZest.com, and travels to Jim Corbett National Park in Nainital, Kaziranga National Park in Assam, Pakke Tiger Reserve in Arunachal Pradesh, Ranthambore National Park in Rajasthan, Gir National Park in Gujarat, Netravali Wildlife Sanctuary in Goa and Dubare Elephant Camp in Karnataka. t2 chatted with Rannvijay, the show's host, on what to expect and his takeaways.
This sounds completely up your alley! How much fun did you have?
Yes, it was completely up my alley and I had a lot of fun. These are the kind of things I would like to do when I am free and even when I am with my family. Growing up with an army background, we were always in places where we could be in the forest and adventure camps, close to the wildlife but the kind of access that I got on Zee Zest's Safari India, the detail in which I've seen people work and how dedicated they are, it was all just so fascinating. The experience, the treks, the walks in the jungles, being in a jungle where you know that there are wild animals, you are on foot, you're not in a safari vehicle, was unreal. I had a lot of fun and this was almost like all the things I've done in my life had culminated for me to be a part of this kind of journey for Safari India.
What was your first reaction when the offer came? We imagine you jumped with joy!
Of course! As soon as the offer came from Zee Zest, as mentioned earlier, it was completely up my alley. It almost seemed like Safari India was designed or was thought of keeping me in mind. It felt like it was tailor-made for me and I was jumping with joy. As soon as I kept the phone down, I told my team that this is something I really want to do, and let's make it happen!
Tell us about the highlights of the show... what can we expect?
There are so many highlights of the show. You know they say "expect the unexpected" but what I mean by that is expect wild animals. The unexpected part is how our ecosystem is functioning — the people who are helping the whole ecosystem, people who work really hard…. How 12 lions from back in 1920 become six hundred and seventy-four lions! How do we have more tigers than eight-10 years ago! How has the forest area of different national parks increased?! How are these things getting better? What all work goes behind it? What is the need of the hour? So these are the things one doesn't expect. We just go for a safari, we see some animals and we come back. Sometimes we put pressure on the guides and trackers but what is their life like and how rich is India's wildlife and how beautiful our forests are… so that's what you should expect from Safari India. Do you have some stories to share from what you encountered?
I came across many amazing stories of people who are working with the government, who are doctors, researchers, tribals from across the seven national parks that we covered for Safari India. As well as of people from the villages around these forests and national parks. But some personal stories like when we went to see the little bear cubs getting rewilded, it was a very special moment. We rescued a snake which was on the road. Meeting people like Dr Panjeet and
Dr Shamshool who helped rewilding animals and rescue them... meeting female forest officers in Gir. There are so many special stories and yes taking the camera in my hand and going through what a wildlife photographer goes through and getting some of my first wildlife shots was surely memorable.
What was the scariest bit?
There are a lot of scary bits. We were in a forest which has many wild animals. I mean all forests have wild animals and there have been incidents and accidents but there were times when I was walking alone for some drone shots and we realised many a time that if there was a cameraman taking a shot alone or if I was alone… we felt really nervous because what if a tiger or a leopard or a bear or a wild elephant was around us and we wouldn't know what to do. But I think the fact that we were around such professionals and they were unperturbed was a calming effect but it was just scary to be in jungles but that was the exciting part too. Knowing that two metres or one metre away from you in a forest like Pakke there could be a wild elephant and you're just going through that forest, so that was very exciting and scary.
What was the craziest bit?
It is crazy to be on foot in a jungle with wild animals. I tracked a lioness on foot with female government officials in Gir. I was on foot with the tiger tracking team in Pakke. When we were in Jamun and waiting in the bunker to take pictures of a wild animal, knowing that there are wild animals, we could hear them. It's both scary and crazy but that's what makes it exciting!
The closest you got to was with which animal?
The closest I got to was with a bear cub. They were there to be rewilded really deep in the jungle. We made a trek, it was really long. The cubs were playing around and we were told not to touch them at all even if they try to have some physical contact and one of the bears (Kaali), she came and gave me a hug. That was unreal. I had a cobra in my hand while it was getting microchipped and I held another snake. We were very close to dolphins, tigress and lioness. Lots of leeches were very close to us but the bear cub experience was just crazy!
How many pictures have you come back with?
We probably have a billion. Every frame, everywhere you look was beautiful. So many animals, so many birds, so many moments. So many people that we met, what great character these people have. If we put all of the photographs together it'll be way too much but yes, each one of them is special.
What new thing did you discover about wildlife as part of the show?
The new thing that I discovered about wildlife as part of the show was actually the people behind it; "human beings" behind the wildlife. One read is enough to know that in a jungle the survival is of the fittest but how the ecosystem works, how the river Brahmaputra helps that jungle to survive, how flooding is actually good for the animals there, how a tiger is a PT instructor, if there's a tiger in the jungle how all the other animals are fit…. You learn all this from personal experiences. Things about mangroves in Goa, lots of education, and many more things that I discovered about wildlife. Everywhere I went, I discovered something new and that's the beauty of the show. At whatever age, if you keep an open mind and if your approach is to learn things, you can discover more things. It was great, such a fulfilling experience but I've also realised that there's a lot more to learn and a lot more to do. This is just the beginning of my journey in this direction.   
And, about yourself?
I learned something a few years ago when my daughter Kainaat was born, but it has been cemented during this show. I used to not care about myself or my life too much, I would go with the flow, do crazy things — jump off a building while I was on fire. But every time I was alone in a jungle and if I felt there was any danger or threat or something scary around, I would think that I want to be around to tell my kids about these experiences and that's what I found out about myself that everything that I am experiencing, I want my kids to experience so they are aware how beautiful our planet is. I kept having great experiences and saying to myself during the shoot, I wish Kai was here. I realised about myself that I am one of those whiny parents who are like 'Oh I wish my daughter was here so we would be doing this together'.
I think at this point I need to absorb the information about the wildlife, about the ecosystem and how all of this works, and in a couple of years, I think it would be great to see things through the lens of my children, my daughter and I'll like to live vicariously through her eyes and when my son gets older. Because this is so exciting and what I have been through in this one journey, imagine a seven or an eight-year-old kid going through and learning about these things so young, which means their contribution towards the conservation of our planet and cleaning the environment, making this world a better place, would be more because you learn at a younger stage.