Rahul Khanna on why he's a 'boutique actor'
In Calcutta to shoot for 'Lost', the actor engages in a candid chat on why he likes to be in his personal bubble and more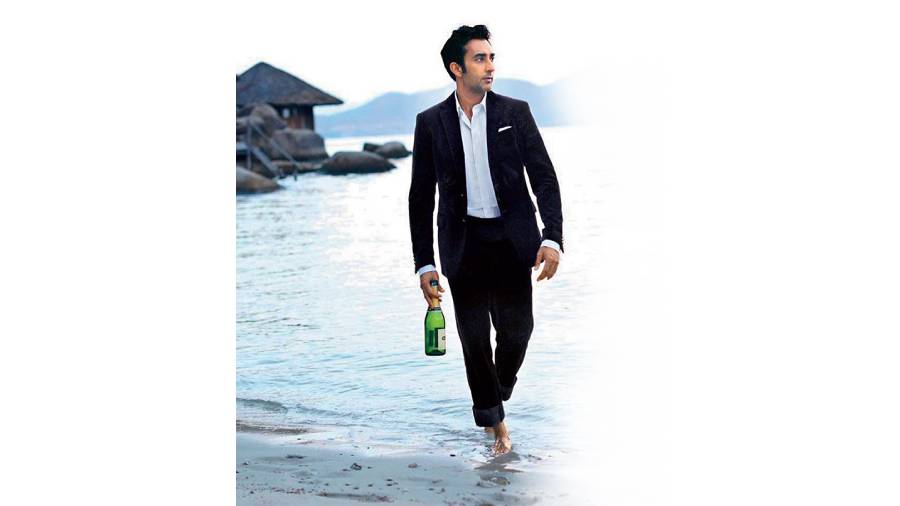 Rahul Khanna
Sourced by the correspondent
---
Published 06.08.21, 12:01 AM
|
---
Rahul Khanna had just polished off his machher jhol dinner late on Wednesday evening when The Telegraph caught up with the actor for a chat. In Calcutta for the shoot of Lost, film-maker Aniruddha Roy Chowdhury's second Hindi film that also stars Yami Gautam and Pankaj Kapur, Rahul, as dishy as ever at 49, chatted on what interested him about the film, why he isn't seen as much as we would like to and how he handles the constant female attention that comes his way.
You landed in Calcutta on Monday and are set to start shooting on Thursday. How has it been so far?
Well, I have not been anywhere because of safety protocols. So since Monday, I have experienced the wonders of a Calcutta hotel room! (Laughs) We are being extremely cautious and are trying to keep things as contained as possible. But I have been eating a lot of home-style Bengali food since I came in. So that keeps me happy.
Have you been as cautious over the last year since the pandemic hit the world?
I feel quite lucky because I have adapted to it much better than most others. By nature, I am an introvert and a homebody... I don't need a lot of activity and I don't need people around me. For me, the lockdown was actually not as traumatic as it was for those who are more extroverted and are used to going out.
I adapted to it well, but then it also felt so weird. It's something that's unprecedented for all of us. It was a bit stressful but I am lucky that my personality allowed me to not be that thrown off by the whole thing.
So you have inherently been practising social distancing before we even knew of the term!
(Laughs) Ya! In fact, all my friends joke with me that this is like my dream scenario. The fact that I no longer have to shake hands or be too close to strangers.... I have a bit of social anxiety and I am a little awkward socially. So it worked out well for me. But also, it was horrible in the sense that for a long time, one couldn't see one's friends and family. And there is so much proximity involved in the work that I do and I kind of missed doing that.
To put it simply, being an actor is being another person. How do you reconcile being socially awkward and being an actor/ performer whose work demands that he put himself out there? Has not being seen so much been detrimental to your career?
I am sure I would have benefited more if I was able to be slightly more outgoing. But at the same time, I can do it... I can put myself out there, though it takes me a lot of work to do it. It's certainly something I can do if needed, and I have. But it doesn't come naturally to me. And though I am an introvert, I am also a Gemini... so I do have two facets to my personality (laughs) and I love the creative aspect of being an actor. That's what draws me to it, and then I can always retire into my own personal bubble when I am not acting.
We will be seeing you in a Hindi film after a long time. What is it about Lost that made you sign on?
I am picky and choosy about what I do, but I am also at the mercy of what comes my way. I am not a producer myself, so I don't create my own content. I don't resonate with a lot of the stuff that comes my way and I feel I won't be able to do justice to them, that I would be the wrong choice.
With Lost, the number one attraction for me was Aniruddha (Roy Chowdhury). We have been talking about this film for quite some time. He struck me as one of the nicest people I have interacted with, a thorough gentleman and so sincere. I found him to be very authentic and someone with great integrity, both as a person and as a director.
I really like the role that I have been offered in Lost. No one, so far, has actually thought of casting me in a part like this. Initially, I was a little apprehensive because I thought maybe I am not the right choice for something like this. But he convinced me about it and now I am really excited. The script is very, very well written. But as I said, the number one factor was Aniruddha himself... he just came across as such a first-class person that I was quite eager to be a part of it.
Before I came to Calcutta, I wanted to get into that state of mind and so I watched some Satyajit Ray films. I hadn't watched Nayak before and I watched it this time and loved it so much. I actually watched it once and then rewatched the first half!
You just said that you are at the mercy of the parts offered to you and hence don't have a very wide choice. But given the content-rich times we are in and the advent of streaming platforms, isn't there a lot more work out there now?
Well, there is definitely a lot of work out there now. But I also feel that it's sort of a feeding frenzy because the huge demand for content has given rise to so much pressure to produce content, and a lot of it is being done in a frenzied fashion. It's great if one is able to work in that, but I am not.
My working style is slightly more spaced out, I like to take a breath before I get on to a project and I want to be really well prepared. A lot of the content now is being produced under very tight schedules and a lot of the time, the quality gets compromised.
So it really needs to be something that speaks to me. I need to feel a certain comfort in the project and feel confident that I can deliver what is required of me. But at any given point, there are always a lot of scripts that I am reading.
Is your decision to always not be in the thick of things misconstrued as lack of interest in an industry where out of sight is more or less considered to be out of mind?
I do think it is misconstrued as disinterest. You are absolutely right there. But other than putting it out there by word of mouth, I don't know any other way of correcting that misinformation (laughs).
Maybe calling yourself a 'Boutique Bollywood Actor' in your Instagram bio doesn't help your case...
(Laughs) Well, if people are going by someone's tongue-in-cheek Insta bio, then I really don't know what to say....
What does that mean anyway?
I live part of the year in India and the rest in the US. I have done that throughout my life. Whenever anyone in the US gets to know I am an actor — and because how huge the industry is out here — they naturally conclude that I am very prolific and work on five films at a time. And I have to explain to them that I actually don't do so much work. As a result, everyone started throwing around this word 'boutique' because that's the term they use for an investment agency or hotel that's slightly more contained and....
Niche?
(Laughs) You said that, I didn't! But yes, I just thought it would be a nice and fun way to put it...
But you are pretty prolific on social media, which is quite contrarian to your claim of being socially awkward...
I actually do love social media. That's because I control what's put out there and it's a great way to interact one-on-one with the people who are interested in you, without having an intermediary.
Do you revisit your work?
Oh God, I can barely watch it the first time! It's traumatic! (Laughs) Lisa Ray recently sent me a clip from a film called Bollywood/ Hollywood that we did together and I couldn't even remember shooting that scene! I messaged her back to ask, 'When did we shoot that?!' I don't even remember any lines from my films. What do you do when you aren't acting?
Gaze out of the window, play with my dogs.... I don't need to be actively doing anything. I just be (laughs).
There's been this constant female attention that's come your way for years despite you not doing anything out of the way to grab attention. How do you explain it and how do you handle it?
(Laughs) I don't know how to explain it. It's flattering, of course. And somehow, everyone who is interested in me and sends me messages is very sweet. I don't have that many crazy weirdos! The demographic I attract is invariably sweet...
You don't seem very happy about it....
No, no I am very happy! (Laughs)
I have seen friends with less positive experiences when it comes to social media, and I am very thankful for the kind of attention I get.
If someone very sweet had to do something romantic to win you over, what would that be?
I am not romantic at all. But intelligence interests me, a sense of humour interests me... wit, kindness, integrity, those kinds of things. But gestures of romance don't interest me.
Maybe she just has to gaze out of the window with you?
(Laughs) Maybe! Or just come on a run or hike with me...