Radhika Madan on sharing screen space with Irrfan Khan in 'Angrezi Medium'
Why she doesn't want to be a typical Bolly heroine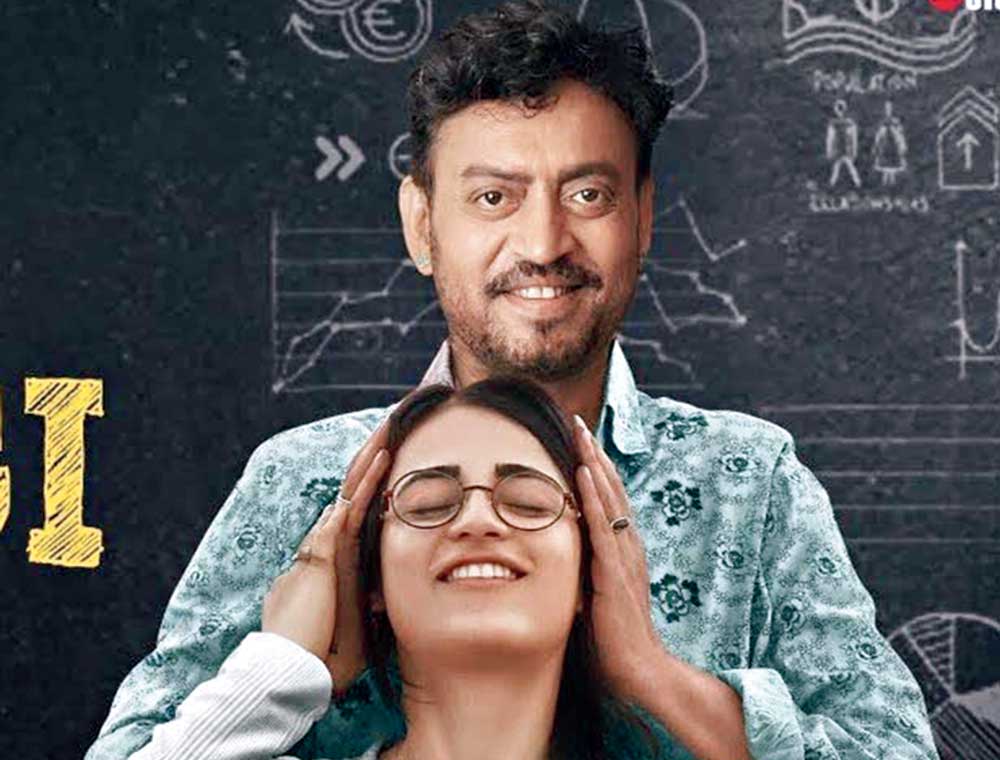 Radhika Madan with Irrfan Khan
Source: 'Angrezi Medium'
---
Published 11.03.20, 01:51 PM
|
---
Her first two films —Vishal Bhardwaj's Pataakha and Vasan Bala's action comedy Mard Ko Dard Nahi Hota — have firmly put actress Radhika Madan on the Bollywood map. The Delhi girl shared with The Telegraph her first impression of Irrfan Khan who plays her father in Angrezi Medium, and why she turned vegan for the film.
Angrezi Medium has quite a star cast, with everyone from Irrfan Khan to Kareena Kapoor Khan, Deepak Dobriyal to Dimple Kapadia. If there was one person you were most keen to share screen space and interact with, who would you pick?
If I had to pick, it would be Irrfan Sir and Kareena Kapoor. I've been a great fan of hers from the very beginning and Irrfan Sir is a legend in his profession.
Do you remember the first time you met Irrfan?
I met him first at a reading and at that moment I didn't address him with a 'Hi' or 'Hello Sir'. I saw him and just went, 'Hi Papa.' He just hugged me and said, 'It's you.' He was so sweet with me and I didn't feel like I was working with an international star. He's so warm and kind and will do the lines with you as much as you want. He's very supportive and will guide you through the scene. It was the easiest shoot because I didn't have to do much... I just had to react to his brilliance.
He was coming back from a long hiatus because of his illness. What was he like on set?
We didn't really pay too much attention to his illness... it was between him and Homi. We all were, of course, sensitive to the situation in terms of scheduling the scenes and everything. He didn't show anybody on set that he was going through a lot. It never affected us as actors and the environment on set was always so positive and vibrant. It's the coolest set I've ever been to.
What was it like working with Kareena?
She was super sweet with me. I remember I was shivering before I met her. I think that really hit me, that I was meeting Kareena Kapoor! I also have a video of it. But she was so sweet with me, so kind. She also never made me feel like she's such a big star and spoke to me with so much warmth. It was amazing.
Were you intimidated by any of them?
When the thing is happening to me, at that point I don't realise it... it doesn't hit me. But after a while, it does, that I've done something. With Pataakha as well, it didn't hit me that I'm working with Vishal Bhardwaj. Here as well, I was watching the trailer with Homi and the last 10 seconds are just the names... it's like Irrfan Khan, Kareena Kapoor Khan, Radhika Madan and it just went on. And I had tears in my eyes because I realised I'm living my dream. I had just done a film with my dream actors and dream team.
You turned vegan for this film?
I think it was when I was discovering the character Tarika. Food really affects your thinking process and I was looking to channel a 17-year-old's unadulterated mind... I wanted to see the world through her eyes. I've been to London before but wanted to be able to see London for the first time with new eyes and that required quite a process. In removing these experiences from my eyes and removing the greys from the black and white, it naturally came to me to avoid meat and I organically became vegan. It really helped me in the thought process of Tarika. That is one thing I've kept with me, and I am vegan now.
Is this a change for life?
It depends on the project, I feel. When I was doing Pataakha, I was eating a lot of red meat and there was this animalistic girl who could just take on anyone and hit anybody. When I was doing Mard Ko Dard... I was having a lot of eggs.
With every film, you become more of a known face and it's not just your acting that people are focused on. Is there anything you've found hard, or had to adjust to in terms of what is required of you as a rising star?
I don't like dressing up. If it were up to me, I'd step out in my shorts and ganji and chappals. The maximum I'd wear are my white shirt and my blue shorts and my shades and I'd step out. But I don't think I can do that any more. I hate wearing make-up, I hate doing my hair. With events and everything, you dress up so much that you get exhausted. So, whenever I go to Delhi, I'm in my dad's oversized shirt and torn shorts. My mom's friends come home and say, 'This is the heroine?!' (Laughs)
As for the rising star thing, I want to get the respect of my audience for my work. I just want to offer them a different flavour of me with every project and then gain stardom. I don't want to be an overnight, looking pretty, promotional song success. I just want to offer my work to them and then if they respect me, that will have longevity.
It's interesting you talked about the overnight, looking pretty, promotional song star. But that's the kind of cinema you grew up being a fan of and wanting to be a part of. The films you've done until now are nothing like those…
Yeah, my thinking about films changed when I did Mard Ko Dard Nahi Hota and Pataakha. It completely changed my foundation and my thought process. Pataakha released first and was my debut film... I was 12kg heavier and four shades darker, teeth stained, hair bleached, playing a schoolgirl and then a mother of a five-six-year-old. That flipped completely in my other film (Mard Ko Dard Nahi Hota), to be presented as this action heroine... learning action and martial arts without any background. And I always wanted my hair to fly in my introduction scene and Vasan Sir made sure my hair was flying, but while doing action. All these things really flipped my personality and my thinking. It made me realise how looking good stems from a place of insecurity. What these two films taught me was that it's my craft that's going to last, my looks will not. There's no point getting attached to a particular body image that you have in your head, you play the character.
In other interviews you've often talked about wanting to play diverse characters but are you in a position to choose?
Yeah, I want to do work that excites me. Like my next film Shiddat is a love story where I play a swimmer. I have not done anything like it before. I don't want to play the same character again and again, because I'd get bored. If I get bored, so will the audience. I have nothing to lose, to be honest. So I'm just going ahead with blinders on and trying different things. There's that dialogue from Yeh Jawaani Hai Deewani when Kabir (Ranbir Kapoor) says, 'Main udna chahta hoon… daudna chahta hoon... girna bhi chahta hoon, bas rukna nahi chahta'. It's the same for me... I want to experiment, I want to try, I want to fail, I want to succeed. But I want to have fun in life, success is just a by-product of it.