Prem Chopra's 5 unforgettable bad guy roles
The veteran Bollywood actor, famous for his negative roles in the 1970s and 1980s, turned 87 today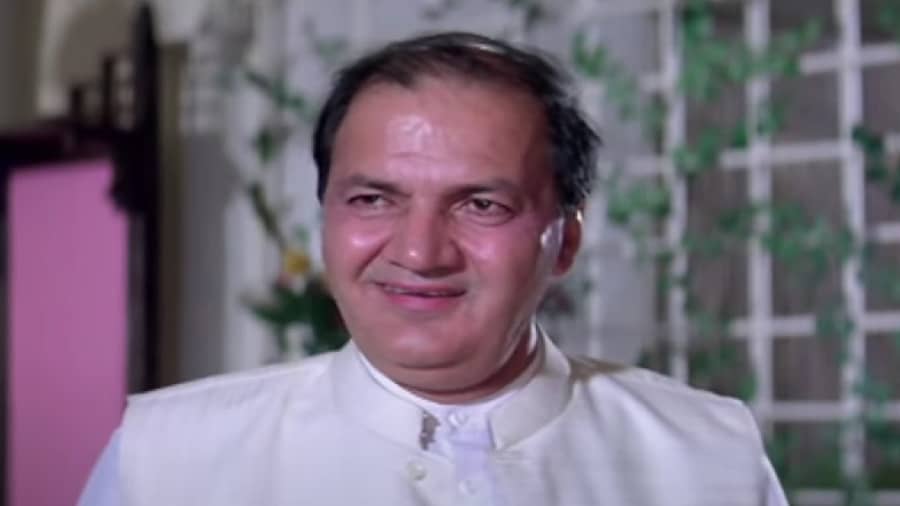 Prem Chopra turns 87.
YouTube
---
Calcutta
|
Published 23.09.22, 03:51 PM
|
---
There is one thing common to most characters played by Prem Chopra — you absolutely loathe them from your core. In an extraordinary career spanning over 60 years, one of Bollywood's finest actors in a negative role continues to make us cringe with his villainy.
As the veteran actor turns 87 today, we take a look at some of Prem Chopra's best performances in a negative role over the decades.
Upkar (1967)
It's one of the very first movies where Prem played a negative role. Riding on a nationalistic fervour and featuring the song Meri Desh Ki Dharti, the film has Puran (Chopra) act as a foil to his salt-of-the-earth brother Bharat (Manoj Kumar). Bharat works hard to earn money and fund Puran's education, but Puran returns to the village after college and is more intent on splitting the family's wealth. He easily falls into bad company and continues to torment his family till he is arrested for criminal activities. At the end of the film, however, Puran has a change of heart and promises to live an honest life. 
Kati Patang (1970)
In Kati Patang, Chopra's Kailash is an expert blackmailer. Madhu (Asha Parekh) decides to elope with Kailash when her uncle arranges her marriage with Kamal (played by Rajesh Khanna). But she finds Kailash with another woman and returns home, only to find that her uncle has committed suicide to avoid humiliation. Alone in a brutal world, she finds herself impersonating a rich family's dead daughter-in-law, Poonam (played by Kumari Naaz). But Kailash returns to Madhu's life by coincidence and begins blackmailing her after finding out about her ruse. He even tries to pass his lover Shabnam (played by Bindu) off as the real Poonam after murdering Poonam's father-in-law, blaming it on Madhu.
Do Anjaane (1976)
In this movie, Amit Roy (Amitabh Bachchan) and Ranjit (Prem Chopra) are friends turned foes. Ranjit tries to kill Amit by throwing him off a moving train. But Amit survives the fall and discovers Ranjit minting money out of Amit's wife's (played by Rekha) success as an actress. Ranjit tries to kill Amit again after Amit hatches a plan of vengeance. Rekha and Amit are reunited at the end, while Ranjit ends up in jail. 
Dostana (1980)
Chopra plays a crime boss and master manipulator in Dostana who creates a rift between CID inspector Vijay Verma (Amitabh Bachchan) and advocate Ravi Kapoor (Shatrughan Sinha). He uses a girl (Zeenat Aman) to turn the friends into sworn enemies. Chopra stole the limelight as a leading Bollywood villain in this film, which also featured Pran (as Tony), revered as the original bad guy of Hindi cinema. 
Phool Bane Angaray (1991)
With fewer negative roles in store for Chopra after the 1980s, it was refreshing to see him return as a menacing villain in Phool Bane Angaray. He plays Bishamber Prasad, a corrupt politician involved in all things criminal. He swings elections and gets his political rivals killed. He is nefarious enough to get police inspector Ranjit Singh (played by Rajinikanth) killed, a feat that most villains can only dream of performing. It takes Ranjit's grieving wife Namrata (Rekha) to take Bishamber down.