Prachi Desai reflects on her first dark role in the zee5 film Forensic
The actress gets candid about the boundaries she has pushed in the making of Ranjana's character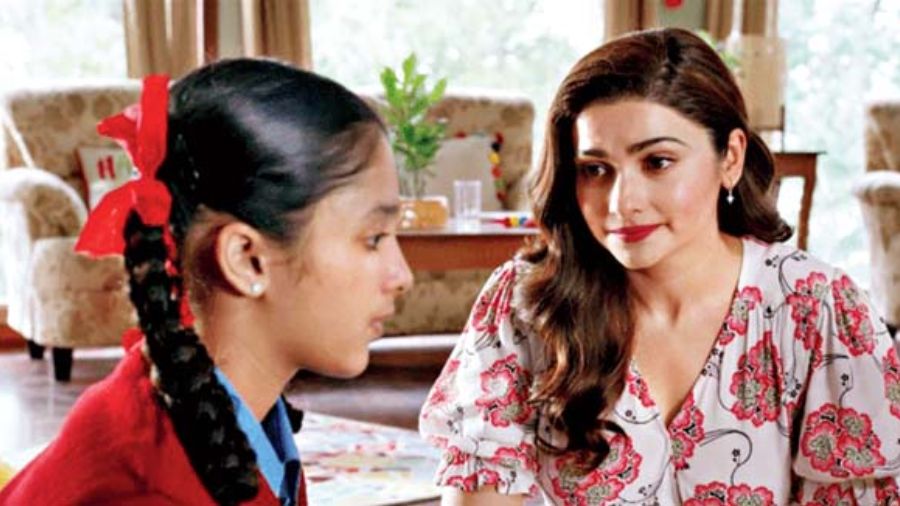 Prachi Desai as Ranjana, a child psychologist, in the film Forensic, streaming on Zee 5
---
Published 18.08.22, 04:40 AM
|
---
Sweet and simple are attributes that go naturally with Prachi Desai, who has progressed from the small to the big screen. But with the recent web release Forensic, co-starring Vikrant Massey and Radhika Apte, she has managed to surprise viewers. She speaks to The Telegraph over a video call from Sydney. Spoiler alert if you have not caught the Zee5 film yet.
What was it in the script that made you agree to do Forensic?
I saw it as an unexpected challenge. It was a kind of role that I wanted to play. I knew I could give the audience a surprise. Psychological thrillers are also a favourite for me as a viewer.
The fact that you look so innocent, was it a help or a hindrance in pulling off the surprise?
It actually worked in my favour. I also play roles that are nice. Nobody saw this coming. In terms of casting, probably people saw this as a barrier so a role like this never came my way. I applaud the writer and the director for making the choice. This is the first time I play a dark shade.
What was your first reaction after seeing yourself in a man's make-up?
To be honest, I was shocked for a moment. Whenever I would pass by a mirror after giving my shot I would not know that it was my own reflection that just passed by. It was so disorienting. But I enjoyed every moment. It makes you realise there are so many boundaries that you can push with the help of prosthetics and technology.
How would you describe Ranjana, your character?
I would describe her as deceiving, complicated and a devil in disguise.
But she is honest in her relationship with her foster father, right?
Absolutely. That is the one person who anchors her and gives her hope in life and deeply cares for her. The rest of the world elicits a different reaction from her.
There was a disturbing disorientation in Ranjana's eye in the last scene. What did you do physically as an actor to bring that out?
The look that you saw in the eye was a result of the uncomfortable thoughts I put in my head as an actor. I don't know what madness within me I chanelled. I completely blocked awareness of everyone else's presence while giving that shot and disconnected with everything, including the thought that I had a flight to catch immediately afterwards (laughs). I feel there is an unsaid method to everyone's madness. At this point, Ranjana had come out as herself. She had nothing to hide anymore.
Was this the toughest role in your career?
This was a tough role for sure. You don't know where to draw the line in this. You don't want to make it caricaturish or loud. You want to keep it believable. But if you see the kind of crimes people commit, reality is baffling. Yet, since this is cinema, one has to make sense of it.
Having said that, the simpler roles that we play are not easy either. There is work to do there as well. They are like the no-make-up make-up look. There is make-up but you can't make out there is any. We have to underplay so much that it looks easy and flowing.
It's great how you stand up for all your roles, right from Kasamh Se!
Oh my God, the number of times I had to cry! All of that was tough.
Was that with or without glycerine?
Sometimes it was really me crying, because I was hungry. Just kidding… but sometimes you really want to cry for real (laughs). It's all so much work!
Forensic is based on a Malayalam film of the same name. Did you see the original?
No. The role that I play is not there in the Malayalam film. I wanted to approach the movie as a fresh project. I know that it is a good film and I mean to watch t now.
Do you enjoy watching yourself on screen?
I want to go hide under a rug whenever any project of mine is about to release. But once it is out, I feel it is like magic. You end up catching your films at a screening or a preview. But you are torn apart between being nervous and excited.
You did the Telugu web series Dhootha recently.
Yes, it was my first Telugu project. I had a great director (Vikram K. Kumar) with great temperament and good work behind him and an incredibly supportive co-star (Naga Chaitanya). Venturing into a language you don't know can be daunting. They made the experience very good for me.
Suddenly Bollywood has woken up to the fact that the south Indian film industry is big enough to take them on.
It was only a matter of time that people would sit up and take note. They make their movies so incredibly entertaining! They come up with novel stories and characters. The southern industry is getting the recognition and wider viewership that it deserves. Prachi's pick
Top three psychological thrillers in recent times:
Orphan
Dark Water
Kahaani