Prachi Desai on her OTT debut
The actor opens up about doing 'Silence' a murder mystery series for Zee5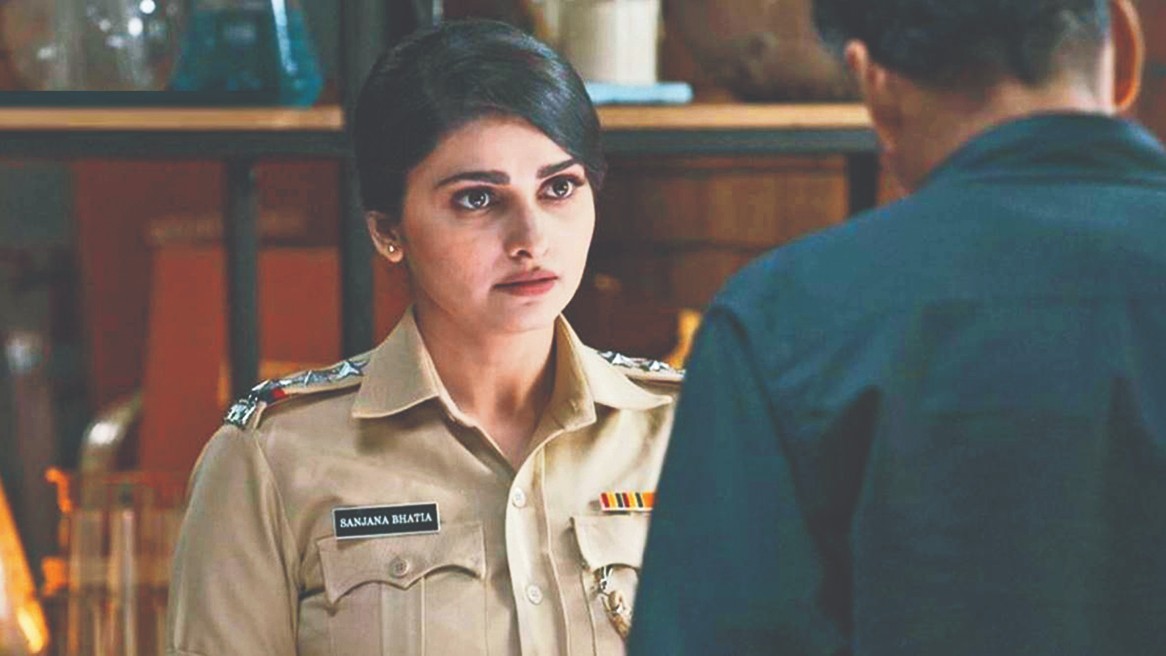 Prachi Desai as Inspector Sanjana Bhatia in a scene from the film Silence... Can You Hear It?
Sourced by the correspondent
---
Published 08.04.21, 12:25 AM
|
---
Prachi Desai, who transitioned from a hit TV soap to the big screen, with significant roles in films like Rock On!!, Bol Bachchan and Azhar, is making her OTT debut in Silence… Can You Hear It? She talks to t2 about the murder mystery, co-starring Manoj Bajpayee and Arjun Mathur, that has dropped recently on Zee5, and points to lack of opportunities for outsiders as the reason for her intermittent big screen outings.
Covid cases are shooting up in Mumbai. Are you stepping out?
For the last two or three weeks, I had to travel a lot on work — Goa, Delhi, Varanasi, Guwahati… that was hectic. This week will decide whether we can continue to shoot as before or whether there will be new restrictions.
How is Manoj Bajpayee, your co-star in Silence, doing now?
Manoj ji had Covid-19 two-three weeks ago. But he has come out of it. We had a screening at a private theatre and he could attend it after testing negative. It was a small group of the director and a few members of the cast and crew. Everybody wanted to come but you have to be responsible now.
How long back was Silence shot?
End of last year, in November. We were working backwards as our release date was decided when our project was greenlit. We had to finish it in record time. We were done by January.  Theatrical films take six to eight months, or even a year to make. We were shooting in Bombay. We didn't have to travel. That also saved us a lot of time, though lockdown or no lockdown, traffic in Bombay is always there (smiles).
The shoot was pretty hectic. As it was just after lockdown, we really had to follow guidelines as safety was most important. We were so involved that we didn't realise when the shoot got over.
The film is a mystery thriller...
It is a murder mystery, a crime investigation drama. There is a body found at an odd site, far from the place where she belongs. She is the daughter of a retired chief justice. And the police have to connect the dots to find out who did it. Manoj sir is put on the case and I am part of his three-member team that has to solve it. There is a golden period in investigation within which if you cannot detect the culprit, sometimes he gets away and it becomes a longer chase.
How was lockdown?
I am quite a homebody. If I am not on the sets, I spend a lot of time at home. I am not someone who socialises every day. I followed yoga classes and took up a psychology course online. This is not for a degree but you get a certificate at the end. Everyone was doing cooking and baking, but I did not do any of that, I don't know why (laughs). In between, I was also reading some scripts. Then once things opened, I found myself in the middle of a shoot.
Is your lack of socialising hampering your film career?
I really don't know but it doesn't come to me naturally. So I don't put much effort into it.
Once TV stars graduate to films, what stops them from returning to TV between film projects — a sense of a demotion, which is not attached to doing web shows?
Web shows come for a limited period of time. It gives you the freedom to do other things. TV is extremely time-consuming. Once you sign up for a particular TV show that's all you can do. And it can go on and on for five or six years. It does not leave you time to do anything else.
How long did Kasamh Se (the Zee TV show with Ram Kapoor that made Prachi a household name) run?
It ran longer but I did it for two years. I left because I got a break with (Farhan Akhtar's) Rock On!! It's rather sad that the roles that you get on TV are divorced from reality. You are overexposed as you come every day on TV. Your role is relatable and the audience feels like you are part of the family. But if you want to do films then your role has to be aspirational, not someone regularly seen around the audience. So in India it does not match. In the West, it works differently. Their TV shows have seasons with a set number of episodes, so the actors know how long it will take. So you have even Hollywood stars doing TV.
But it also means sitting at home between films for months waiting for the right script, unlike going to work six days a week for TV soaps.
How can one complain about getting time for oneself! There is a joy and fulfilment in doing diverse roles in different films rather than doing the same role, where the same things need to be done over and over again. It becomes physically and mentally draining.
Are TV and web shows more democratic than films in giving opportunities?
OTT has opened up the path for a lot of people. There are a lot of first-time directors, writers and debutant actors doing great work in web shows. Probably they were not getting opportunities in classical films as they are a bigger gamble since budget-wise they are more expensive. I would give credit to the audience as they are ready to watch so many new and different things. That is why so many of us are getting a chance, be it Scam 1992 or Aarya, which had Sushmita (Sen). In theatrical releases those opportunities were not there.
Is the casting in theatrical films confined largely to faces seen on Page 3?
(Smiles) You have put it in a better way. Film is more about casting faces which are more on Instagram these days while OTT platforms are about casting real talent through screen test or audition. The shows are written so differently and the roles are written so well and intricately that they put in more effort in casting as they need genuinely good actors. In films, it's really sad as every three months it's the same person's release. So there's nothing new to watch.
Is it more about who you know and who you are partying with when it comes to bagging roles in films?
It has always been like that (smiles). It's nothing new any more.
You are also doing a horror film, Kosha.
It's a fantasy thriller. That film requires VFX which is time consuming. We have shot most of it. Just a little bit is left. But the VFX is taking time. That role is in a darker head space because that girl I play is all alone in the world and is fighting her inner demons.