Pink to Lost: Aniruddha Roy Chowdhury wants to tell stories honestly and give it his '120 per cent'
A little more than six years after Amitabh Bachchan-starrer Pink and awaiting the release of Lost, Aniruddha is raring to make his kind of films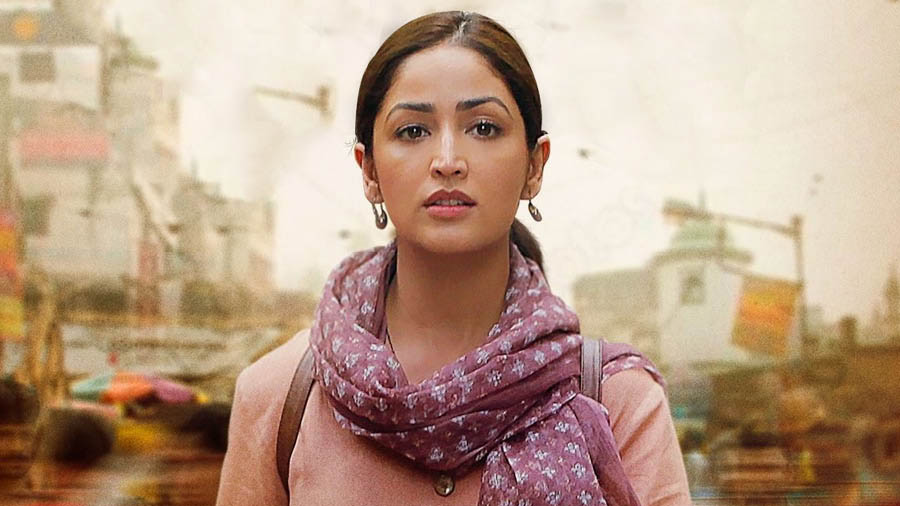 Aniruddha Roy Chowdhury's feature film Lost, starring Yami Gautam, releases on ZEE 5 on February 16.
Instagram
---
Calcutta
|
Published 27.01.23, 04:25 PM
|
---
In its commitment and conscience, Lost – featuring Yami Gautam as a journalist — is an extension of Pink, says director Aniruddha Roy Chowdhury, whose 2016 film starring Amitabh Bachchan had sparked a nationwide debate on consent. As we count down to the release of Lost on February 16 on ZEE 5, Aniruddha shares with us his creative process and how this film came into being. 
Pink released in September 2016. Where did you disappear after that?
Aniruddha Roy Chowdhury: I've been busy. I've written four scripts, completed two films – Lost, and an untitled film which I have just finished shooting. I directed a TV series for ZEE 5 — Parchhayee: Ghost Stories by Ruskin Bond;  another mini-series, Forbidden Love; and a short film, Maya.
I never rush into a project. I like to introspect. Even earlier, when I finished Anuraran in 2005, it went to various festivals, won the National Award and was a huge success. Yet, I waited till 2008-2009 to come out with Antaheen. Aparajita Tumi followed in 2012 and Buno Haansh in 2014. This time, the sabbatical has been a little longer. I was in Mumbai for a while, planning something in 2018, which didn't happen. Then, we lost three years to Covid. Inshaallah, now I'll make a film a year. 
Six years is a long time. Any apprehension of the momentum being 'lost'?
Aniruddha Roy Chowdhury: Maybe I've missed out… no regrets. I can't be a good doctor, engineer or accountant, but I want to be a good filmmaker. I want to tell stories honestly, give it my 120 per cent. And my commitment and integrity should reflect on screen. There have been offers from big production houses and industry stalwarts. But things happen at the right time. Meanwhile, even the pain, struggle and waiting are a part of the journey and enhance your knowledge of life.
Anyone else in your shoes would have made a Pink sequel or a courtroom series based on it, cashed in on its commercial viability…    
Aniruddha Roy Chowdhury: I'm not a businessman. I've been dreaming of making films since childhood; it cannot be a trade-off. I bought my own camera. My wife, Indrani Mukherjee, and my friend, Jeet Banerjee, put in their money so I could make my first film, Anuraran. I don't want a big house, a fancy car or a holiday in Greece. I'm happy to sit and watch life, explore and experiment, touch and feel. And when the right opportunity comes along, I'll make a film. It can be Hindi, Bengali, even Malayalam. Today, the mantra is 'make local, go global'. If we can watch Spanish, Mexican, Argentinian films, then the world will watch our cinema too in any language, right?
How did you find Lost?
Aniruddha Roy Chowdhury: For that, let's reel back to Pink which, like all my films, grew out of my own life. There was a tea stall just below my house and Northeast girls studying in Jadavpur University would come over for a cuppa. They wore shorts and skirts, drawing some pretty lewd comments and snap judgements from supposedly educated people in the area. It was deeply upsetting.
Then, I met this girl at a party who was completely sloshed. I dropped her home. The next morning, she called and, surprisingly, thanked me, making me realise that it's ingrained even in the minds of modern, independent girls that men usually take advantage of such a situation. I believe, whether it's a man or a woman, when it comes to your body, consent is all-important.
As Amitabh Bachchan says in Pink, 'No means no'.
Aniruddha Roy Chowdhury: Absolutely! Lost is an extension of Pink, in its commitment and conscience. I wanted to make a film about media integrity. My friend Sumit Das Gupta introduced me to a young journalist from whom I heard several stories. With Shyamal Sengupta, I then strung these together to create a story of my own. Thereafter, Shyamal wrote the screenplay and Ritesh Shah penned the dialogues.
Lost underlines the commitment of a crime journalist, the power of a woman who believes she is not alone, that she has the strength to do what she has set out to. It's a story of not just a lost person, but lost principles, lost hope and lost integrity.
Lost is a simple, impactful, four-word title that says it all.
Aniruddha Roy Chowdhury: Yes, and it came from my daughter, Prerona, who studied filmmaking in the US and is currently working with a large multinational there. I often brainstorm with her. She saw the film in Chicago and was really happy. As were her American fiance, his family and their friends. Lost was in fact widely appreciated by Americans and Indian-Americans alike at the screenings in Chicago and Atalanta last year. The response to the humanistic theme of Lost seemed to cut across cultures; that was quite overwhelming.
What has been the initial response to Lost?
Aniruddha Roy Chowdhury: I was heartened by the response at the International Film Festival of India (IFFI) premiere in Goa last November. So many journalists called after watching the film. It made me happy because Lost was a difficult film. We filmed in Kolkata in the midst of the pandemic, during the deadly second wave. A team of 200 were shooting in real locations, in hot and humid weather. Every day, someone or the other would test Covid-positive and had to be isolated. Still, we managed to finish the film in 31 days.
Yami (Gautam) is a wonderful human being and actress who worked through really tough times because she believes in this film. All of us do. Pankaj Kapur, Rahul Khanna, Neil Bhoopalam, Pia Bajpiee, Tushar Pandey…. Among my crew, DoP Avik Mukhopadhyay, Shantanu Moitra who has given brilliant music, my editor Bodhaditya Banerjee and so many others. Zee Studios, Shareen Mantri Kedia, Kishor Arora, Sam Fernandes and Indrani Mukherjee all believed in the film as producers and stood by me. Such camaraderie and like-minded collaboration help a film evolve, it helps you grow as a creative person too and rediscover yourself.
What can you tell us about the film you have just wrapped up?
Aniruddha Roy Chowdhury: Since Anuraran, I have been a part of the writing of all my films because unless I experience something, how can I express it? My friends joke that I am 900 years old, given the range of experiences I narrate to them. This one, as yet untitled, is inspired by something that happened in Kolkata, how during a turbulent time, a dysfunctional family comes together. It traces a father-daughter relationship and features Pankaj Tripathi and Sanjana Sanghi, along with Jaya Ahsan, Parvathy, Dilip Shankar, Rajan Mody and Paresh Pahuja.
What's next?
Aniruddha Roy Chowdhury: There's a Bengali film, Café Kinara, on voyeurism, whose script, with dialogue, is complete. There's also a Radha-Krishna story set in modern times. Shyamal Sengupta is also writing something which is almost ready. I'll decide in a month's time.