Peter Jackson's 'The Beatles: Get Back' review
Instead of saying anything new, in the docu-film the director has deftly shown what the Fab Four magic was all about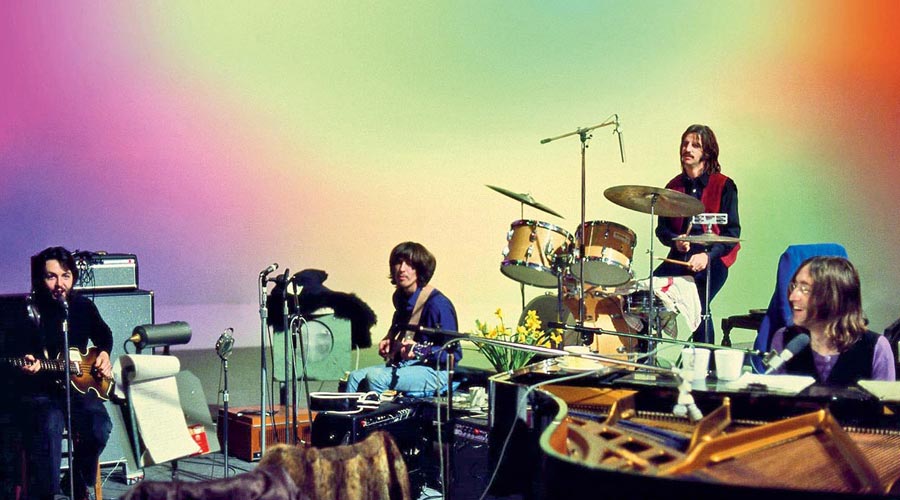 A moment from The Beatles: Get Back, directed by Peter Jackson.
Pictures: Apple Corps
---
Published 27.11.21, 03:15 AM
|
---
There's nothing you can know that isn't known' goes the famous John Lennon line, yet any household where the Beatles still get dragged into dinner-table conversations, Peter Jackson's three-part docu-film — The Beatles: Get Back — is playing on the television. This is meant to be an effort that dives into the final days of the Fab Four making music while trying hard not to make one another feel uncomfortable. Jackson has sifted through more than 60 hours of video and 150 hours of audio to offer a story that's very different from the original Get Back, the Michael Lindsay-Hogg-directed film (1970), which released after a glorious chapter in music history had come to an end.
Let's get to the important part: A lot has been said about how an exchange of words between Paul McCartney and George Harrison made things worse. Frankly, each time a Beatles album got recorded, such super-charged moments were there but what was not present was a camera to record it all. Lindsay-Hogg's camera and microphone picked up conversations like….
Paul: It's not sounding together.
George: And so we can only until we….
Paul: Or we can stop and say it's not together.
George: Yes, then you've got to carry on until it gets together.
Paul: It's complicated now, so it… See, if we can get it simpler and then complicate it where it needs complications, but it's complicated in a bit….
George: It's not complicated. I'll play just the chords, if you like.
Paul: You always get annoyed when I say that. I'm trying to help. But I always hear myself annoying you, and I'm trying to….
George: No, you're not annoying me.
Ever since the band's manager Brian Epstein died in 1967, they lacked direction as well as a father figure, like at one point we hear Paul saying, there was nobody to say "Get your suits on. And we did." Macca makes it crystal clear: "Daddy's gone away now, and we're on our own at the holiday camp." Yes, Paul did seem to have bit of an authoritarian grip but he also found support in John, and at the same time nobody could ignore that Harrison was no longer in the Lennon-McCartney shadow; he had become an excellent songwriter, something we would see in post-Beatles days. All good things come to an end, and so did the Beatles and viewers simply get a front-row seat to the slow disintegration. John, Paul, George and Ringo had developed their individual styles and it is their eagerness to explore that probably broke the band.
That old magic
The Fab Four came together at Twickenham Film Studios in 1969 to work on a few songs for what appeared to be like a TV special with a live audience but eventually — after days of bickering and George reaching (and overcoming) breaking point — they reconvened at the basement of their Apple headquarters in London's Savile Row and then finally to its roof where a concert sequence got shot. They had two weeks to write and rehearse 14 new songs.
Ultimately, we will all remember how four friends performed Get Back on the rooftop effortlessly. But the road leading to it had several crazy moments, like the unhip and confused Lindsay-Hogg suggesting that the band perform in an amphitheater on the Libyan coast or a children's hospital ("But I don't mean for the really sick kids. I mean for kids with broken legs," Lindsay-Hogg says).
At the same time, Peter Jackson manages to bring alive flickers of bonhomie that was missing on the original film. We see Ringo Starr breaking off a conversation with Lindsay-Hogg to focus on Paul, who is working on an early version of Let It Be. "You see, I'd watch an hour of him, just playing piano," says Ringo. We see George returning to the fold after briefly quitting the band, soon after which John pretend-boxes George in good humour. We find John and Paul harmonise brilliantly on Two of Us. We hear George ask: "Is this one called I've Got a Feeling?" only to hear John deadpan: "No, it's 'I've Got a Hard On'," following which he and Paul snicker. And we see John and Yoko waltzing to George's I Me Mine while Paul's adopted six-year-old daughter, Heather, screams into a microphone.
With each episode viewers are stunned by the level of the group's productivity. Short of material at the outset, after a few weeks, they not only had material for the entire Let It Be album, but also for a part of Abbey Road, besides songs that ended up on their early solo albums — Jealous Guy, Back Seat of My Car and Gimme Some Truth.
Jackson's touch
Each of the episodes is well over two hours and all three combined you get a film that's 468 minutes long. Of course, this is Peter Jackson we are talking about, who doesn't believe in brevity, which can well be seen in The Lord of the Rings and The Hobbit. Even for a 70-something-old Beatles fan from the 1960s, this is a long documentary. One of the central debates in the film — Paul wants a live show while others don't — get played again and again. It could have been restricted to six hours but nope. Thank God, it's less than his first cut of 18 hours. What could have made this film more accessible to younger audiences are multiple versions or cuts. "You do realise this tape is costing you two shillings a foot?" someone asks at one point during the Beatles recording session. Perhaps the same question should have been placed before Jackson.
And, also listen to…
The three-part film comes weeks after an interview Paul gave in an episode of the new BBC Radio 4 interview series This Cultural Life. He makes it clear who "instigated" the break-up. "I didn't instigate the split. That was our Johnny. I am not the person who instigated the split," he told interviewer John Wilson. "Oh no, no, no. John walked into a room one day and said I am leaving the Beatles. And he said, 'It's quite thrilling, it's rather like a divorce.' And then we were left to pick up the pieces…. The point of it really was that John was making a new life with Yoko and he wanted... to lie in bed for a week in Amsterdam for peace. You couldn't argue with that. It was the most difficult period of my life. This was my band, this was my job, this was my life. I wanted it to continue. I thought we were doing some pretty good stuff — Abbey Road, Let It Be, not bad — and I thought we could continue," Paul said.
All said and done, Jackson has given an early Christmas gift to Beatles fans. Ringo delivering Octopus's Garden on the piano, Linda McCartney and Yoko Ono laughing in a corner, John and Paul exchanging friends-forever smiles, and George talking passionately about the craft of songwriting… these are moments that stay on. Instead of saying anything new, Peter Jackson has marvelously shown what The Beatles magic was all about. It's about four talented young men in their 20s ready to move on.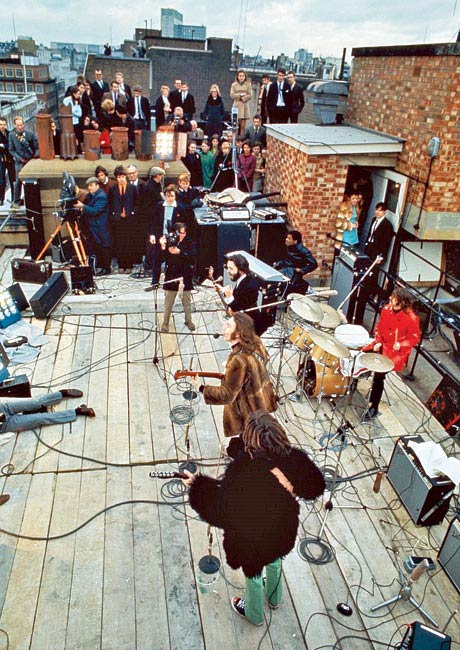 Read and listen to....
The Beatles Anthology
Callaway Arts & Entertainment and Apple Corps have released the first official standalone book since the international bestseller The Beatles Anthology. The 240-page hardcover tells the story of The Beatles' creation of their 1970 album, Let It Be, in their own words.
The Lyrics: 1956 to the Present by Paul McCartney
The Lyrics pairs the definitive texts of 154 Paul McCartney songs with first-person commentaries on his life and music. Spanning two alphabetically arranged volumes, these commentaries reveal how the songs came to be and the people who inspired them.
This Cultural Life
On BBC Radio 4's This Cultural Life, Paul McCartney discusses those who have influenced him, as well as explaining why The Beatles' break-up wasn't his fault. In the interviewer's chair: John Wilson.
'The Beatles: Get Back' is currently streaming on Disney+ Hostar