'People in the industry are not willing to experiment' — Barun Sobti
We caught up with the heartthrob on breaking his brooding image with Halahal, his enduring popularity and why he hasn't taken to social media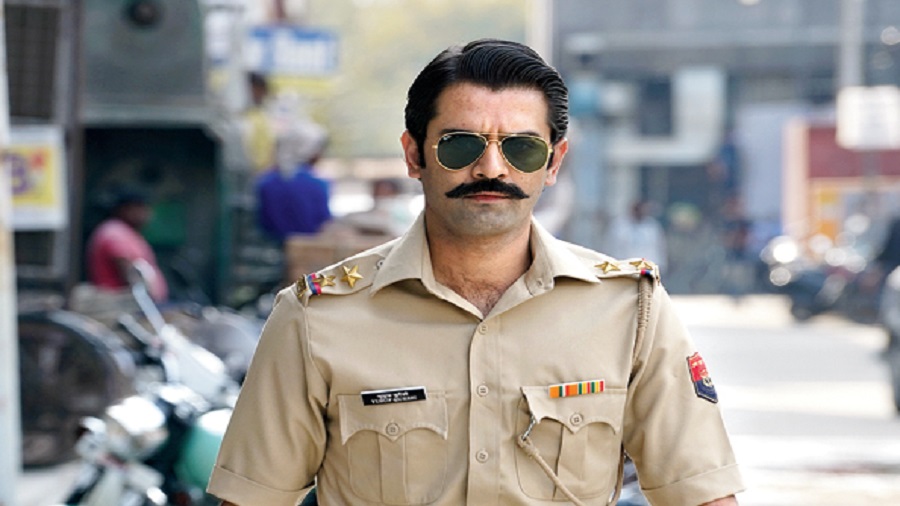 Barun Sobti in Halahal, streaming on Eros Now
Sourced by the Telegraph
---
Published 27.09.20, 06:23 PM
|
---
Earlier this year, Barun Sobti had a hit in Asur, co-starring Arshad Warsi. Now the actor has made quite an impression as a corrupt cop with a change of heart in Halahal, an emotional thriller, that's streaming on Eros Now. The Telegraph caught up with the heartthrob on breaking his brooding image with Halahal, his enduring popularity and why he hasn't taken to social media.

You had said in an earlier interview that what attracted you to Asur was the fact that it "wasn't a victim of surface-level writing", a malaise that you feel affects a large number of scripts written today. Was that the reason why you also signed on Halahal?
I think Halahal is phenomenally well written for the format, which is a film that's just an hour-and-a-half in terms of running time. The struggles in writing for different formats are very different. Asur, being a psychological thriller, had to dig deep into the psyche of society and talk about the real stuff that we in India don't talk about generally, we cover it up.
Similarly, Halahal hasn't come from any shallow objective... it's a heartening story about a father trying to find out the truth about his daughter, and this cop's (Yusuf, played by Barun) journey along with him. This also talks about the truth about society. The characters are written very well, and once you get into the film, you understand why every character, especially Yusuf, behaves in the way they do. That told me that Zeishan (Quadri, the film's writer, who had also penned Gangs of Wasseypur) has written a very good film. When he proposed I should play Yusuf, I knew what I had to tap into me to bring him alive.
Initially, not everyone was convinced I could do it, to be honest with you (laughs). But I had a ball doing it. That's because I am from Delhi and I understand the culture and how people behave and especially, the tendency of people to try and buy everything with money.
Honestly, I think it's paid off. A lot of people who I haven't spoken to in a long time have reached out after release. It's a very good response. I kind of knew that the response would be very good. But it's turned out to be much more than what I expected, honestly.

Yusuf is a very garrulous, out-there kind of a guy, in direct contrast to the silent, brooding kinds that we have seen you play so far...
I knew that eventually people would make the observation that you have made. The only thing I knew was that I had the strength and the ability to play this character. But at the back of my mind, I knew that people would say, 'Oh we haven't seen you play a guy like this'. In everything that I have done so far, I have played an all-out urban guy.

Has it been a constant struggle trying to break the stereotype of the silent, strong guy on screen?
It's a truth that plagues our industry... one hundred per cent. People are not willing to experiment. But honestly, if I was a producer, even I would solely bank on the kind of scripts that are currently working, or the kind of ability that a certain actor has displayed. There is lack of experimentation for sure. And I am grateful to Zeishan because he's a very good friend and he knows how I am off screen, because of which he cast me in this role.

You say that there is lack of experimentation, but hasn't the web actually opened up opportunities for every kind of story to be told, something that film or TV wouldn't really support?
That's how it feels like to someone on the outside. There is a definite lack of new ideas. I can't really blame anyone, you know. Everyone has the right to spend their hard-earned money the way they want to. If someone wants to play it safe and ensure that they have a return on their money instead of experimenting, it's entirely their decision and there's nothing right or wrong about it. At the same time, if there is someone who is willing to go the extra mile, then actors like me are very grateful because then it gives a fair chance to everyone. But unfortunately, it's a very difficult space. It's a closed industry... people work with the actors they are comfortable with, they don't just go out onto the streets and start casting people.

In a recent chat, Ronit Roy had told The Telegraph that in its present form, the TV medium doesn't excite him at all. Would you concur?
Yes, the long format doesn't. That's because it offers very little for the writers. For me, writers are of paramount importance for any kind of content creation. If there is no well-written word, then there is nothing that anyone can direct, act or produce. A writer has to create something new every day and in the daily soap format, if you throw that responsibility at a writer for 365 days of the year, I really doubt if anyone can live up to it in terms of quality.
My fight is not against the content, it's against the formatting. There is no writer in this world who can surprise the audience every day with something phenomenal. So the formatting on TV needs to change. People tend to look down on television but I have always maintained that there is a phenomenally intelligent bunch of people working in television. Every actor that starts from TV is so well seasoned and so smart. They pretty much know what the shot is going to be even before it's explained to them. One can't just discount the television industry, it's the format that is the problem because everyone is just trying to make money.

It's been close to a decade since your breakout TV show Iss Pyaar Ko Kya Naam Doon?, whose popularity saw it being beamed in 51 countries. Does the enduring appeal of the show and the fact that your fanbase still keeps growing on the strength of it, surprise you?
It did... till about five years ago (laughs). But it doesn't surprise me any more, because I get fan feedback on it every single day. That is actually testament to the fact that TV still has enormous reach. Also, I think it still remains in people's minds because it was a very good product. It definitely is flattering but it also makes me think sometimes, 'My god, it's been 10 years!'

You are a rare actor who uses social media sporadically and the last time we had spoken, you had said how surprised you are by this very strong social media generation that's come up. In an industry where being visible is imperative, don't you feel the need to use the medium more?
I have two sides of the brain, that very strongly argue for and against social media. That argument is still happening and no one is winning it so far (laughs). For me, social media is a resource to influence, it's not really a resource-resource. I am very much aware of the damage it does to your reality. I am still not able to get over the fact that people are so accepting of it. What you make on social media is just an image, it's not your reality. It's a very long debate and I don't think I will lean towards being more on social media anytime in the near future.