'People don't call me Akshara now... they call me Hina Khan'
Hina Khan is all set to play Komolika in the reboot of Ekta Kapoor's Kasautii Zindagii Kay on STAR Plus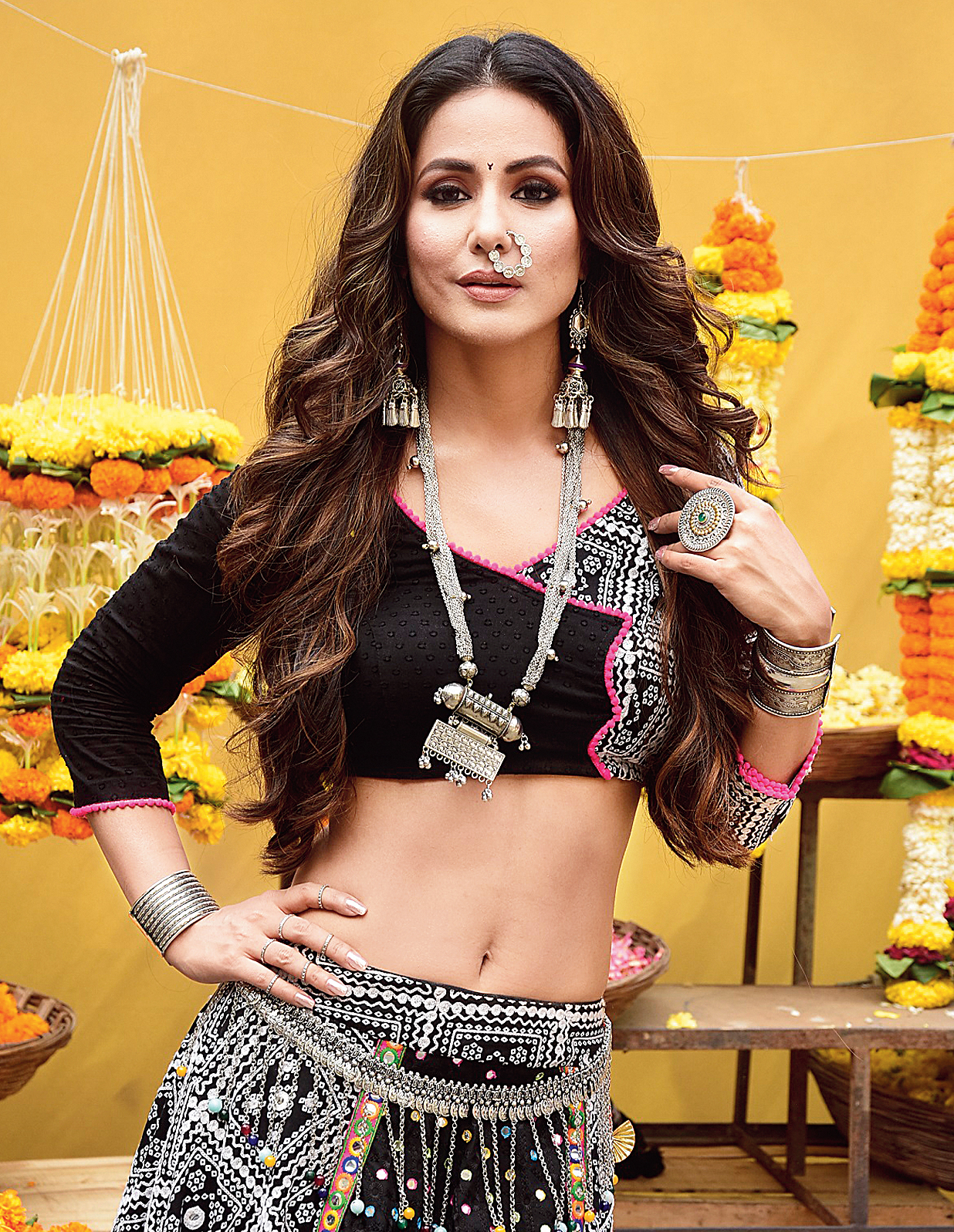 ---
---
Nine years ago, she burst on to the small screen as Akshara in the long-running STAR Plus show Yeh Rishta Kya Kehlata Hai. Today, after stints on Bigg Boss and Khatron Ke Khiladi — she was runner-up on both the Colors reality shows — Hina Khan is all set to play Komolika in the reboot of Ekta Kapoor's Kasautii Zindagii Kay on STAR Plus. The negative lead — popularised by Urvashi Dholakia in the original — has been one of Indian TV's most memorable characters and all eyes are now on Hina, 31, to give a fresh spin to Komolika.
A t2 chat.
The teaser video introducing you as Komolika in the reboot of Kasautii Zindagii Kay went viral within hours. Did you see that coming?
The response has been amazing. An hour after the promo came out, I had to put my phone on silent because it was buzzing so much! I just couldn't handle so many messages… my Twitter was on fire. I slept for two-three hours and when I woke up, my social media was completely clogged.
Ekta (Kapoor, the show's producer) really teased the audience and made them wait for Komolika… 'Who will play the part?' almost become the hottest question of the nation. And so when I was finally revealed, it was a tsunami of sorts! (Laughs) I think for the first time on Indian television, a character has been introduced through a teaser promo that ran for over two weeks. I feel really lucky that this has already become so big. I haven't yet started shooting… this is just a glimpse of what the character's about… and see what's happening!
You must have expected at least a fraction of it given how popular Komolika has been through the years…
I did! I did! But I had no clue it would be so big. Even Ekta was surprised. The teaser hit 2.5 million views in two days. People are making Musical.ly videos; there are even tutorials online on how to get Komolika's make-up. The nose pin has already become famous. And at the cost of repeating myself, I have to say that all this has happened even before I have started shooting for the show. It's unbelievable!
On the flipside, does that put pressure on you?
Of course it does! There are a lot of expectations. When Ekta posted the teaser on social media, the first thing I said was, 'I'm nervous as hell'. I was shivering when all the comments started pouring in because I realised the magnitude of the responsibility I have. My performance definitely counts, but what's a big relief is that the story is so strong that the reboot of Kasautii already has a lot of fans. I have taken a big risk with this role, but I know Ekta has a lot of confidence in me. She always tells me, 'Hina, you will kill it!'
What gives me confidence is that a strong character will always click with the audience, no matter what. And negative characters, if done well, always have an impact — look at Gabbar (in Sholay) or Cersei (in Game of Thrones).
Will you be playing Komolika differently from how Urvashi Dholakia played it in the original?
Urvashi's Komolika had more adaa. The essence — latkas, jhatkas, nakhras — is all there, but this Komolika is very different. She's a very sharp, smart, intelligent girl. Ekta had told me that the reference for the old Komolika was Rekha. Today, Komolika's reference is Priyanka Chopra. My Komolika doesn't have a fixed look; she's a chameleon-like character. I am excited about that because it gives me the opportunity to explore so many different sides to the actor in me. When I was Akshara (in Yeh Rishta Kya Kehlata Hai), I was told, 'Tum Akshara ho… tum yeh nahin kar sakti, tum woh nahin kar sakti'. This is a very challenging role for me and I want to request the audience to please give me that space and time so that I can justify Ekta's trust in me and prove that I can be Komolika.
You've been in the business for nine years now. How do you look back at a career that's made you one of TV's most popular faces?
People don't call me Akshara now… they call me Hina Khan. After Bigg Boss and Khatron (Ke Khiladi), I have carved my own identity. If I had taken up another daily soap after Yeh Rishta, I would have ended up as another Akshara. These two reality shows have been a huge blessing. They also gave me the confidence to be myself and not just a TV character. After Bigg Boss, the way people perceived me completely changed. I was considered a fashionista, I won so many awards, I walked for Lakme Fashion Week.
I played Akshara for eight years and I wanted to leave her behind. That's happened because I kept showing different facets of my talent and personality to the audience. The word 'stereotype' doesn't exist for me.
After playing a negative lead like Komolika, I will make sure I take up a positive lead in my next show and make people cry like I did with Akshara. Besides Komolika, I am also doing a short film and another project, which I can't talk much about, but it's not on TV. So I am mixing things up.
Honestly, I have reached a stage in my life and career where I want everything to be according to my convenience. Main achha kaam karna chahti hoon, lekin mujhe apne personal life ke liye bhi space chahiye.
You are very popular on social media as well, with 3.8 million followers on Instagram alone. How do you view and use social media?
I think social media is a great way to stay connected, provided you can filter out the negativity. I am lucky that I have more positive followers than negative and I don't pay much attention to trolls because what can you do anyway? They are faceless! They are psychopaths; normal people can't behave the way these trolls do. So they are best ignored. Attention means encouragement.
I wasn't very social media-friendly, but now I enjoy posting pictures, especially Insta stories. My fans do a lot for me; on my birthday, they filled my house with flowers, balloons and gifts. I have got a whole new lot of fans after Bigg Boss, most of whom are youngsters. They look up to me and I don't want to disappoint them in any way. That's why I take out time to do Facebook and Instagram 'live' with my fans at least once a month. The least I can do is give them 15 minutes of my life when they have given me their whole life.
Is Hina Khan the right fit for the role of Komolika? Tell t2@abp.in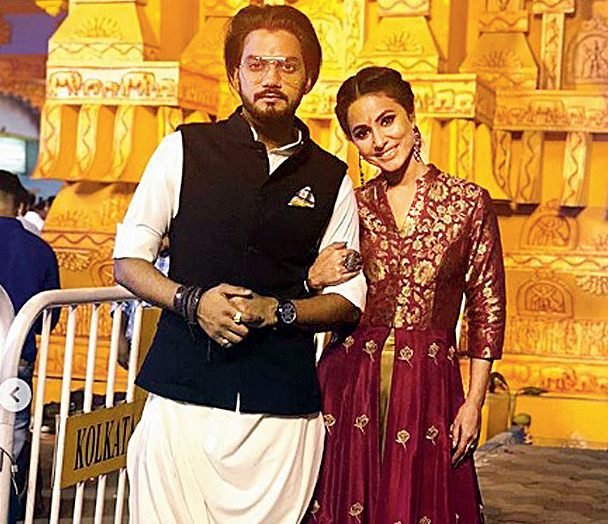 Hina on spending Durga Puja '18 in Calcutta
I had the option to go to another city for Navratri celebrations, but I chose Calcutta. It's one of my favourite cities. I love the phuchkas, the vibe, I love everything about it. This time in Calcutta, I became a fan of egg rolls. I had them for the first time and I was like, 'Really, man?! These are sooooo good!' I went to a sweet shop in south Calcutta to have rosogollas, but I didn't like what they gave me. I knew it wasn't authentic though the man at the shop kept telling me it was. Then Ro (Rocky Jaiswal, Hina's boyfriend) spoke to the man in Bengali — Ro is from Calcutta — and he asked him to give me nolen gur rosogolla. I love nolen gur!
We went to Sreebhumi and Ekdalia puja pandals. The pandals were fab, the vibe was outstanding. After coming back to Bombay, I have been telling people that the best time to visit Calcutta is during Durga Puja. The best thing is that everyone is so decked up at this time of the year that I walked among the crowds and no one even noticed me. I felt like a free bird.
I really wanted to take Ro there since he's lived all his life in Calcutta. He showed me around and I was so shocked to see that Big Ben has been recreated in Calcutta. For a moment, I wondered whether I am in London or in Calcutta! This and the craftsmanship that goes into the pandals makes me salute Calcutta's artisans.
Ro took me to his college, but it was closed because we went at night. He also took me to his old house… but no one lives there now, everyone's in Bombay. We ditched the driver and took a cycle rickshaw, which was a lot of fun.