'People are showing love for this series'
A post-mortem chat with director Abhijit Chowdhury on Turu Love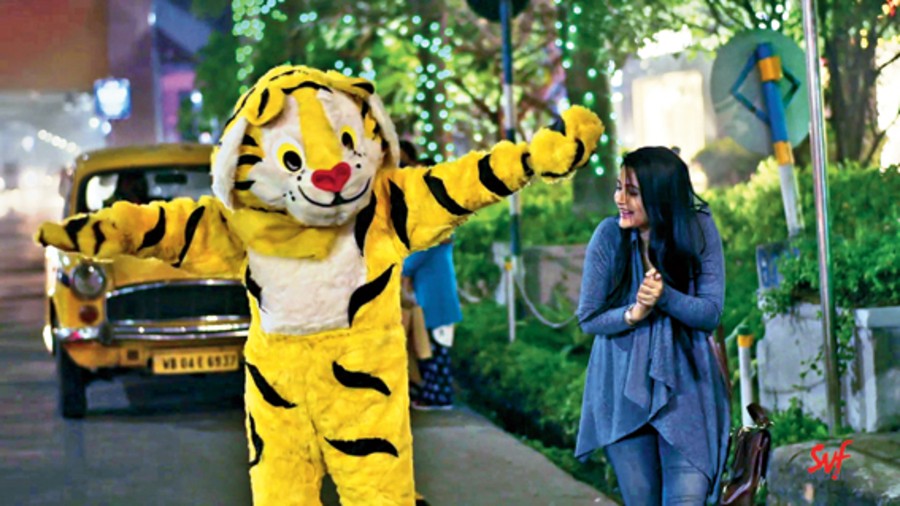 ---
---
The performances of the cast have been appreciated. How did you want Rishav, Ushasi, Rajnandini to play the roles? What are their strong points?
I told Rishav that in the entire story his character is going to do many stupid things but still in the end Brinda (Ushasi) will fall for him. It is only possible if we can establish whatever be his shortcomings, Aritra is honest, innocent, and very much a loveable person. Rishav has pulled it off brilliantly. For Ushasi I told her to use her eyes, use silence in her performance. In the beginning, Brinda will observe Aritra, to know who he is. And Brinda can only love Aritra if he has a pure soul. I think Ushasi has done her job beautifully. The audience has fallen in love with Brinda.
I told Rajnandini we all have a friend like Tiyasha. In reality, we all have more similarities with Tiyasha than any other characters in the series. So, Rajnandini has mounted her character on a more realistic plane than others. I still remember when we shot the scene where Tiyasha breaks down in front of Aritra... after I said 'cut' there was three seconds of silence in the entire set and then a round of applause from the whole crew.
Rajnandini was so natural and so perfect.
Some of the dialogues are really funny — like the opening one. Why did you decide to begin with that line about the law of motion and emotion?
The credit for the dialogues goes to our writer Arka. The objective of the opening voice-over was to set the tone and scope and that you need to watch the story through this viewfinder.
Do you know of characters like Aritra and Tiyasha?
The character of Aritra (Rishav) is mostly in the fictional zone. He is innocent, childish, filmi but he does not try to hide his shortcomings. He compensates for his lack of social skills with his innocent smile.
I think among all the characters Tiyasha (Rajnandini) is the most relatable to our experience. Tiyasha is a narcissist but still is playful and lively, whimsical yet pragmatic, emotional but sometimes can be as cold-hearted as a stone. The only similarity between Aritra and Tiyasha is that they both have enormous amounts of unpredictability.
It feels a bit rushed in the end, and the relationships develop really rapidly. Why did that happen?
It was a big challenge to tell this story in 80 minutes and a timeline in the scope of a short series. Especially when we have so many interesting characters and their journey. 
Why use a song from Generation Ami?
We needed a song to establish the journey of Aritra in his struggle period to earn money. Initially, we were a bit reluctant to use a song from another film but the lyrics and music of that song was such a perfect fit with the emotions of the scenes that now I think it worked beautifully.
Why did Rishav finally propose to Brinda after being rejected by Tiyasha. It doesn't seem fair to Brinda and one also questions Rishav's feelings towards her. How can he be so fickle-minded?
Aritra first realises his feelings for Brinda when he was in the auto going to meet Tiyasha. We see he is trying to think about Tiyasha but instead, his moments with Brinda are popping up in his head. He promised Tiyasha that he would propose to her with a diamond ring, which he had to fulfil. But when Tiyasha tells him that her best friend has proposed to her, Aritra's first reaction was, 'Thank you' and he hugs her. Yes, Aritra is a confused soul. He took time to understand what is love. But when he got that he went down the road to find her.
Why did you think of Taalpatar Shepai for the music?
I follow and love their work for the last two-and-a-half years. Even earlier we tried to work together, but it didn't go through. Taalpatar Shepai had a very small time window to produce the song. I could only have a few telephonic discussions with Pritam and their lyricist Kriti to tell the story of the series, the emotional journey of the character, and for which scene we are looking for the song. Thanks to them, it worked so beautifully for the story. Agochalo mon is loved by the audience.
Though the message of love, self-reliance, being independent and the theme of standing on your own feet comes through nicely and makes the series a fun, cute V-Day watch, the plotting, with the Archie-Betty-Veronica kind of love triangle seems a bit cliched at times, along with the final act where Rishav chases Brinda to propose. Could the plotting have been a bit more inventive?
For the series, we knew we are using plot points that are not very inventive. So, our focus as a maker was not what is going to happen with the characters at the end. Rather it was how it is going to happen. And that worked. The emotional moments of the characters have touched the soul of the viewers. And, people are showing love for this series. So far the feedback is very positive and overwhelming.