'Patriarchy has no vaccine'
Shaan Vyas on directing the short film Natkhat that highlights toxic masculinity and stars Vidya Balan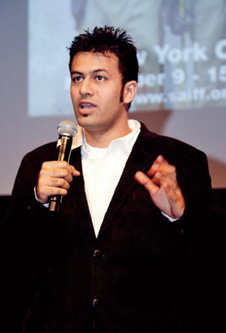 ---
---
Last week, Vidya Balan made her short film debut with Natkhat that premiered on the We Are One initiative — a platform that showcased films from prestigious festivals around the world — on YouTube. The 30-odd minute film, both enlightening and disturbing, garnered praise for spotlighting toxic masculinity and the patriarchal conditioning of children in many Indian households.
We chatted with the short's debutant director Shaan Vyas on the thought behind Natkhat and the might and muscle that a name like Vidya Balan brings to the film. Vyas has been a producer on films like Masaan, The Lunchbox and Shahid, among others.
Natkhat hits home on various levels. It packs in a lot about patriarchy and toxic masculinity in just 30 minutes. What have the reactions been like for the screening on the We Are One platform?
There are a lot of details in the film, some put in consciously and some not so deliberately. So it's been quite satisfying to see that so many in the audience have picked up these threads. It's heart-warming to see that there were some things that inherently came in the writing and were picked up by the audience organically.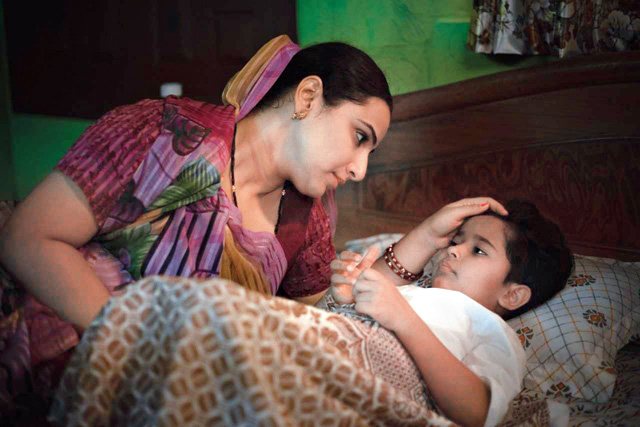 For example, the allusion to Ramayana and Mahabharata and the various interpretations that people have come up with. A lot of people have this whole thing of how TV corrupts children and how watching Ramayana or Mahabharata can morally make the child a better person. We wanted to just put it in casually, but people have drawn parallels between our story and that of Ramayana. This is my first film, so I am not used to someone interpreting my work differently than what my intention was (smiles). It's quite a high to just realise that this is something that was in our minds and it's made the journey into other peoples' minds, and also invited so many interpretations.
What made you want to tell this story?
In 2018, there was a spate of female oppression cases, including rapes, abductions, gang rapes…. It was, of course, happening even before, but there was one case that kind of became a tipping point for me. It was very gruesome and unsettling on many levels and I was like, 'Bahut ho gaya'. Uss gusse ko nikaal ne ke liye, I wrote a story which addressed parenting.
While writing the story, I figured there is a lot of legal recourse for victims post the oppression… there's nothing to nip it in the bud in the first place. Like today, we need a vaccine for coronavirus, but there's no vaccine for patriarchy. This is a virus that grows at home. It gets watered by the family sometimes. It's ingrained, internalised and even normalised. In some small towns, women are respected a lot and yet they are in ghoonghat because it's a cultural thing, a traditional thing. It signifies gender inequality.
Initially, my draft addressed masculinity from the male point of view. When Annukampa Harsh, who's co-written the film with me and also done the casting, came on board, she imbued it with a female perspective. The first draft was skeletal and dry. It didn't have heart and soul, she put all of that into it.
Natkhat is not an easy watch, it stirs up varied emotions. What were the toughest bits to write and film?
The writing of the story (the fable of the king and his daughter) within the story and fitting it within the dynamics of the larger idea was a big challenge, writing wise. We started off wanting to fit in an existing fable. But we didn't get anything like that and so we decided to write one of our own. Achieving that sync between both the stories was tricky.
Directing the kids as well as Vidya (Balan) was a joyous experience. But we shot in Harda (in Madhya Pradesh) exactly a year ago in 46-degrees, and with kids. That was very difficult physically.
How did Vidya come on board both as actor and producer?
While we were writing, Annukampa and I were constantly discussing the casting. For the character of the mother — in the script she's called Surekha but never mentioned by name in the film, to illustrate the fact that she's really not allowed to have an identity — we thought of the various qualities we wanted her to have: like a quiet strength, someone who doesn't have the power to say much but can still express even when she's behind the ghoonghat. More importantly, we needed someone whose voice, which actually plays a very important part in the film, is impactful and is a voice that people will love hearing stories narrated by. At the same time, metaphorically, this woman needed to be a voice for all the women in this country because she was going to be playing that.
Vidya was the perfect choice, our first option. But I kept wondering how we would get her. I am an indie producer and sometimes, we are a little cynical when it comes to stars.
But Annukampa, very rightly, told me that there was no point making this film if we didn't cast someone of the stature of Vidya. When we were writing this, we always wanted this short to have a huge reach… every parent and every teacher needed to watch it. So we needed to cast a star. Annukampa reached out to Vidya who read the script and said she wanted to do it. The convincing part was done by the script itself.
Simultaneously, Ronnie (Screwvala) came on board as producer and it became a project which had good names attached to it.
As a producer, what Vidya brings to the film is huge reach. It also brings hope to other film-makers like me that if they have a good script, they can reach out to stars of her stature.
What was the idea behind casting a girl as the boy who plays Vidya's son in the film? Were you making a statement or was it simply because Sanika Patel fit the part of Sonu?
My brief was to cast a naughty boy from north India and the idea was to shoot the film wherever the boy was from. But the majority of the things that the boy is meant to do in the film — uttering cuss words, demeaning women, physically abusing female classmates — is so derogatory to women that I kept wondering how I would take a seven-eight-year-old impressionable kid and tell him to do the very things that the film preaches not to do. It was really bothering me. I was very uneasy.
Two-three days later, Annukampa sent me an Instagram handle where a young girl was beautifully reciting some Hindi poetry. But I was like, 'She's a girl! How can she play Sonu?!' But then Annukampa made me realise that in classic movies, this kind of gender-fluid casting keeps happening. I thought about it for a bit and realised it also solved my problem because now I didn't have to teach a boy not to do certain things… I just had to make the girl ask questions about the boys around her and their behaviour towards women. That was the clinching point because casting a girl as a boy in a film that talks about gender inequality is a great move. As a girl, she brings sensitivity to the character. Plus, Sanika would remember lines very well… she's very good.
What made you debut as director with a short and was there ever the thought that this had the potential to be a feature film?
I think all stories come with their own runtime… and this one was this much only (smiles). There are so many variables attached to a feature film that it's easier to make a story like this as a short. In India, films are still largely escapist entertainment and people don't want to go to a theatre and get depressed and uneasy, as Natkhat makes you feel. A film like this on a streaming platform has more reach as a short because it means less investment of time.
How are you planning to take the film forward?
The pre-lockdown plans were to reach the grassroots… to tie up with schools across the country and involve parents and schools. With the big names that we have, that reach would have been guaranteed. The best way now is for the film to come out on an OTT platform because consumer behaviour, in my opinion, has changed quite a bit during the lockdown. People now know that their way of finding good content is on their phones. We should be on an OTT platform soon.
As a producer, your films have travelled the globe. What's the way forward for you, as producer and film-maker?
A very basic plan. I want to produce and direct. What I can do as a producer is to empower my collaborators to make their own content and as a director, I can potentially tell more stories and produce them myself… it's more empowering to do that. The projects I have been associated with have been valuable 'tuition time' and have shaped my beliefs and sensibilities as a director.