Parambrata Chattopadhyay on playing a fiery mass leader in Sony LIV's Jehanabad streaming from Feb 3
After Aranyak on Netflix and Jugaadistan on Lionsgate Play, Parambrata will also be seen Prime Video's PI Meena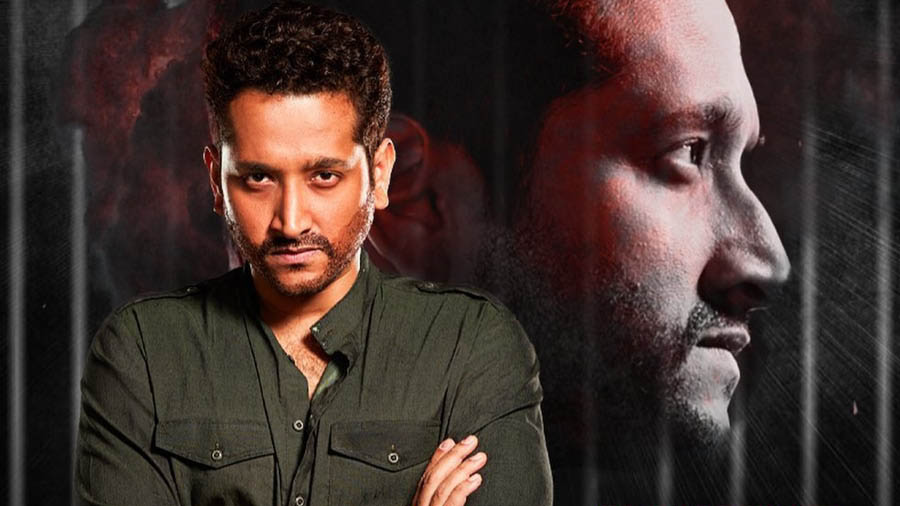 Parambrata Chattopadhyay as Deepak Kumar in Jehanabad which will stream on Sony LIV from February 3
Sony LIV
---
Calcutta
|
Published 02.02.23, 03:48 PM
|
---
Actor-director Parambrata Chattopadhyay is juggling a chock-a-block work schedule while also awaiting the release of the Sony LIV series Jehanabad, where he plays a firebrand mass leader. Jehanabad is inspired by a true event in mid-2000s, where ultra-extremists broke into the Jehanabad jail and set free around 340 inmates. While shooting for Arindam Sil's Shabash Feluda in Gangtok, Parambrata spoke to The Telegraph Online about his character's origin story and the importance of historical and political awareness. 
The Telegraph Online: You have been working relentlessly ever since the lockdown was lifted. How are you balancing work across languages and locations? 
Parambrata Chattopadhyay: Once the pandemic ended or at least subsided, we were going through a tremendous amount of insecurity. I did Aranyak (Netflix), Jugaadistan (Lionsgate Play) and PI Meena (to be streamed on Prime Video). And then after the second wave subsided, we started working profusely. I have directed and acted in Bengali films and did quite a bit of Hindi (content). This year, in 2023, I am kind of taking things a little easier. I have been balancing it, as we say in Bengali, like a 'daily passenger' between Mumbai and Kolkata. I have travelled to the UK three times back and forth in the past four months. I have it a bit streamlined for the first six months of the year. 
The web series Jehanabad is directed by Rajeev Barnwal and Satyanshu Singh. Did you audition for the role? How exciting was it to collaborate with a new team? 
Parambrata Chattopadhyay: No, thankfully I didn't have to audition for the role (Smiles). Rajeev Barnwal and Satyanshu Singh are new directors. Rajeev is very good at writing. He got in touch as he wanted me to play this part. I asked him why he thought of me and if it was because I am from Bengal. A part of my history has witnessed the Leftist movement. He told me that he finds me well-read and there is an amount of intellectuality that comes through me. The subject is so strong and intense and when he banked on me, I tried to do my utmost justice. 
I have worked with Sudhir Mishra (showrunner) on another film. Sony LIV is known for its fantastic content such as Rocket Boys, Tabbar, Gullak and Scam1992. Its production wing, StudioNEXT headed by Indranil Chakraborty, is coming up with great shows. There are some new theatre artists who have done great work in Jehanabad. Ritwik Bhowmik (of Bandish Bandits and Maja Ma fame) is the guy to watch out for. All of them helped me as I am not from the hinterland or from the Hindi-speaking belt. 
You take a keen interest in the country's as well as international politics. Do you feel your level of awareness helped you to get into the character of Deepak Kumar? 
Parambrata Chattopadhyay: Of course, I am a keen political observer. Besides being an actor and a director, I am an observer of society. I am interested in the changes that we witness or how society evolves, and society is not without politics and demographics. I am aware of Bihar of the late '90s and early 2000s. Bengal, Bihar and Odisha have been like the red corridor. These stories have been handed down to us like urban folklore. As an actor, having a kind of awareness and knowledge has helped me to play Deepak Kumar in Jehanabad. As Jehanabad is inspired by a true event, do you have any recollection of the time when it actually occurred?
Parambrata Chattopadhyay: I went to Jadavpur University, so I would know all these things. I was just out of university that time and remember reading about it in the newspapers.
Strong characters like Deepak Kumar are usually rooted in ideals. How did you work on his origin story?
Parambrata Chattopadhyay: For me, this is one man who is incredibly wise. His sense of wisdom comes from his zeal to avenge the injustice that has been meted out or doled out to his people for decades. He has prepared since his childhood. He has gone to great universities. He is well-versed and well-read in all subjects. He can talk about Europe, Venezuela, India's economy, Greek philosophy, everything. He has a mission. He has an endgame in his head. He is fixated on it and obsessed with it. He is ready to make sacrifices. He is ready to take on that mental pain. He knows how to win over people with his words and glances. He knows that he is the messiah of the poor. He knows when to rise above and become more of a messiah and become all of it. He is an incredibly charming and charismatic character.
You had played a Naxalite in Goutam Ghose's Kaalbela earlier in 2009. Did you take any references from there? How would you tell apart Animesh in Kaalbela and Deepak in Jehanabad?
Parambrata Chattopadhyay: The fundamental difference between them is that Animesh, a cadre, was a wide-eyed adult who was shaken to the core after witnessing injustice. Out of his desperation and despondency, he becomes a part of the movement, but it is not a carefully curated ideology that channelises him to the movement. It's just the time that he was living in. He was a North Bengal boy who accidentally became a part of the movement, but Deepak Kumar can make people rise to the cause and make their blood boil through his speeches and rhetoric. He is a frontline warrior. He has decidedly trained himself to be a leader, not just as a cadre. He is a man on a mission. Animesh isn't that. He became a part of it by default.
Do you feel your portrayal of Deepak Kumar in Jehanabad would change how you are perceived in the national arena?
Parambrata Chattopadhyay: Yes, I have played a charming, good Samaritan whenever I have acted outside Bengal. Seeing the element of darkness in my character in Jehanabad, people, the production houses, and directors will probably look at me in a different light.
Jehanabad is a hinterland socio-political drama full of action and emotions, which has become a genre on streaming platforms and has a niche following. As a social observer, do you think these web series are making the audience aware to some extent?
Parambrata Chattopadhyay: Political awareness comes from historical awareness. The way history is taught in our schools in India puts people off. Very seldom do we find someone taking interest in it. I was one of the rarities. It is taught as one of the boring and verbose subjects in school and people start dissing it, which leads to a lack of awareness.
How many people can consciously differentiate between August 15 (Independence Day) and January 26 (Republic Day)? Yes, these shows help in appreciating certain subjects that are apparently not political. Having said that, it's a challenge for the creator to make it in a way that people can enjoy. Jehanabad has a fantastic, intense love story, and it has hinterland dark humour as well.
The central theme of Jehanabad is love and war, and it's often said that there is no logic in love and war. What is your perspective on both?
Parambrata Chattopadhyay: I find it very unfortunate that there is no logic in war. You won't even walk into war because war is a solution. People who are warring often lose sight. Love is like music. You can't logically define why you like the other song more. It's abstract. You can't analyse its occurrence. But once you are in love, you have to think logically.