Pankaj Udhas talks about how he made his naam, his love for cricket and his ghazal promotion initiative
A chat with the ghazal king on his bid to give young ghazal singers a break and more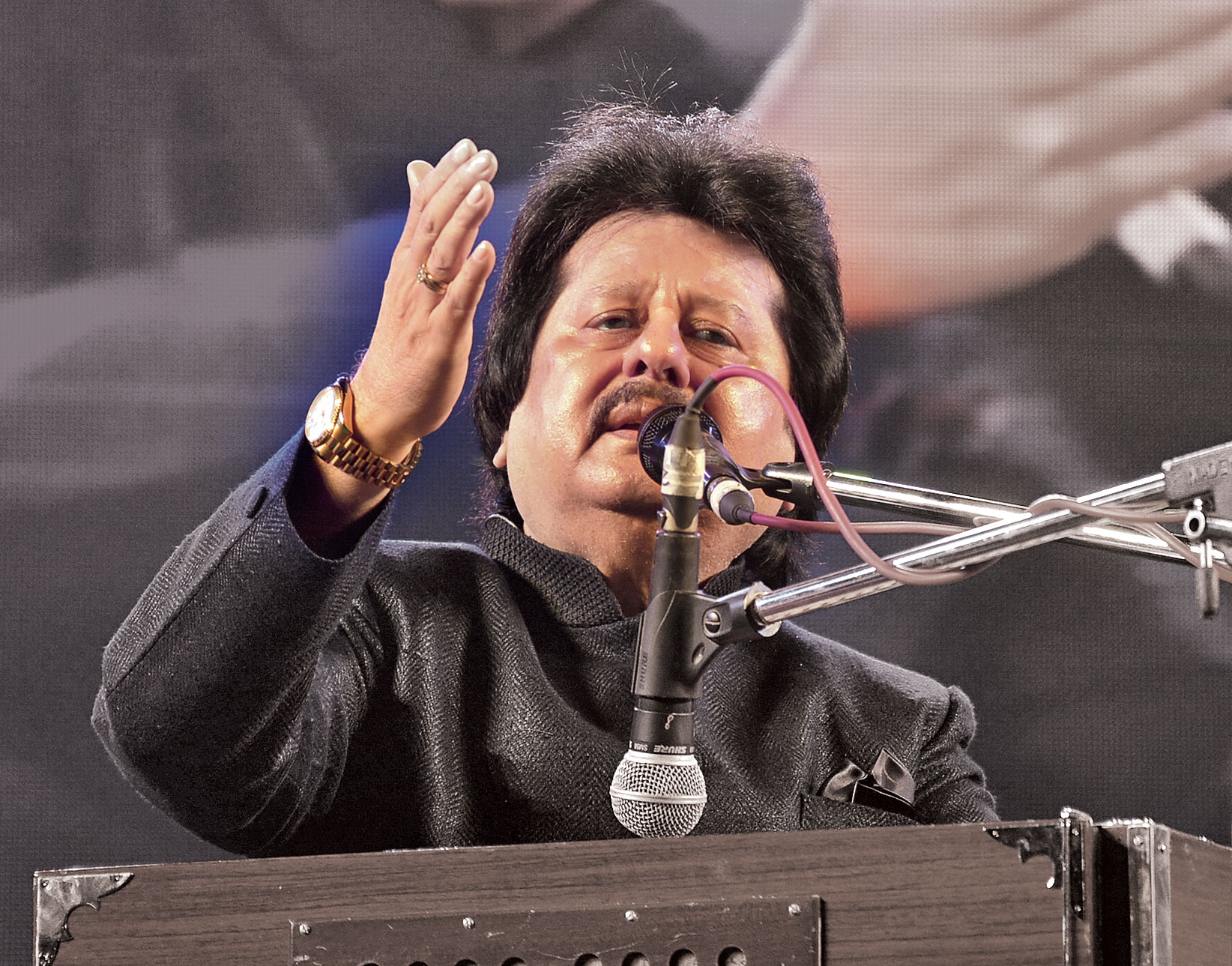 Singer Pankaj Udhas
(The Telegraph)
---
Published 16.06.19, 10:06 PM
|
---
Get a couple of accompanists, sing a ghazal of your choice, record the video on a smartphone and upload it on www.artistaloud.com/khazana by today. It will be vetted by judges Rekha Bhardwaj, Anup Jalota, Talat Aziz, Sudeep Banerjee and Pankaj Udhas, says the Chitthi aayi hai singer ahead of the Khazana ghazal festival in Mumbai on July 26 and 27, where two winners will get a chance to perform. A t2 chat with the ghazal king on his bid to give young ghazal singers a break and more.
Tell us about Khazana.
Khazana is a ghazal festival that used to take place in the early '80s. My friends Anup Jalota, Talat Aziz and I revived it in 2002. It is a great opportunity to promote ghazal and also raise funds for a social cause. We support Cancer Patients Aid Association — my father had died of cancer — and Parents Association Thalassaemic Unit Trust, of which I am the president.
This is the second year of the talent hunt associated with the event. What made you start it?
We were getting enquiries from young singers about participation in the festival but we needed to screen them first. We have famous names participating in Khazana but we also want to introduce new singers. Our only handicap was we were restricted to Mumbai. India is such a vast country. Even Bengal is so rich in ghazal-singing talent. We wanted to reach out to them. Once Hungama started live streaming of Khazana, we started getting requests from singers abroad also. Hungama Artist Aloud came up with the idea last year to start this talent hunt. Last year, we got entries from 75 cities.
Didn't you host a TV show called Aadab Arz Hai in 1998?
Yes, I was very passionate about it. Unfortunately there was some difference between the producer of our show and the network so it did not run beyond one season. I tried to revive the show but without success. You know what kind of content runs on TV these days. Channels are not interested in anything classy. They are happy with their Naagins.
The music reality shows are focused on Bollywood. But Bollywood now seems restricted in its musical genres.
Exactly. It wasn't so not too long back. Ninety per cent of the music now is hip hop, Punjabi or rap. It's mostly dance music now. A song like R.D. Burman's Raina beeti jaye has no scope as there is no such situation in today's films. The songs are there only to promote a film. They are not an integral part of the screenplay.
You mean they do not take the story forward?
Yeah. Take my song Chitthi aayi hai. It comes at a juncture in the film (Naam) — a young man has run away from India and lives abroad. You are trying to bring him back. The song changes his entire perception about what all he is missing about home.
You must have been inundated with playback offers after Chitthi aayi hai.
Oh yes, I even got offers to act in movies which I very wisely declined. (Laughs) In Naam, I had appeared as Pankaj Udhas. I would have failed miserably if I tried to act. True, I did not sing thousands of film songs but those I did were relevant in the film.
Which was a bigger break for you — your first album Aahat or Chitthi aayi hai?
After 10 years of struggle, if your first album hits bulls-eye nothing can beat that. Aahat got a gold disc in 1980. It was a game-changer in my career. Chitthi aayi hai came in 1986, when I was already very popular with my own music.
You first did playback in 1971 for the film Kaamna but left for Canada afterwards. Were you not serious about singing then?
Nothing happened after Kaamna for five years. In 1976, I reached a point when I was so demoralised that I was contemplating whether I could continue singing. I was not from a billionaire family. So I left for Canada and America looking for an opportunity on the advice of friends there. I had no idea whether to take up a job or get into business.
Destiny played its part. Instead of working there, I ended up singing and the local community liked it. For 10 months, I was singing three or four evenings every week, earning enough to sustain myself. That laid the foundation for my career and I came back. Then, Aahat happened. Who were your idols?
Listening to music is a great teacher. I am singing ghazals today because of my exposure at the age of eight or nine to radio on which I first heard Begum Akhtar. Her voice was different — thick and husky. I also noticed the way she emoted. That stayed on my mind. Even today, when I hear Ae mohabbat tere anjam se, I can feel how she is emoting the words. When I was 17 or 18, I was introduced to Mehdi Hassan. Much later, during a UK tour, I met him at a friend's house. He took a liking to me and I delayed my return by a month. I was a struggler and practically toured with him, listening to him sing for hours.
Singers depend on Bollywood for a break but you gave a break to so many actors in your music videos — Vidya Balan, John Abraham, Sameera Reddy… Sameera tweeted about it.
I guess that's the irony (laughs). My music gave them a break. John also acknowledges it. So kind of them.
Indian non-film music was big in the '90s. Today it has gone bust.
The music industry has changed completely. There is no scope for non-film music in India. Everything is Bollywood. I really pray that era comes back. Devotional music was so big, so were pop music and ghazals. Alisha Chinai, Shaan and Shankar Mahadevan came from pop music backgrounds. Except ghazals, none of the genres has survived. Qawali is almost extinct.
Bollywood composers utilised the popularity of these genres.
Yes. The non-film music and singers were absorbed by cinema then.
Recently you posted a picture with Cheteshwar Pujara.
I am a huge cricket fan. I played cricket for my school and college. I used to be a spinner. My favourite bowler was B.S. Chandrasekhar. I used to see him in news reels in cinema halls and in photographs. I have seen three World Cups — two in England and one in India. I wanted to go this time, too, but could not because of commitments.
Your World Cup semi-final prediction?
My last four teams are Australia, India, West Indies and England.