'Panipat' review: Overlong and indulgent
The movie lacks both urgency and agency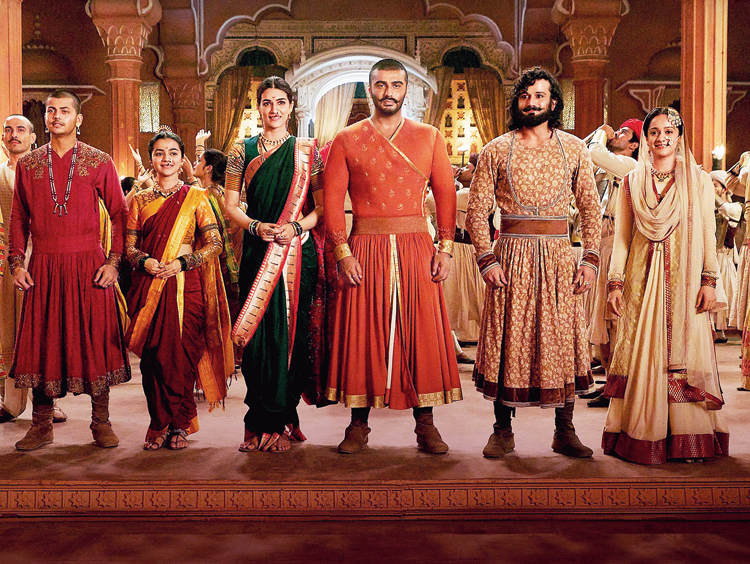 ---
Published 06.12.19, 01:28 PM
|
---
The last-ball six in Lagaan. The light bulb sparking to life in Swades. The semi-erotic swordplay in Jodhaa Akbar. Any showreel of the greatest frames in the history of Indian cinema will have at least a couple of Ashutosh Gowariker credits.
In Panipat, a definitive scene — perhaps not as momentous as the aforementioned but cinematically significant nonetheless — plays out just before interval. Enemy forces stranded on either side of a raging Yamuna river ravaged by strong current assess each others' might, with their respective leaders facing off through a spyglass. It's beautifully filmed, with the camera adopting a birds'-eye view to depict the warring armies both as behemothic and diminutive, and comes at an important point in the film's narrative. But the rest of Panipat — it's 174 minutes long — doesn't have the gravitas or grandeur of that somewhat fleeting scene.
Gowariker has the ability to revisit and reimagine history in the way few others can and, more often than not, build a fairly engaging story around it. In Panipat, he trains his focus on the Third Battle of Panipat. On January 14, 1761, the Marathas — comprising a severely truncated army and navigating through ally betrayal and failing diplomacy — took on the colossal might of the Afghans, and lost. It's an event in the annals of history that could serve as a cautionary tale on how aggression backed only by words and not resources, selfish infighting and incorrect leadership can fell even the mightiest, as the Marathas were, but Gowariker trades foolhardiness for valour, making the lost battle of Panipat a perplexing ode to pride and sacrifice.
Recent Bollywood — Padmaavat to Manikarnika to the upcoming Tanhaji — have adopted the baffling strategy of slandering the Muslim enemy while affording a superior moral ground to the Hindu hero. Panipat is no different. Here, the Maratha brave-heart Sadashiv Rao Bhau (Arjun Kapoor) is the altruistic warrior who is content to augment Maratha dominance across Hindostan without any political ambition. So much so that despite being relegated to the nominal status of the kingdom's finance minister even after being the architect of one conquest after another, Sadashiv — encumbered by limited wherewithal — is the one who volunteers to take on the might of Afghan invader Ahmad Shah Abdali (Sanjay Dutt).
Abdali, with an enviable wardrobe comprising velvet robes in every hue, is predictably painted as a meat-chomping, kohl-sporting barbarian with a one-dimensional character arc. It's a problematic portrayal, but unsurprisingly, fits in with the country's current ideological climate, though Gowariker, to his credit, does make an effort to humanise Abdali towards the end.
A lot of Panipat is about the run-up to the big showdown. The first hour is lazy and indulgent, establishing Sadashiv's unflinching valour and incorruptible demeanour, including his romance with the feisty Parvati (Kriti Sanon). Ample screen time is spent breaking old affiliations and forging new alliances (the past meeting the present in a way in Maratha land).
The big battle itself is just about 20 minutes long and though Gowariker is known to mount his war scenes well — and he does make an impressive effort here — the face-off, on elephant back, on foot or from behind a blasting cannon, doesn't have the power to grab eyeballs like the battle scenes in the Bahubali films did. They lack both urgency and agency.
The story — penned by a battery of writers — is neither very cohesive nor coherent, with Gowariker often falling back on digitised maps and Kriti Sanon's largely weak voiceover to transition from one scene to the next.
What's commendable, however, is his attempt to portray the woman as much more than mere tokenism in this masculine world. So Parvati not only chips in with valuable advice during Maratha strategy meetings but is also sent as an emissary to broker new alliances. It's a refreshing portrayal but Kriti, though earnest and suitably feisty, lacks the body language to carry off the character, her tepid chemistry with Arjun not striking an emotional chord with the viewer.
Similarly, Arjun has the physicality for the character — at one point, we lose a few calories just hearing that Sadashiv is capable of doing 1,500 surya namaskars at a go — but falls short when it comes to personality. Dutt grunts through most of his time on screen.
In Lagaan, even the barely-there characters in the playing XI were given credible back stories, but Panipat paints most of its players in broad strokes. Mohnish Bahl is given just a few scenes while the only purpose to cast Padmini Kolhapure and Zeenat Aman in miniscule roles is to mine nostalgia. Gowariker's old allies — art designer Nitin Desai and costume designer Neeta Lulla — pitch in ably, making Panipat a visually pleasing appearance, even though the CGI work is downright sloppy.
In the end, Panipat is a case of what could have been. The ingredients are all there... it's just not cooked well enough. You need a Sanjay Leela Bhansali for that.