Pagglait overdoes the familiar and fails to nail much of the feel
But it works as a woman's coming-of-age story...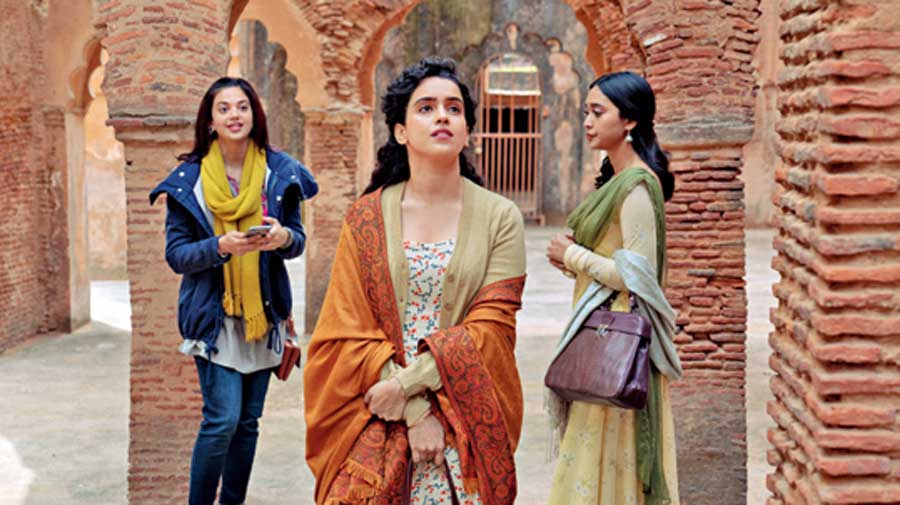 ---
Published 27.03.21, 11:01 AM
|
---
In Highway, Veera understood what freedom felt like only after she was kidnapped. In Queen, Rani's journey of self-discovery was courtesy a solo honeymoon trip after being unceremoniously ditched at the altar. In Pagglait, Sandhya's coming into her own is catalysed by a far more unfortunate incident — the sudden demise of her husband. A man she was married to for five months, with whom she not only shared a bed but also a large family of doting in-laws. Aastik's passing cripples the family and sets the tone for the first hour of Pagglait, a film that looks at death through a lens that's rare in mainstream Bollywood, but doesn't make it the core of what it wants to tell.
And yet Sandhya finds herself unable to grieve. The house, a multistoried building which has clearly seen better days, is shrouded in a pall of gloom and every now and then a cry rends the air heavy with whispers about the logistics of last rites. But when we first see Sandhya (Sanya Malhotra), she's stifling a yawn even as she disinterestedly skims through the condolence messages on Facebook. When her friend tells her that she found out the news through Facebook, Sandhya nonchalantly tells her that the post has 235 comments. When her mother hugs her and wails her heart out, Sandhya drily berates her with, "Ab bas bhi karo Mummy". When offered tea, Sandhya asks if someone from the family can run to the corner shop and fetch her a bottle of Pepsi. A few minutes later, she's seen digging hungrily into a packet of chips. She pretends to pay a visit to the doctor's chamber only to make a quick dash to the neighbourhood chaat vendor to satiate her pani puri cravings.
When her childhood friend Nazia (Shrutii Sharmaa) asks her why she's been behaving like nothing has happened, Sandhya starts talking about her cat named Katrina, whose death pushed her into crying and giving up eating for days. "Lekin, ab rona bilkul nahin aa raha hain aur bhookh bhi zor ki lag rahi hain", she says, somewhat perplexed herself. Sandhya knows that she's able to grieve, but she's just not being able to feel it now.
Director Umesh Bist, even while resorting to all the predictable tropes and templates of a small-town story, builds the world of Pagglait well. The film may overdo its share of quirky characters — a staple of what Bollywood perceives as a sure-shot formula for a story about 'real India' — but it more or less effectively balances the tightrope of infusing humour into what is essentially a grim premise.
Pagglait lingers on the rituals surrounding death, making us aware how obsolete and unnecessary most of it is, even as it employs some succinct social commentary to show us the times we are living in. Sandhya finds solace in the company of her childhood bestie, but the family — otherwise putting on a show of being "liberal" — ensures that even the cup from which Nazia sips her tea is kept separate. Somewhere in the middle, a character expresses shock on discovering that Nazia is a vegetarian. "Har Sachin, Tendulkar nahin hota," she smiles, delivering one of the many smart but subtle lines in the film.
But Pagglait, streaming on Netflix, is essentially Sandhya's story. Sanya Malhotra's face — that trademark impish smile is accompanied by a hollowness in her eyes — mirrors a gamut of emotions, as she gradually unearths a secret her husband held close to his chest when he was alive, a truth that not only makes her realise why she's unable to grieve, but also sets her on a path of discovering her true identity and making a corner in the world her own. And while you smile through her triumph — and the twist at the end — Pagglait, at close to two hours, becomes repetitive after a while and overstays its welcome. Bist, in building the familiar, also sacrifices a lot of the feel that a story like this should have elicited in the viewer.  
What pulls it through, however, are the performances. Sayani Gupta has limited screen time, but her Akanksha metamorphosing from a potential rival to Sandhya's ally is heart-warming. Shrutii Sharmaa chips in with an impactful supporting act, while the trio of Ashutosh Rana, Raghubir Yadav and Sheeba Chaddha is, as always, solid. Pagglait marks the debut of singer Arijit Singh as composer and the man excels, especially with Dill udd ja re and Phire faqeera.
Pagglait may falter every now and then in execution, but has its heart in the right place. Writer Anne Roiphe once said, "Grief is in two parts. First is the loss. The second is the remaking of life". Sandhya may not feel the former in the way society dictates it should, but she aces the latter in the way every woman should.