Our camaraderie is very infectious: Rannvijay
Sunny Leone and her co-host for Splitsvilla chat about their return to the dating reality show and the bond that they share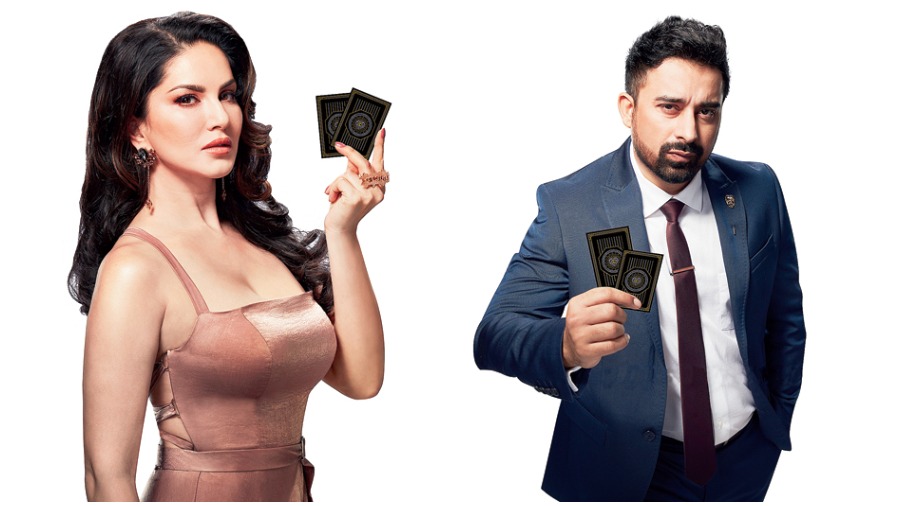 Sunny Leone and Rannvijay Singha are back as hosts on MTV's dating reality show Splitsvilla
Sourced by the correspondent
---
Published 09.03.21, 12:40 AM
|
---
Sunny Leone and Rannvijay Singha are back as hosts on MTV's dating reality show Splitsvilla, named MTV Splitsvilla X3 in its 13th season (airs every Saturday at 7pm on MTV).
We chatted with the two on the new season, what works for their chemistry and friendship and the year gone by.
In a year of change and unfamiliarity, it's good to see that you are both back with a new season of Splitsvilla. What's new this time?
Rannvijay Singha: We are very happy that we got to shoot this in a bio bubble and that enabled us to have the freedom which we are used to while shooting any season of Splitsvilla. We couldn't shoot Splitsvilla last year, and we had many fans of the show rooting for it to come back. For the first time in the history of Splitsvilla, we have two villas — the 'gold villa' and the 'silver villa'. This stems from Greek mythology where Cupid had two kinds of arrows, gold and silver. The gold symbolises eternal love and the silver signifies casual attraction. One could be hit by the silver arrow many times in life, but it's the gold that seldom hits, and that's when you find that one person. We also have the concept of the 'oracle' which judges compatibility and so on. I think people will really like these concepts. Also our contestants this time are amazing... really well prepared and exciting.
Sunny Leone: This season will throw up many more layers of emotions, both good and bad. It's a really cool season this year in terms of concept. I hope people enjoy it, because we enjoyed shooting it a lot.
Thirteen seasons down, what accounts for Splitsvilla's enduring appeal?
Sunny: It's my seventh season with Splitsvilla and I enjoyed this season as much as I enjoyed the first one because they always keep it fresh. The world may change but I feel that love always remains the same and Splitsvilla showcases that. It's wonderful to see contestants who have never done a physical challenge in their lives or been in situations where they are emotionally tested, emerge out of Splitsvilla as different people. Watching their growth pattern from the first day to the last is amazing.
Rannvijay: I think that's because we keep it current. Back in 2008, when we did the first season, there were many people who had not even been in a relationship once. Now, we are educated by our contestants... they tell us, 'I identify with this, my preference is this'. We live in a world of dating apps, of swiping left and right. Splitsvilla adapted with time and we realised that we need to come up with a romance reality show that's current. I have always maintained that if you want to come up with a show that's the 'it' thing for this generation, you have to talk to them in their language.
How do you think the concept of dating and relationships has changed in a year where everything's largely been virtual?
Rannvijay: Some things are basic and primal... like fear, love, attraction, happiness, sadness.... What a caveman felt centuries ago is what you and I feel even today. The basics are the same, but the tools have changed. The essence of love and attraction hasn't changed, you still feel the same butterflies, whether you meet someone at a cafe or virtually. What we saw with our contestants this time is that they are so excited to be finally out and meeting people. They haven't gone out on physical dates for over a year. The newness of meeting someone is so exciting now, and you will get to see that on the show.
What is it that works for the chemistry that the two of you share on screen?
Sunny:  Rannvijay is my rakhi brother. Our families share a very nice bond. We all meet outside work. Our children hang out together, they have playdates. My kids love Rannvijay maamu.
Rannvijay: Our camaraderie is very infectious... we are good buddies. Off camera, our families are very close to each other, from our children to our partners. We are close, and not just in happy times. There are similarities in our lifestyles... she lives between California and India, I live between India and London. I respect her for everything that she's been through... her tough times. Respect, camaraderie and the fun we have with each other translates on screen. She's a great human being. She's so humble and very punctual. She's a great family person, a great friend. We would be shooting till 3.30am and she would be up at 7.30 the next morning and look after her three kids. She's a very hardworking person.
Shooting for Splitsvilla apart, how have the last few months been?
Rannvijay: I always look at my glass as half full... that's my default setting. I went to boarding school at age 13 and it was a very tough school. When I would be home, my dad would be stationed in Punjab, and there would be blackouts after 6pm. We couldn't go out. Then my dad was posted in Kangra for a while and there was radio silence for weeks... we didn't know what was happening. That taught me how to make the best of any situation. During the lockdown, I felt blessed that we were locked in our own homes with our own families. I spent a lot of time with my daughter Kainaat.
During the lockdown, I saw people doing things and inspiring each other. There is a huge positive aspect to that because when you see a friend working out or cooking, you say, 'Why don't I also do it?' If you haven't done anything this year, then that means you never had the intention to do it.
Sunny: Daniel (husband), my three kids (Nisha, Noah and Asher) and I spent a lot of time in Los Angeles and we were dying to come back to India. I didn't want to be in America. I think what's happening there is something that I am not very proud of... So much hate and division. I am happy to be back in India because people here are taking precautions and they are taking care of their families. Lockdown was not easy and not fun, and I am happy to be back here and working. And hopefully, we will all get the vaccine soon!