Our 6 favourite performances by Prosenjit Chatterjee on his 60th birthday
Here are films where Prosenjit has been directed by Rituparno Ghosh, Buddhadev Dasgupta, Goutam Ghose, Atanu Ghosh, Kaushik Ganguly and Srijit Mukherji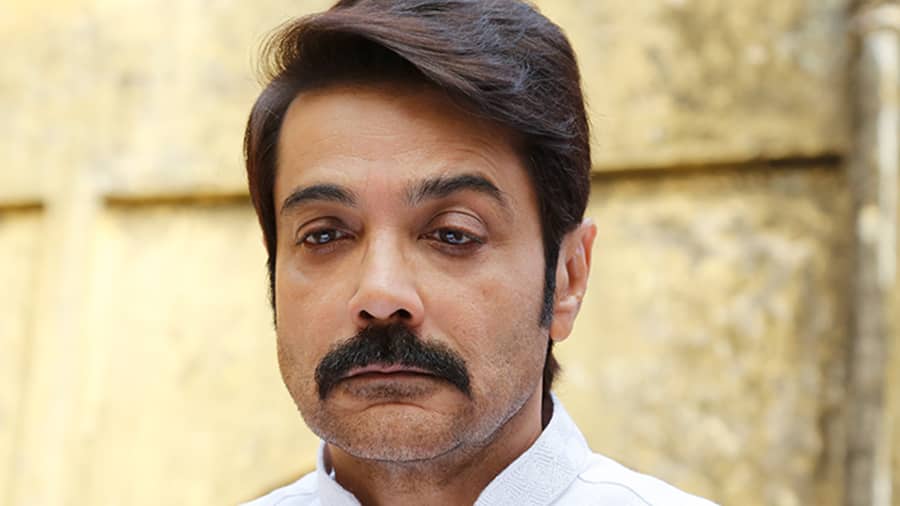 A still of Prosenjit from Jyeshthoputro.
Instagram
---
Calcutta
|
Published 30.09.22, 12:33 PM
|
---
After Uttam Kumar, Prosenjit Chatterjee has been the most successful male film star in the Bengali film industry, with a filmography comprising more than 350 films spanning more than four decades.
A major turning point in his remarkable career came when Prosenjit began to break out of his 'film hero' image and try out niche films. The journey that started with a small role in Rituparno Ghosh's Unishe April in 1994 continued to include many more lauded performances.
On his 60th birthday, we pick six Bengali films starring Prosenjit that make us go back to them for a rewatch.
Swapner Din (2004); directed by Buddhadev Dasgupta
After Rituparno Ghosh lured out the actor in Prosenjit with Unishe April and Utsab, new doors began to open up for him. Among the directors who wanted to experiment with this 'mainstream star' was Buddhadev Dasgupta, known as a maker of 'parallel films'.
Dasgupta's Swapner Din was miles away from anything Prosenjit had done till then. It stripped him of his star aura and turned him into a lower-middle class man from the interiors of Bengal. In the film, his character, Paresh, is on a mission to educate the people of his village and roams the countryside with a 16mm projector on which he screens films. Prosenjit took the risk of stepping out of his comfort zone and moulded himself as per Dasgupta's wishes to deliver an understated performance.
 Dosar (2006); directed by Rituparno Ghosh
After giving Prosenjit a breakthrough role in his adaptation of Tagore's Chokher Bali, Rituparno Ghosh cast him in a contemporary drama around a couple whose marriage is rocked by a sudden revelation of the husband's infidelity.
In this Shirshendu Mukhopadhyay story, the husband, played by Prosenjit, is injured in a car accident in which the woman he was seeing dies. He's at home and is being nursed by his wife (played by Konkona Sensharma) who's grappling with the enormity of what has unravelled.
For most part of this black-and-white film, Prosenjit lay bed-ridden with the camera focused on his face and body language. His eyes captured his inner turmoil --- the pain of losing his love, the guilt of cheating on his wife and the earnestness of winning her back. His performance in Dosar won Prosenjit the National Film Award: Special Jury Award.
Moner Manush (2010); directed by Goutam Ghose
By now, Prosenjit had gotten into the habit of taking risks as an actor and breaking out of the star mould to challenge himself. Playing Lalan Fakir in Goutam Ghose's Moner Manush was a point in that direction.
As part of his preparation, Prosenjit grew his hair and beard, cut down on socialising, and mostly stayed home reading or listening to music or playing the ektara, trying to get a feel of Lalan's way of life. The hard work showed in his performance of the lauded baul singer-songwriter-composer in the film based on Sunil Gangopadhyay's novel.
Baishe Srabon (2011); directed by Srijit Mukherji
Apart from Rituparno, the other filmmaker who gave Prosenjit out-of-the-box and equally successful roles is Srijit Mukherji. After striking box office gold with Autograph, the duo got back together for Baishe Srabon and sprang a surprise.
Baishe Srabon begins with the disturbing news of a series of gruesome murders on the streets of Kolkata. The killer leaves a couplet from old Bengali verses at the scene of crime, making the police go round in circles.
Prosenjit played Prabir Roy, a former police officer who is called upon to help catch the criminal, and his first scene establishes him as this brooding cop who's fond of the bottle. Prosenjit made Prabir come across as reclusive and ambiguous, lending him an air of deep mystery. Laced with dry humour and a belligerent attitude, this was a knockout performance. Atanu Ghosh's Mayurakshi explores the dynamics of a father-son relationship with great depth and sensitivity. Soumitra Chatterjee played a retired professor with a failing memory and other neurological problems; Prosenjit played his son who's settled abroad and visits Kolkata on hearing of his father's illness.
In that short window of a few days, the son tries to reconnect with his father, who's increasingly getting distant in his mind, and to do this he must confront his own past. Prosenjit stepped up to keep pace with Soumitra's matchless performance, and delivered a nuanced portrayal of his internally-torn character.
Jyeshthoputro (2019)
Kaushik Ganguly's Jyesthoputro is the coming together of two brothers in their ancestral home to conduct the last rites of their father. Prosenjit is the elder brother who's made it big as a film star and is based in the city. Ritwik Chakraborty is the younger brother who's not as successful and is settled in the village.
The arrival of the elder brother in the village sends the family into a tizzy as star-struck neighbours begin to crowd their home for a glimpse of the film star when all they need is privacy.
This chaos leads to a flare-up between the brothers and brings out their innermost insecurities. Prosenjit beautifully held the tension in his character — as one who is trapped in his 'film star' image and social status while trying to reconcile with his younger brother who resents him for his success.